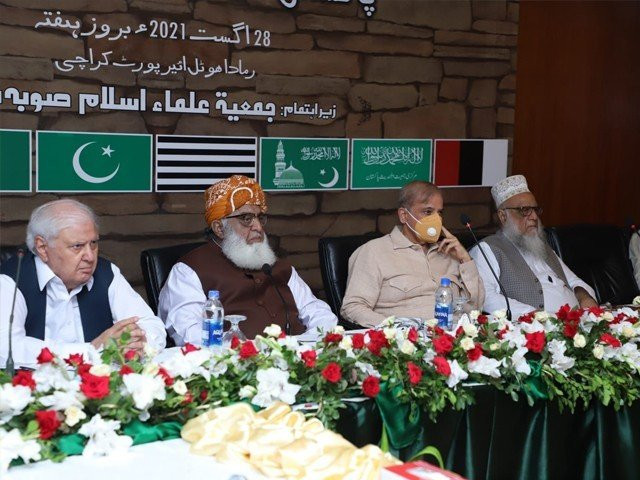 ---
LAHORE:
Contrary stances have emerged within the three main opposition parties as Pakistan Muslim League-Nawaz (PML-N) is adamant on toppling the government by initiating a no-confidence motion in the Senate against the upper house chairman while Pakistan Peoples Party (PPP) and Jamiat Ulema-e-Islam-Fazl (JUI-F) leaders deny having reached any such agreement.
PML-N parliamentarian Syed Javed Ali Shah talking to The Express Tribune while another PML-N leader Dr Afnan Ullah Khan speaking during a talk show maintained that the opposition parties would initiate a no-confidence motion against the Senate chairman, as the first step towards bringing down the government.
Afnan during the show even went on to say that by initiating a no-confidence motion against the Senate chairman, they would be able to judge if powers-that-be have become neutral again or not. PML-N's Javed said though the opposition has many other options, targeting the Senate chairman was the first step.
He said that some three dozen Pakistan Tehreek-e-Insaf (PTI) parliamentarians from Punjab and K-P had reached out to the PML-N asking for tickets for the next elections. He said if only PML-N gave them an assurance of tickets, they were ready to abandon the PTI.
He said it was usual for the opposition benches to give the government a tough time but interestingly, this government was giving itself a tough time. He said that it was the haste with which they wanted to pass a number of bills that even startled their allies, who now were openly expressing their reservations with the workings of the government.
PPP leader Chaudhry Manzoor on the other hand claimed that no such decision has been reached by the opposition parties. He said that there were many options with the opposition parties and the decision of what option should be exercised, would be taken with consensus.
He said that they have proved that a change can be brought about from within the National Assembly. When asked about allegations of double dealing leveled against the PML-N by another PPP leader, he said that an improving working relationship does not mean all their issues and concerns have been addressed.
PPP Punjab General Secretary Syed Hassan Murtaza said that if the PML-N wants senate to be the first step, then they should show us the numbers needed for the job. He said that the fact is that PML-N had never wanted to bring any change, adding that if it had wanted to bring change, it would have done it by now.
He said that keeping in view PML-N's track record, we must make sure that they don't use PPP's support to get a seat on the higher table. He said that PPP Chairman Bilawal Bhutto Zardari has been ditched by opposition parties many times, but still he was ready to stand by them again in the interest of the country.
JUI-F Leader Maulana Mohammad Amjad Khan claimed that Bilawal Bhutto during his meeting with JUI-F Chief Maulana Fazlur Rehman, talked about bringing a no-confidence motion against the government. He said Maulana has agreed to take the idea up with the Pakistan Democratic Movement (PDM) leaders in the upcoming meeting.
He said it was agreed that the government needs to be sent packing at the earliest and an in-house change was a conditionally agreeable method. He said that the strategy of how to send the government packing was yet to be devised, adding that there are numerous options with the opposition parties and any decision in this regard would only be taken with consensus.
COMMENTS
Comments are moderated and generally will be posted if they are on-topic and not abusive.
For more information, please see our Comments FAQ