PUBLISHED November 14, 2021
KARACHI:
The longest of journeys start with the first step and thus this journey to Manchar Lake began with the rise of the sun in one fine morning. The weather was pleasant and there was thin traffic on the Karachi-Hyderabad motorway.
A glimpse of the dome of Lal Shahbaz Qalandar's shrine could be seen when the car reached near Sehwan Sharif, a small town of Sindh province known for the famous sufi saint Hazrat Lal Shahbaz Qalandar's tomb.
After crossing Sehwan Sharif, the road becomes narrow and full of two-way traffic. On the left side, the road stretches to 50 miles (80 km), a mountain range of Laki Hills, located in the south of Manchar Lake, is on one side of the road.
At the end of the 4 hour-and-30-minute-journey (313 kilometres) from Karachi, Pakistan's largest freshwater Manchar Lake was spread in front of my eyes. However, shockingly the water was far away from the dry shore.
Under the sizzling sun and on a day when the temperature was over 40 degrees, a small boat could be seen being pushed by some local fishermen in waist deep water. It stopped near a boathouse where it was tied up. Tethered to the of the boat, was a bird.
The dilapidated wooden houseboat, barely able to accommodate the residents, told the story of miseries and pathetic living conditions.
Making roti on a tawa, 45 years old Zainab Bibi, a fisherwoman of Mullah or Mohana community in the local language, said that the community is struggling to survive on a day-to-day basis. Some four years ago, women of Mullah community used to earn more than their male family members through fishing and by catching migratory birds and selling them but now they can't afford to buy a can of water after paying Rs50.
At Pakistan's largest natural freshwater Manchar Lake, which is spread over 250 square kilometers (96.5 square miles) in southern Sindh province, the inflow of industrial water has killed the fish in the lake in the last two decades, forcing the fishing communities to uproot. A large number of fishermen migrated to the Arabian Sea coastal belt, which covers 200 miles, in search of livelihoods. However, with no alternative jobs, at the seaside, lake fishers are facing a crisis.
Dhani Bux Mullah, after losing livelihood due to dearth of fish in the poisonous waters of Mancher Lake, was forced to migrate in Karachi's coastal area. "We left our ancestral lake in search of better livelihood and life but despite migration from lake to sea coast, it's hard to earn daily and feed our children three meals a day. We don't know where to go now," he said.
Research scholar and Environmentalist Dr Asgar Ali Mahesar in his latest research on pollution of Mancher Lake stated that 4,500 cusecs of waste water generated from the catchment area of RBOD has been directly discharged in Mancher Lake through Main Nara Valley Drain
(MNVD)/ Right Bank Outfall Drain (RBOD). The polluted water has damaged the overall ecosystem, bio diversity, and livelihood of locals.
The annual fish catch has reduced from 2,300 tons to 400 tons, while fish species have diminished from 200 to 14 since 1930. As a result, the Siberian birds no longer stop during their annual migration due to insufficient fish availability, the report further stated.
The poisonous industrial waste not only snatched the livelihood of fishermen but also brought the traditional heritage of floating villages of Manchar on the verge of extinction.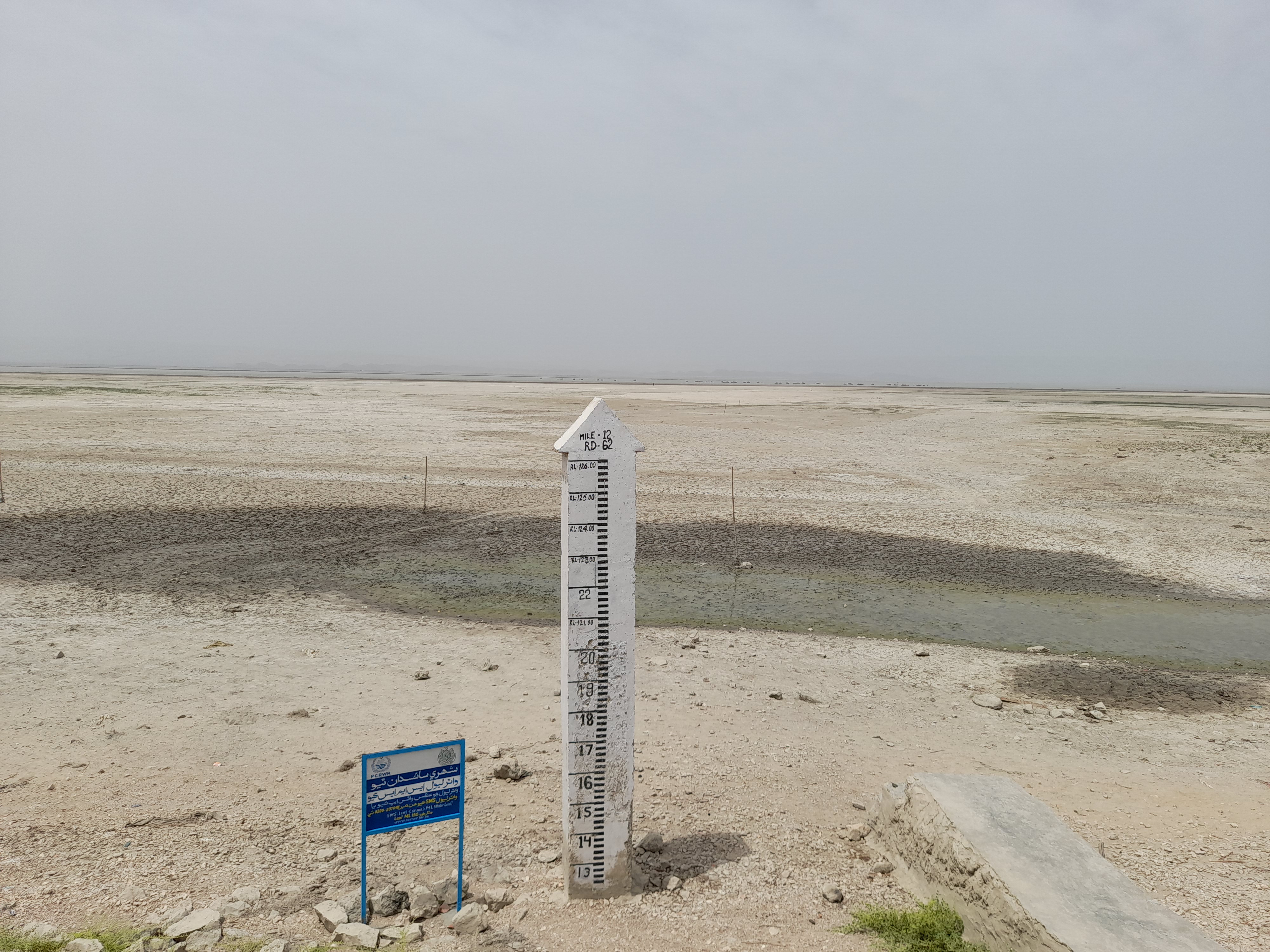 Looking tired and older than her age, Haakim Zaadi, a fisherwomen and head of Panchayat of her community explained her ordeal. "There were times when the Mullah community was prosperous. Festivals were celebrated for weeks and the guests from adjoining areas stayed for longer periods. Our hospitality was exemplary but now we are unable to provide meals to our children. When Manchar Lake lost fresh water, our fate turned around. The lake has been dry for four years. Even the rain failed to fill the lake," said Zaadi.
Highlighting the serious issue of unavailability of health facilities in the area, she recalled a tragedy when a woman, resident of a boat village Goth Umer Mullah, had died after giving birth to a child before reaching the shore. The boathouse residents have to walk 4 kilometers from the boathouse to reach the shore.
Unlike crowded fish markets of big cities, a fish market at the bank of Manchar Lake consisted of two small halls where few people were busy in trading. Khalid Mullah was one of them. "Profitable fish species have been gone a long time ago. The fish now available in the lake are small in size and known as 'dhayya' in the local language. Theyre sold for Rs 3 per kilogram. After a whole day of fishing, a fisherman catch 100 or 200 mun but there are two hundred families. Each of them hardly earn PKR 100 or 200, which is insufficient to fulfill their needs. This fish is used as chicken feed," said Khalid Mullah.
Manchar Lake gets fresh water from storm water in the Kirthar hills during monsoon season and through Main Nara Valley Drain, built as an inundation canal in the 1930s, brings water from Hamal Lake and Indus River.
Water and Power Development Authority (WAPDA) constructed the RBOD-1. The drain was designed to carry toxic wastewater of industries and agricultural lands from Northern Sindh districts and pour it into the Mancher Lake.
Mashooque Birhamani, CEO Sujag Sansar Organisation, a local NGO working for the fishing community, said that the destruction of Mancher Lake began in 1990 when MNV drain water containing industrial waste discharged in the lake. Before that, even Mancher Lake dried and they didn't get the catch, the locals were not bothered because they used to grow three crops of wheat, coriander and mustard from Chenni area to Shah Hasan village. Now poisonous water converts fertile lands into barren soil.
Hunger and poverty have forced hundreds of residents of Manchar Lake to migrate to other places for work despite the fact that they don't have any other skills or education except fishing. Some of them continue fishing near Indian waters putting their lives in danger of arrest from Indian forces. Boat villages are reduced to some 150 boats and their residents have no other option but to stay on the poisonous lake in dejected conditions.