PUBLISHED November 14, 2021
KARACHI:
Diabetes is not taken seriously in a country such as Pakistan where obesity and weight-related issues are increasing with each passing day. On this World Diabetes Day, let us try to understand why patients ignore the disease and how their life changes once they are diagnosed with a condition that is one of the highest reasons for causing many other diseases.
According to World Health Organisation's report on diabetes, it is a major cause of blindness, kidney failure, heart attacks, stroke and lower limb amputation. Moreover, in 2019 diabetes proved to be the ninth deadliest reason with the number of deaths through diabetes crossing 1.5 million. The report also shares data on how diabetes is affecting more and more people while health care providers are unable to cope.
Issues of low-income groups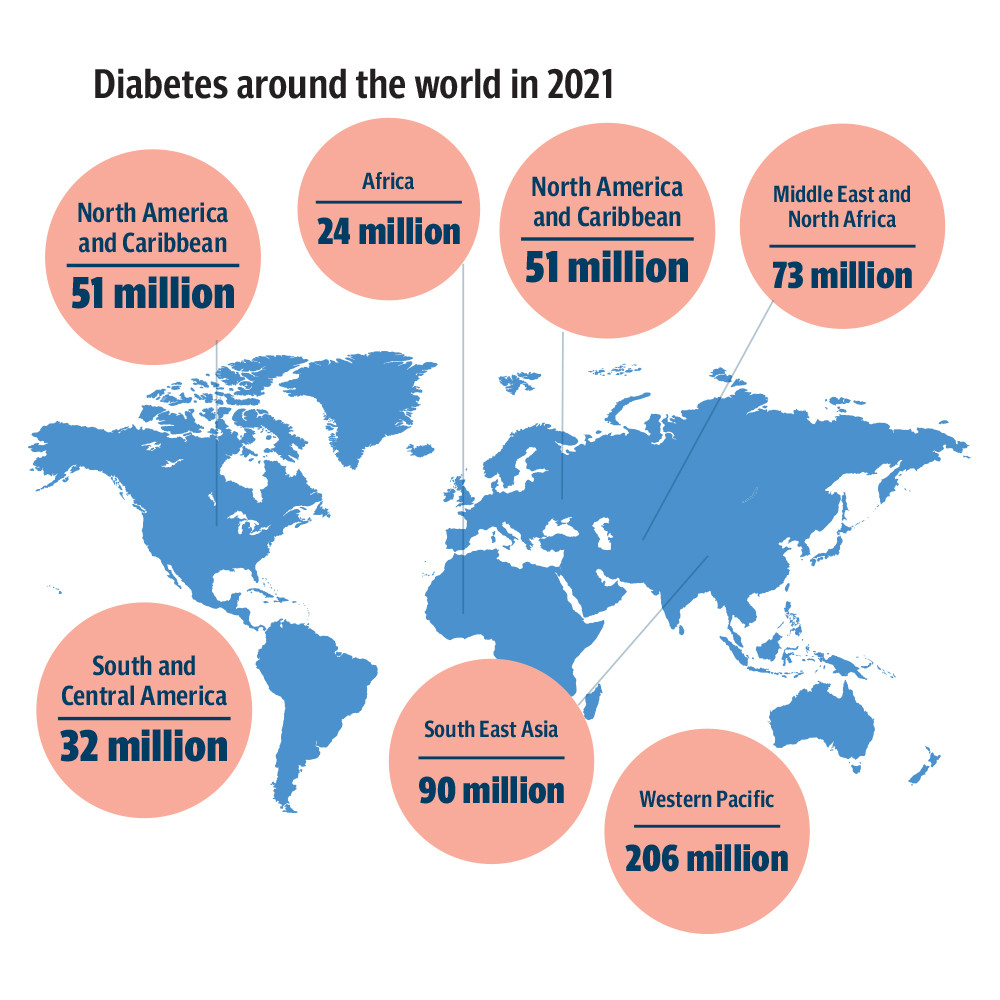 According to reports, essential medicines are available in primary healthcare facilities however, the number is relatively lower for people from low-income areas. "It is not easy to afford medicines when the monthly earning of the house is under Rs20,000," said Shazia Tanveer, who is a 55-year-old diabetic and comes from a low-income family. It has been 15 years since she has been diagnosed with type-2 diabetes and since then she has been on insulin. "The 100ml bottle of insulin used to cost Rs400 rupees back in 2005 and is now more than Rs1,000. I use that in 15 days, as the dose is 30 to 40 units twice a day," she said.
Health care condition of diabetics from low income households in the country is not very different from Shaia's. Patients mostly have to face a lot of resistance from healthcare facilitators. Most of the time patients do not go to a diabetes specialist (Endocrinologist), but get medication once from a general physician and follow the same medicine for a long time till complications begin to occur. "With monthly earnings under Rs20,000 a month, how can a patient like me afford a specialist whose fees, tests and medication can cost us half of the salary?" said Tanveer.
Despite the fear of severe consequences, many people do not take diabetes seriously enough. "My mother used to love mangoes and her diabetes could not stop her from eating them. However, eating mangoes cost her her life," shared Qurat-ul-Ain, who lost her mother due to diabetes three months ago. The overconsumptions of mongoes, caused her mother's diabetes level to rise, and by the time she was taken to tertiary care, she had a stroke and her brain hemorrhaged. After being kept on a ventilator for two days, she died. "We still regret that didn't forced her to stop but we thought this might not be that harmful," she added.
Resistance to healthcare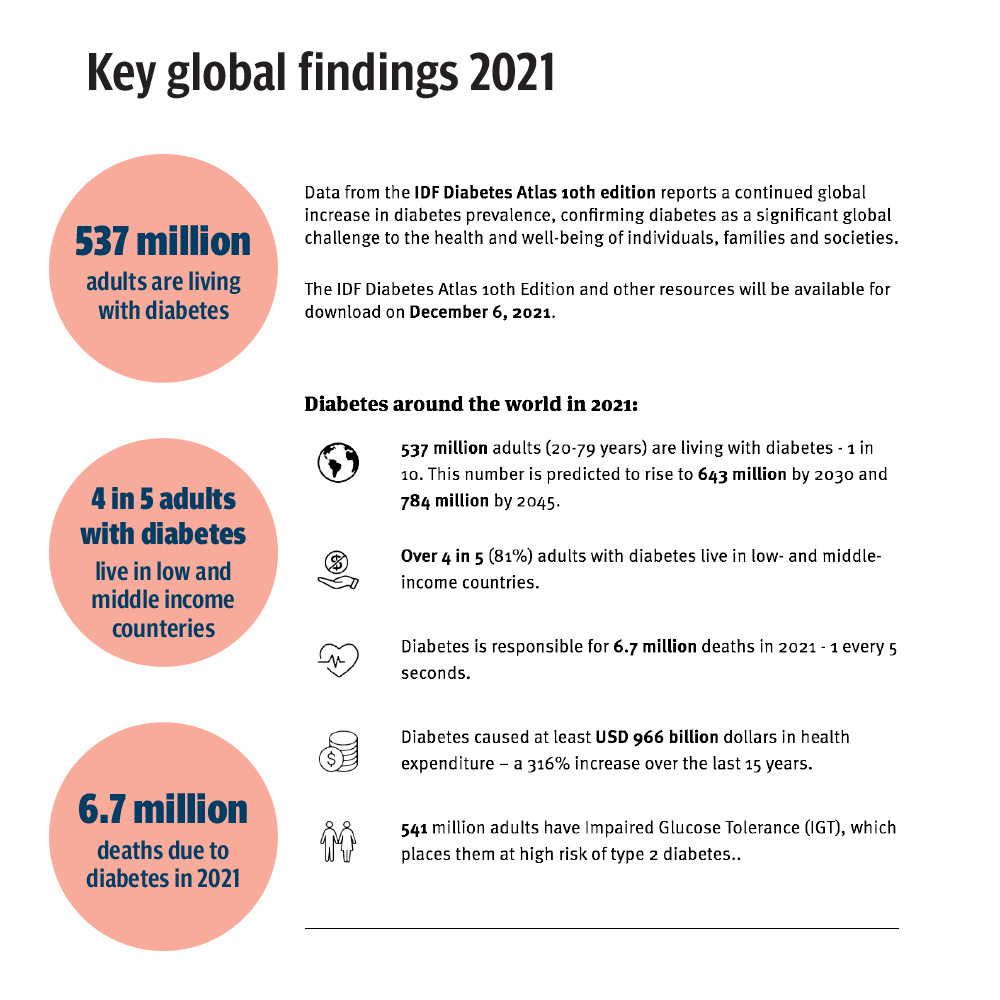 Diabetes and the medication-related story of almost every patient in the surrounding is similar where they do not consider diabetes a serious disease and more or less try to follow the same medications that were prescribed to them years ago by a general physician. "My father hardly goes to the doctor and he was diagnosed with diabetes around 35 years ago," said Oonib Azam, whose father is 76 years old now. He also added that his father has been an avid user of insulin and has been taking it without a doctor's prescription for the last few years. "My father doesn't listen to us and since he has had diabetes for a long time, he knows a lot of medications too which he uses himself and doesn't let us intervene."
As the healthcare system is flawed and does not support health insurance, the percentage of people opting to go to hospitals is far lower. Most people are only compelled to visit a hospital when it is a matter of life and death. Otherwise people avoid going for checkups as private health care facilities cost a lot and public healthcare is not up to the mark. "It takes time, energy and money to visit doctors and the long list of tests and thousands of rupees are what people avoid. We get our family members checked only because my father is a federal government employee and our medical is covered by the government," shared Anas Ali, a patient who came with his father to a private hospital.
Diabetes is a condition that usually runs in the family and is mostly transferred through genetics but other reasons include high blood pressure, stress, overweight, and obesity, which add the risk. "My father used to walk a lot to avoid more complications as diabetes not only makes you stay away from sugar and sweet edibles but also increases the risks of many medical conditions," said Azam whose father is a heart patient as well. He also said that his father's condition is getting worse as his toes and other fingers of his feet have tilted and it is difficult for him to walk outside the house but then again, the system of medical health in the country has other more deadly diseases to cater to.
Taking insulin and medications can also cause side effects such as weight gain and aggression. Taking insulin in larger doses can cause hypoglycemia where the patients can lose control of him or herself and are unable to recognise anyone, and if not monitored properly, can cause death.
Lifestyle change can help
Patients with diabetes cannot be caged in a bracket or certain classifications and due to genetic spread the disease is also found in young children. "I was diagnosed after one day I collapsed in school and my teachers had to rush me to a nearby hospital," said Maryam Khan who was in class five at the time. "It was shocking and distressing both at the same time because I was so young to even understand how this can change my whole lifestyle," she said, adding that her grandparents and her father too had diabetes. Drastic lifestyle changes have helped her control her illness.
What doctors have to say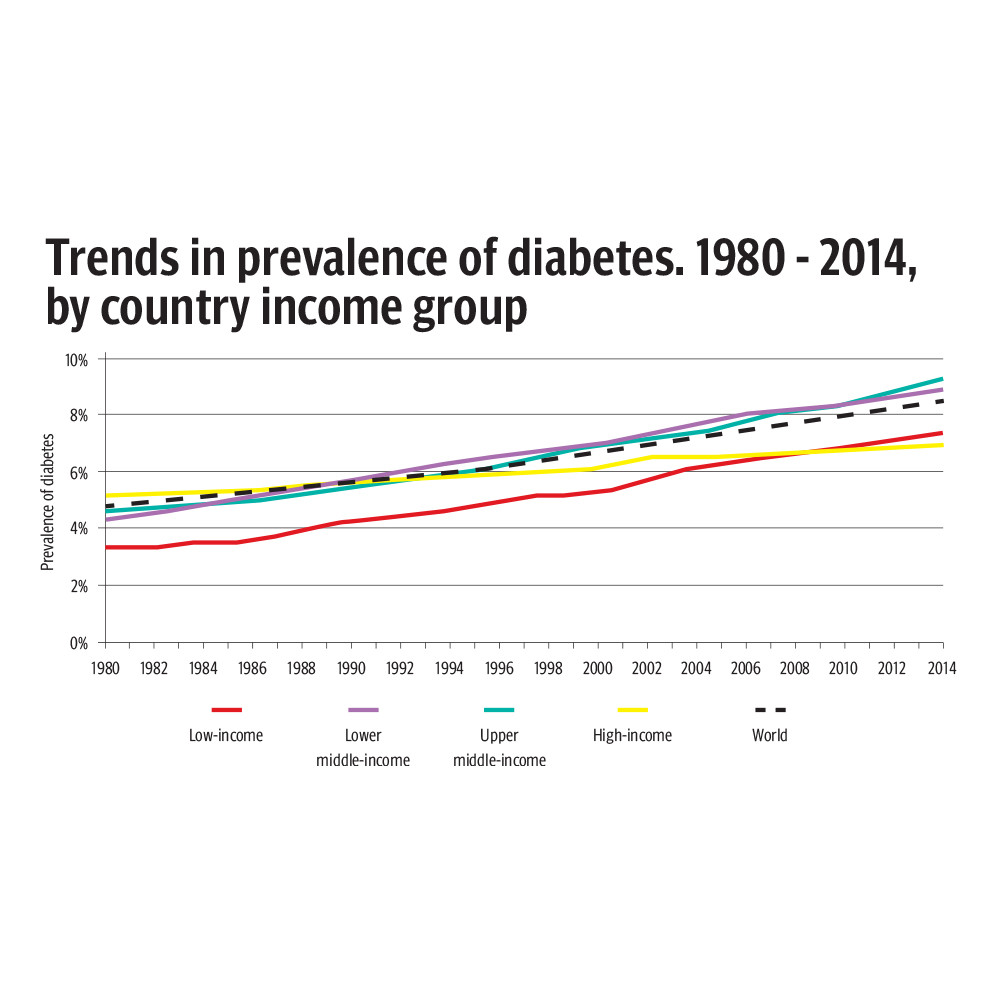 According to a WHO report, the number of adults with diabetes will increase up to 68 per cent by 2045 with 152 million people suffering from the disease. "The main reason behind this prediction can be overeating and mostly dining out where people eat unhealthily and gain weight which eventually impacts their health conditions," said Dr Seemin Jamali, former head of emergency at the Jinnah Postgraduate Medical Centre. She also pointed out that more than 50 per cent of patients who arrive with other problems do have diabetes, which is the root cause of their other health problems, and obviously, the country is not capable of providing free medicines to such a large number but even people are not very caring towards their health.
The issue with diabetes and it's spread goes back to uneducated or unaware patients. "Every third person in the country is diabetic and it is the next pandemic in making with the ignorance people have surrounding the subject," Jamali pointed out, adding that when patients come to public sector hospitals they are guided to get registered for free medication, after which some continue to come back but 90 per cent don't return after being diagnosed. Moreover, she agreed that the percentage of available free medication is also not sufficient in numbers and a lot of investment through the government is needed in this regard to cater to the patients, which are increasing with each passing day.
Few of the reasons of increasing diabetes is eating unhealthy, mostly people are eating fast food since very young age now which is affecting health conditions on a broader spectrum. "Diabetes is an advanced subject and should be treated that way. It can be the root cause of affecting lungs, kidneys, heart, skin, body, nails and almost all other main vital parts of the body but patients go to general physicians to treat the condition which is not very helpful for diabetes. People should go to specialised trained physicians if not to an endocrinologist because Pakistan has very few endocrinologists," she explained.
To help educate people and create awareness, she suggests the government create a similar campaign as they did for breast cancer awareness last month because people in rural areas suffer equally and have less access to medication and care. Messages should be disseminated in local dialect, through radio, tv, mobile ringtones and posters with strong messages. "Healthy life style, exercise, walk and a balanced diet is very important to prevent diabetes in today's life," she added.
As predicted by the report the number is increasing with each passing year, where diabetes and its increase is alarming. 6.7 million deaths were caused by diabetes only in 2021 alone. "It gets difficult to manage and make a patient stable with diabetes as the body might react and resist medicines differently and with the history of diabetes, patients are also at high risk of organ failures and stroke as well," said Endocrinologist Dr Mushtaq Saeed. He said that people think that they can handle their diabetes by themselves and in years of taking care of themselves; they can manage insulin levels too, which usually costs them their lives.
Increases of diabetes as a fatal disease has many factors adding to it and one is ignorance. "People here do not get check their sugar levels at all just because they are fearful that they might be exposed and then they have to take medicines or have to stop eating sugar," Saeed said adding that majority gets diagnosed when they go to the hospital for any other treatment and get diabetes tested and even after incidental awareness, they don't take it seriously enough.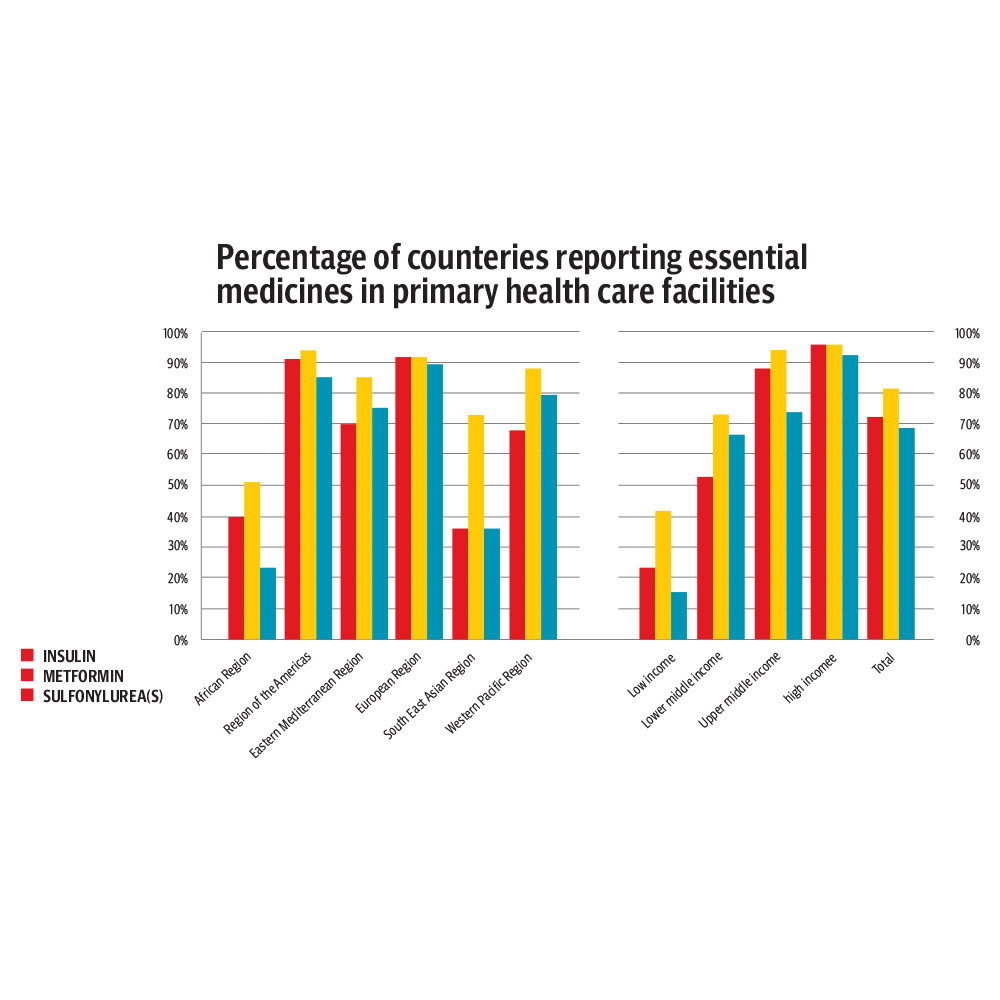 Patients mostly think that cutting sugar out of their lives can prevent diabetes or control it but they need to know that there are many diets which convert themselves into sugar once taken as liver releases sugar as well. "Anyone who is diabetic will come to a doctor and then never return as they believe word of mouth or experiences in their families more than they believe the recommendations of the doctor which cause severe damage to them," he said, adding that patients try to avoid shifting to insulin as they think it's the last resort and life taking medicine which can impact lungs but it's actually lifesaving.
Other than sugar intake and genetic reasons, diabetes is also connected to cholesterol and hypertension. "In a country where hardly 30% people are aware of diabetes and how fatal it can be a system is needed where people should be made aware that diabetes can't be controlled by just oral medicines alone and patients do need regular guidance from doctors," he said.
What can pre-diabetic do for prevention?
It is not that diabetes cannot be prevented or controlled but it takes willingness and consistency. "Everyone in my family is diabetic from my parents to my uncles, aunts and even young cousins that eventually makes me pre-diabetic but I decided to control it and avoid it until I can," said Nisha Khan, Maryam's 30-year-old sister. She also said that she stopped consuming sugar and does carbonated drinks either as she knows that it will increase her chances of diabetes.
What does WHO suggest?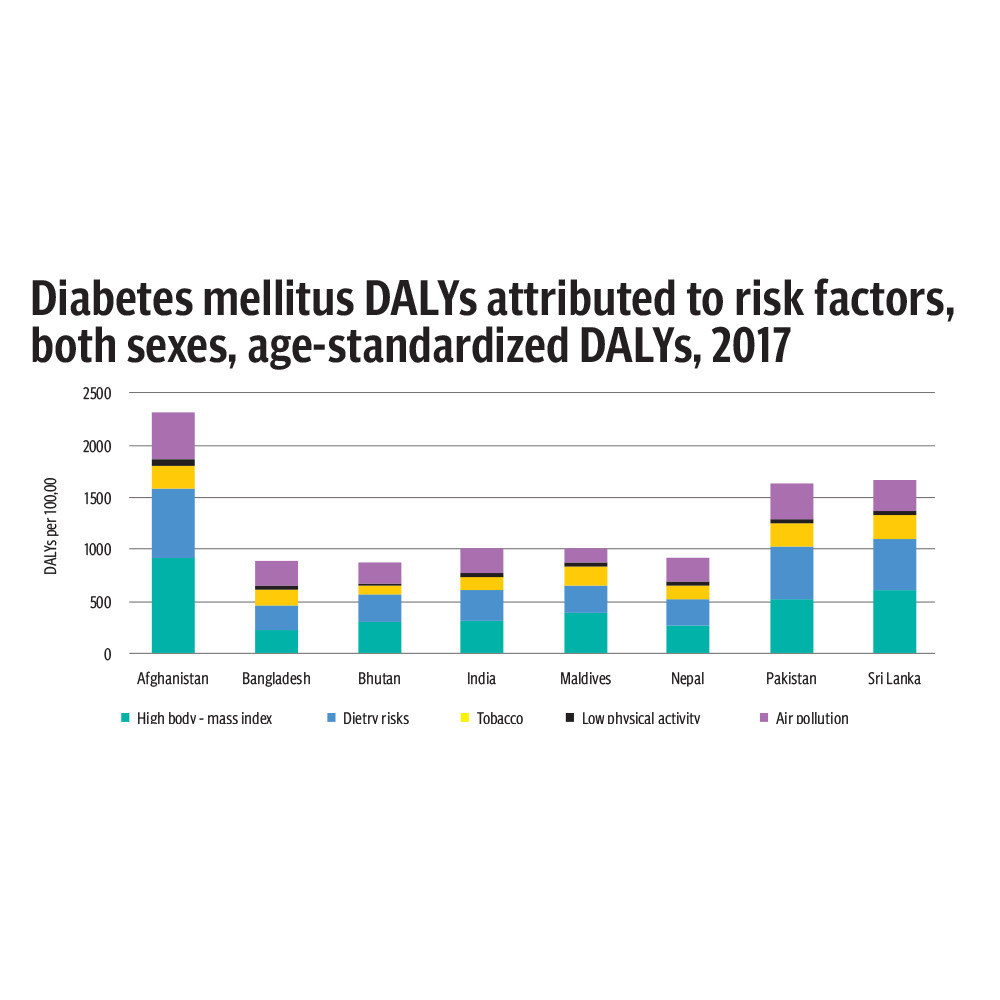 The WHO report also recommends staying healthy, physical activity and the intake of a nutritious diet in childhood to prevent diabetes. The use of tobacco should also be discouraged as it increases the risks. The main point that the report mentions is to educate people about the disease and create social media marketing and mobilisation on how it is costing millions of lives every year.
As other countries have national policies to control diabetes, Pakistan also has policies but implementing and making guidelines are not even for all the people. Pakistan is spending only 46 USD per person with diabetes, which could prevent only 0.4 per cent of diabetes-related deaths. There is no framework for diabetes monitoring and surveillance in Pakistan. While WHO suggests in its report that early detection, good diagnosis, and monitoring are what is needed to control it well and can lessen the numbers in the future. According to the report, worldwide 126 countries have national guidelines but are partially implemented which is causing the numbers to be this huge every year while the study also finds that only 23 per cent of low-income countries report that insulin is generally available, which indicates the low access that many countries have to insulin.