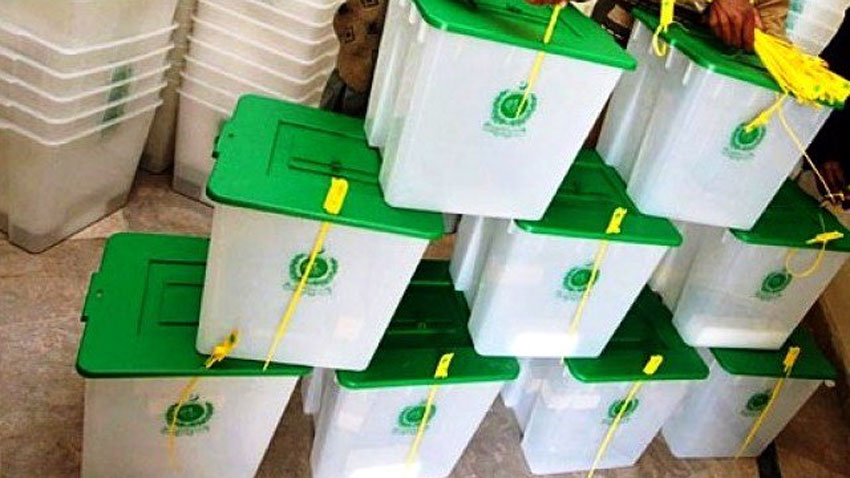 ---
PESHAWAR:
Around 42,174 candidates have submitted their papers for the local bodies' polls in the 17 districts of the Khyber-Pakhtunkhwa (K-P). Sources in the Election Commission told The Express Tribune that the verification process has been in the full swing after the submission of nomination papers.
For seven tehsil of Peshawar, there are 123 candidates, for three tehsil of Nowshera there are 41 candidates, three tehsil of Charsadda 44 candidates, for three tehsil of Khyber 75 candidates, three tehsils of Mohmand 40, five tehsil in Mardan 76 candidates, four tehsils of Swabi 53 candidates, four tehsil of Kohat 55, three tehsil of Karak 64, two tehsil of Hangu 15, six tehsil of Bannu 82, four tehsil of Lakki Marwat 74, six tehsil of DI Khan 89, two tehsil of Tank 34, three tehsils of Haripur 32 while six tehsil of Buner have 74 candidates in the run.
It is worth mentioning here that there are 2,382 village and neighbourhood councils in the 17 districts and the total number of candidates for general council seat is 21,825.
For women seats there are 4,214 candidates. For mazdor kisan seats there are 8,023 candidates while for the youth seats there are 6,745 candidates.
On the minorities' seats, 364 candidates are contesting. On the other hand 32 candidates have appeared for the slot of mayor ship in Peshawar district. Sources told The Express Tribune that the nomination papers' verification process has been in full swing and several new and old names have appeared for the mayor's post including former ministers.
Read More: ECP gives deadline to Sindh govt over local body elections
Pakistan Tahreek-e-Insaf (PTI) has the highest number of candidates and several former ministers are also in the run for the highest post.
PTI's Zahid Nadeem, the former nazim of town-1, former MNA Hamidul Haq, Muhammad Rizwan, former special assistant to CM Arif Yousaf, former district niab-nazim Syed Qasim Ali Shah, Qaisar Javed, Irfan Saleem, Younas Zaheer and Meena Khan have submitted their papers.
From Jammate-Islami (JI) Beharullah and Jamiat Ulema-e-Islam Fazal (JUI-F) former senator Haji Ghulam Ali's son Zubair Ali have submitted their papers.
Similarly, from Pakistan Peoples Party (PPP) former minister Ziaullah Afridi and Arbab Zarak Khan, the son of former federal minister Arbab Alamgir are contesting.
In Bajaur
On the other hand in Bajaur tribal district 34 women are expected to be elected unopposed because no other candidate has submitted papers on these seats against them.
In 12 village councils no women candidate has submitted papers altogether. One minority candidate is also expected to win unopposed. Sources told The Express Tribune that the verification process for the nomination papers has been started in the district like the rest of the province. "There are 127 village and neighbourhood councils and elections will be held in 120 villages and seven neighbourhood councils.
There are 1,195 candidates for general councilor seats in village councils. Around 241 women are also in the run along with three candidates for minority seats," said District Election Officer (DEO) Ajmal Hafeez. Similarly, 34 women candidates will be elected unopposed while there is no women candidates in 12 villages councils and these posts will remain vacant. There are two seats of Tehsil Council in the Bajaur tribal district for which 32 candidates are in the run.
There are 17 candidates for tehsil council Khar while for tehsil council Nawagai there are 15 candidates.
COMMENTS
Comments are moderated and generally will be posted if they are on-topic and not abusive.
For more information, please see our Comments FAQ