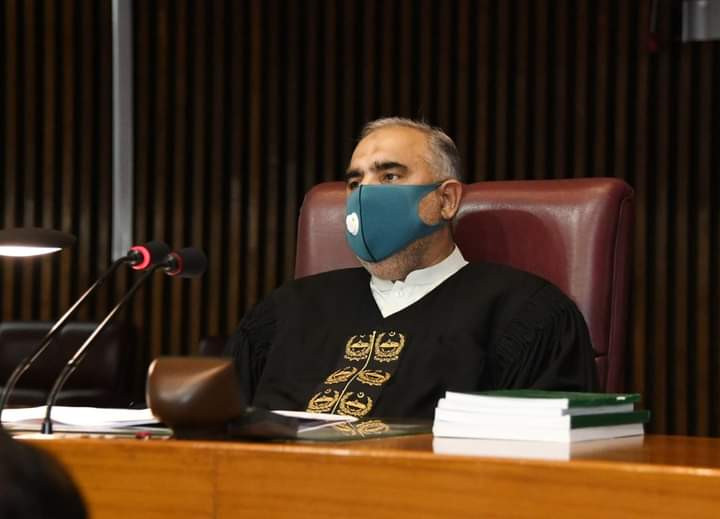 ---
ISLAMABAD:
National Assembly Speaker Asad Qaiser has said that the government plans to convene the joint sitting of parliament next week by November 20 and is awaiting a positive response from the opposition parties.
"A total of 28 bills will be presented for approval [during the sitting]," the speaker said while talking to the media persons on Thursday.
Qaiser said he was in contact with various opposition leaders and hoped that they would respond positively.
"As a speaker of the National Assembly, I am striving to pass legislation on which everyone can agree," he said, adding that a meeting would be called as soon as there was any response from the opposition.
"I am in touch with (former prime minister) Raja Pervaiz Ashraf, Syed Naveed Qamar and Sardar Ayaz Sadiq," he added.
Talking to the media, Adviser to the Prime Minister on Parliamentary Affairs Dr Babar Awan confirmed that the National Assembly speaker was in contact with the opposition parties for holding a joint sitting of parliament.
Read 'Fleeing' from joint session proof of govt losing majority: Shehbaz
"We are ready to consult with the opposition again as they are not supporting the government in legislation," Awan said, adding that the joint sitting had been adjourned for a few days, not months.
Awan further said that the overseas Pakistanis wanted the right to vote and legislation on electronic voting machines.
"The government is serious about electoral reforms," the adviser said, adding that the government wants to "legislate for the country, not the ruling PTI (Pakistan Tehreek-e-Insaf)".
He said legislation and electoral reform should not be blocked as they are aimed at curbing fraud and ensuring transparent elections.
The Adviser on Parliamentary Affairs added that legislation for the protection of women's rights is a national agenda.
"The government's doors are always open for consultation on legislation. Neither the PTI nor its allies have a secret legislative agenda."
COMMENTS
Comments are moderated and generally will be posted if they are on-topic and not abusive.
For more information, please see our Comments FAQ