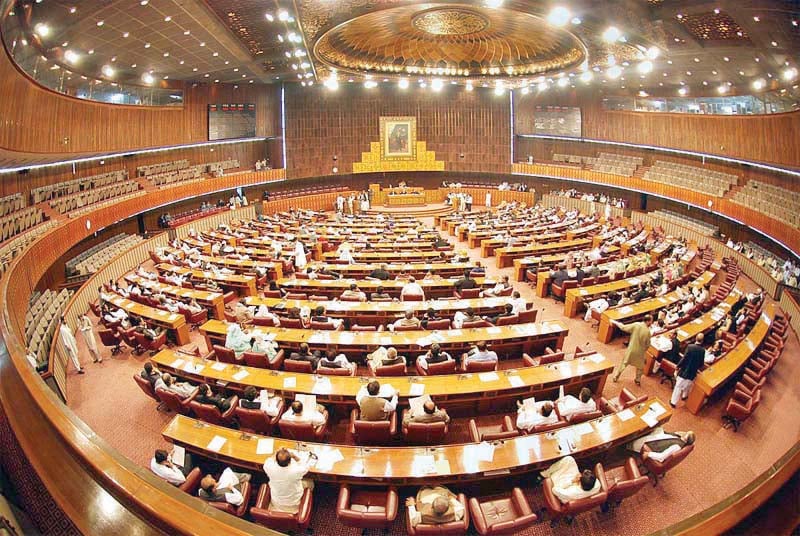 ---
ISLAMABAD:
The National Assembly on Monday passed seven bills despite agitation by the opposition parties over lack of quorum.
Two ordinances relating to the extension of the tenure of the National Accountability Bureau (NAB) chairman and an application of the National Accountability (Third Amendment) Ordinance, 2021 were also introduced in the House, which met under the chairmanship of MNA Amjad Ali Khan.
Leader of the Opposition in the National Assembly Shehbaz Sharif and PPP Chairman Bilawal Bhutto Zardari were also in attendance.
The opposition parties called out the lack of quorum thrice. However, the government managed to meet the quorum twice.
Speaking about the appointment of members of the Election Commission of Pakistan (ECP), PML-N leader Khawaja Asif pointed out that the announcement of the committee for the appointment of members is the prerogative of the National Assembly speaker.
"The Senate chairman does not have the right to announce it," he said, adding that the speaker of the NA should exercise his constitutional right.
The House managed to pass seven bills despite repeated calls from the opposition benches about the lack of quorum.
These include: The Protection of Journalists and Media Professionals Bill, 2021, The Protection Against Harassment of Women at the Workplace (Amendment) Bill, 2021, The National Commission on the Rights of Child (Amendment) Bill, 2021, The Juvenile Justice System (Amendment) Bill, 2021, The Islamabad Capital Territory Child Protection (Amendment) Bill, 2021, [The Criminal Laws (Amendment) Bill, 2021 and National Accountability (Amendment) Bill, 2021.
Read Military briefs lawmakers on national security
The House also passed the National Accountability (Second Amendment) Ordinance, 2021 and the National Accountability (Third Amendment) Ordinance, 2021 by majority vote.
The House also referred the two bills for consideration and passage at the joint sitting of parliament.
The House will now meet again tomorrow at 5pm to take up the remaining bills which could not sail through the National Assembly due to lack of quorum.
Earlier, journalists walked out of the National Assembly gallery after being prevented from covering the National Security Committee meeting.
Minister of State Ali Muhammad Khan said that journalism and politics are bonded together.
"On behalf of the speaker," he said, "I assure you that before any such meeting, the procedure will be worked out in consultation with the journalist organisation."
He assured of holding a meeting to work out a permanent solution with the speaker.
Journalists ended their walkout after the assurance of the state minister.
COMMENTS
Comments are moderated and generally will be posted if they are on-topic and not abusive.
For more information, please see our Comments FAQ