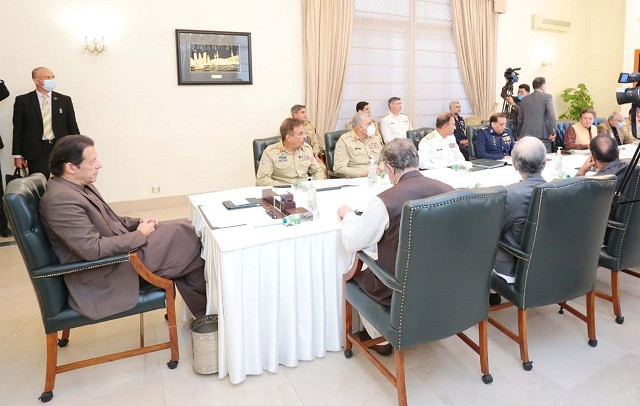 ---
ISLAMABAD:
Parliamentarians from treasury and opposition appreciated the briefing by the Inter-Services Intelligence (ISI) on national security, among other issues, expressing satisfaction over the measures to counter threats.
The briefing was held on Monday to take the lawmakers into confidence on a multitude of issues, including foreign affairs and external challenges.
During the session at the Parliament House, the Parliamentary Committee on National Security was briefed by the Director-General ISI Lt Gen Faiz Hameed about the regional and political challenges, especially the situation in Indian Illegally Occupied Jammu and Kashmir and Afghanistan.
The participants lauded measures taken by the elite intelligence institution in countering and neutralising multiple threats, particularly from its eastern neighbour using the Afghan soil and the intelligence agency NDA for its ulterior objectives.
Also read: COAS reiterates 'dire need' for global convergence to avoid Afghan crisis
Due to the effective countermeasures, Pakistan, today, is a safe country for investors and tourists alike.
The participants who requested not to be named due to the sensitivity of the in-camera briefing said the success of the countermeasures could be gauged from the fact that now limited intelligence-based operations (IBOs) are being conducted by the army.
They added that the hostile intelligence agencies are finding it difficult to carry out subversive activities.
Later, Foreign Minister Shah Mahmood Qureshi told the media that the DG ISI gave a presentation while Chief of the Army Staff Gen Qamar Javed Bajwa responded to the queries raised by the participants.
Qureshi added that Opposition Leader in the National Assembly Shehbaz Sharif and other opposition leaders also presented their points of view on the occasion.
The minister added that he presented the government's stance on the situation in Afghanistan, the progress made so far and the desire for the future of the neighbouring country.
Also read: Gen Qamar reiterates need for 'convergence of efforts' for Afghan peace
"The objective was to take the opposition leaders into confidence. They were taken into confidence and were apprised of the whole situation," he maintained.
According to the foreign minister, the meeting was held in a cordial atmosphere and those in attendance listened to each other's viewpoint with patience.
"The briefing was held under "a fantastic atmosphere..such an atmosphere should continue to prevail," he remarked.
The meeting was also attended by the national parliamentary and political leadership, members of the National Assembly, Senate and provincial leadership.
COMMENTS
Comments are moderated and generally will be posted if they are on-topic and not abusive.
For more information, please see our Comments FAQ