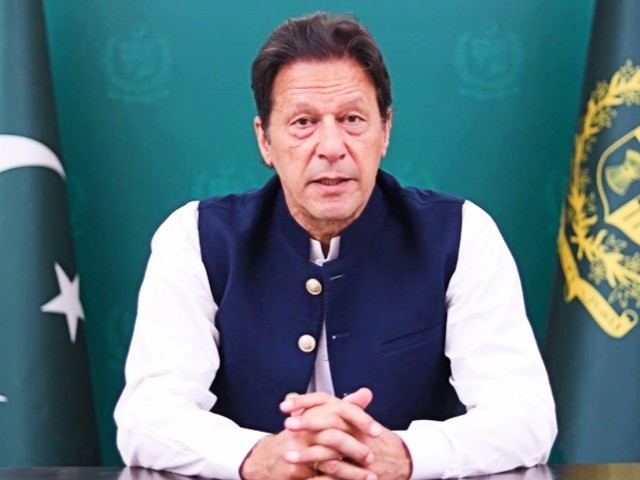 ---
ISLAMABAD:
Prime Minister Imran Khan said on Sunday that there was an "unprecedented" hike in the commodity prices across the globe as a result of the Covid-induced lockdowns, but Pakistan still "fared relatively much better".
As Pakistan grapples with high inflation, the premier shared a YouTube video made by a government spokesperson that claimed that Pakistan's economic indicators were positive despite a record increase in the prices of essential items.
In the video, Muzzamil Aslam, the spokesperson for the finance ministry, claimed that those who were lashing out at the "crashing" economy had nothing substantive in their criticism.
The spokesperson said it was true the prices of basic essentials had witnessed an unprecedented hike, but this was because of an increase in prices across the globe.
Aslam claimed that economic indicators were showing an upward trend. The Food and Agriculture Organisation (FAO) in its report had said that during September and October, there was 3.9% increase in food inflation, he added.
Read Sugar price shoots up to Rs160 per kilo
He said the World Cereal Index had increased by 3.2%, adding that edible oil prices had witnessed a 9.6% hike in October.
While an unprecedented rise in commodity prices internationally has adversely affected most countries in the world as a result of Covid lockdowns, Pakistan mashaAllah has fared relatively much better.https://t.co/KCKt8RipNs

— Imran Khan (@ImranKhanPTI) November 7, 2021
"There was a 2.6% increase in the prices of dairy products in October," he quoted the report as saying.
He claimed that Pakistan's economy was progressing despite all these hurdles. According to the government official, Pakistan's exports "fared worse during the past eight years". However, in October, exports showed a 17.5% increase, he added.
"Whereas during July and October, they [exports] increased by 25%."
According to the spokesperson, Pakistan's textile exports in the first months of the ongoing financial year stood at $6 billion.
"Pakistan's exports may reach $35 billion this year due to a record increase in textile exports."
Speaking about revenue generation, he said tax collection witnessed a "32% increase" in the last four months and the government received an additional Rs151 billion against last year.
He maintained that there was an 81% increase in the cotton crop output. He added that non-oil imports also decreased 12.5% during October.
The spokesperson said a 12.25% increase in industrial growth was witnessed in August, adding that the companies also registered 21% hike in profits.
He further claimed that there would be a record production of sugar this year.
"All this shows that the country's economy is moving fast and employment would be required in the coming days," he claimed.
"The prices of food items will be brought down very soon as well."
According to the spokesperson, the government could not control the price hike in the international market.
"All it [the government] can do is reduce taxes."
On the issue of relief for the middle class in PM's recently announced Rs120 billion relief package, Aslam said the government had already announced a concession of Rs5-7 on every electricity unit to be consumed more than the previous year's consumption during November to February.
Finance Adviser Shaukat Tarin also shared the video on his Twitter handle. The adviser wrote that the economy "by all accounts is on the rise" as shown by the data.
He added that Pakistan was a "sugar surplus country". "Pakistan is also producing huge surplus in rice, maize, and cotton."
(With input from APP)
COMMENTS
Comments are moderated and generally will be posted if they are on-topic and not abusive.
For more information, please see our Comments FAQ