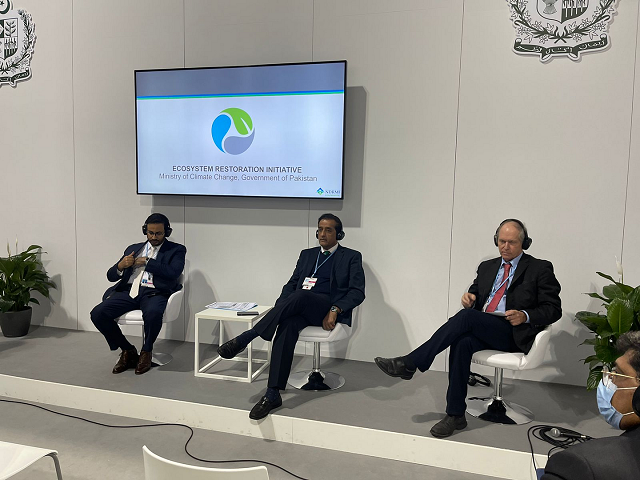 ---
GLASGOW:
The United Kingdom has announced over £55 million in support to help Pakistan tackle climate change as part of the United Nations Climate Change Conference (COP26) this week.
It is a critical time for Pakistan as global leaders come together for COP26. It has been ranked as the 8th most vulnerable country to climate change. By the year 2100, rising temperatures will melt 36% of glaciers along with the Hindu Kush and Himalayan ranges.
Zac Goldsmith, the UK Environment Minister met Malik Amin Aslam, the Special Assistant to the Prime Minister (SAPM) on Climate Change at the Pakistan Pavilion at United Nations Climate Change Summit (COP26) and separately announced 500,000 British Pounds in assistance to Pakistan as a developing nation performance bond.
"It's a redefined debt for nature swap" said Aslam adding that it will be fast tracked by the British Foreign, Commonwealth and Development Office (formerly DFID).
After the bilateral meeting on Wednesday, Pakistan's top 26 companies pledged net zero greenhouse gas emissions by 2050 under the initiative 'Net Zero Pakistan' announced by the Pakistan Environment Trust (PET). The event was hosted by PET at the Pakistan Pavilion in collaboration with Pakistan's Ministry of Climate Change and was supported by Altruistiq – a climate-tech company, the Pakistan Textile Council and British High Commission Islamabad.
Read Pakistan signs US led Global Methane Pledge at COP26
SAPM Aslam congratulated the companies (mostly textile and steel giants) included in the 'Top 26 at COP26' initiative for their commitment towards the cause of climate change and stated, "Pakistan is on the front line of climate impact and our government, under the leadership of Imran Khan, is committed to climate action on the ground. Net Zero Pakistan is uniquely a bottom-up climate initiative led by the private sector and I know it will have a big impact".
The event was opened by Talha Khan (Executive Director of PET) and moderated by Saif Hameed (PET Trustee and CEO of Altruistiq). The audience at the event included senior public and private sector leaders from Pakistan and the UK government.
Later in the afternoon the SAPM met other South Asian environment ministers after a gap of 2-3 years at the Bangladesh pavilion. Aslam told the regional ministers, including the Environment Minister from India that "air pollution and climate change is transboundary and there is a need for regional cooperation".
He said that the South Asian region is the most vulnerable to climate change and it had the opportunity to show the world a "climate friendly pathway". He asked for the Malé Declaration on Control and Prevention of Air Pollution (Malé Declaration) to be revived so that the region can collectively tackle air pollution.
COMMENTS
Comments are moderated and generally will be posted if they are on-topic and not abusive.
For more information, please see our Comments FAQ