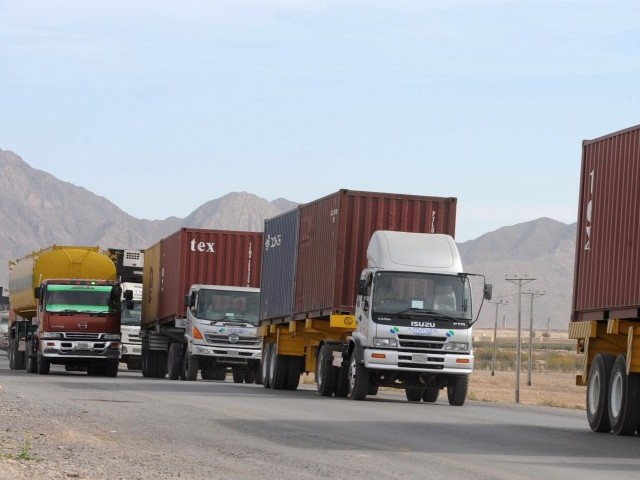 ---
KARACHI:
Goods transporters have borne losses on account of sit-ins in Punjab and have warned that they will go on strike if the government turns a blind eye to their concerns.
Talking to the business community at the Karachi Chamber of Commerce and Industry (KCCI) on Thursday, United Goods Transporters Alliance (UGTA) Chairman Ghulam Yasin Khan said that cargo transporters faced immense problems owing to sit-ins in Punjab over the past few days.
"Hundreds of containers were seized by police to use as roadblocks, though many of them were loaded with goods," he pointed out. "This has caused mammoth losses to truck owners, shipping companies, importers, exporters and suppliers of goods."
He elaborated that the situation worsened to such an extent that several containers were dumped in Jhelum River.
"While some of them have been recovered, a few are still floating in the water, which is damaging the containers and causing losses to goods transporters," he said.
In addition, the escalating demurrage and detention charges by shipping lines made the situation unbearable for the transporters, he said.
"Goods transporters are not in a position to settle claims and the government continues to ignore our grievances," he said. "Now, we are left with no other option but to go on strike."
Khan said that truck owners were already facing a severe liquidity crunch due to high cost of doing business as prices of diesel, tyres and spare parts had skyrocketed over the past few weeks.
Read Sand, gravel suppliers end strike
"The losses suffered due to sit-ins in Punjab have increased our miseries," he said. "On the other hand, customs officials in Hyderabad and Sukkur regions are constantly harassing truck drivers and imposing unjust fines."
In this regard, several letters were written to the prime minister, interior minister, Sindh chief minister and others but no response had been received so far, he lamented.
The UGTA chairman highlighted that goods transporters would be forced to raise tariffs amid the ongoing inflationary wave, otherwise their survival would be at stake.
Speaking on the occasion, KCCI President Muhammad Idrees recommended goods transporters to hold negotiations with the lawmakers instead of going on strike.
He promised to make all-out efforts to arrange talks between the goods transporters and relevant ministers.
He requested UGTA to share the record of letters written to ministers so that the KCCI could follow up on the issue and expedite its resolution.
"Strikes are neither in favour of goods transporters nor the business community under the already slowing down economy," he said.
Published in The Express Tribune, November 5th, 2021.
Like Business on Facebook, follow @TribuneBiz on Twitter to stay informed and join in the conversation.
COMMENTS
Comments are moderated and generally will be posted if they are on-topic and not abusive.
For more information, please see our Comments FAQ