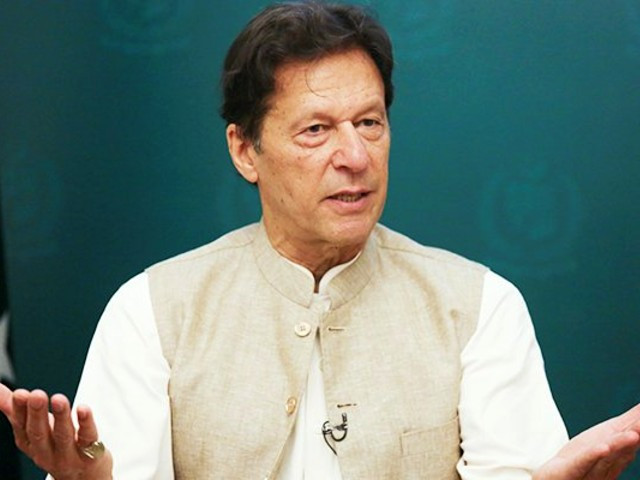 ---
Prime Minister Imran Khan on Friday lauded "impressive" Afghanistan cricket team after they gave 'favourites' Pakistan a good run for their money during their match in a high-intensity T20 World Cup encounter.
Pakistan continued their dominance in the T20 World Cup, beating Afghanistan by five wickets at Dubai International Stadium but not before giving major scares to Pakistani fans.
Captain Babar Azam stroked fifty, during 148-run chase, but middle-order batsman Asif Ali's power show in the 19th over was the highlight of the night, sealing the match with four sixes in the 19th over.
Read more: Babar, Asif star as Pakistan defeat Afghanistan
Pakistan are comfortably placed at the top of their group with three wins. They will face Namibia on November 2 in Abu Dhabi. Afghanistan are at number two on the table.
"Never have I seen a cricketing nation rise as rapidly as Afghanistan in international cricket & become so competitive," the premier wrote on his official Twitter handle.
With this competitive spirit and talent, he added the future of cricket is bright in Afghanistan.
President Dr Arif Alvi also lauded the Afghan team, saying they have outstanding spinners and a big future. "Excellent win by the Green Shirts again making it sort of a habit Thumbs up You do give us occasional jitters but continue to excel," he said.
"I commiserate with my brothers in Afghanistan. You have an outstanding bunch of world class spinners and a big future ahead of you."
Also read: Pakistan down New Zealand after fascinating clash
Federal Minister for Science and Technology Senator Shibli Faraz praised Afghanistan team. "A great match between neighbours, Congratulations Pakistan well played Afghanistan," he said.
Foreign Minister Shah Mahmood Qureshi congratulated both Pakistan and Afghanistan teams for a great game. "Well done #TeamPakistan for your third consecutive win and congratulations to Team #Afghanistan for a great game," he tweet.
"Above all, both teams continue to show the beauty and spirit of sportsmanship and fraternity."
Senator Faisal Javed Khan, taking to Twitter, lauded the hero of the match, Pakistan's finisher Asif Ali, who hit four sixes in the penultimate over and sealed the match for Pakistan.
"He is Outstanding, Exceptional, Match Winner, Marvelous and Magnificent. He is Aasif Ali! Welldone," he said.
"Congratulations Pakistan for walking into the Semis with 3 back to back wins."
Minister for Food Punjab Abdul Aleem Khan said that congratulate the nation for the win.
"Beautiful game and a spectacular finish by Asif Ali. Pakistan wins third consecutive match in T20 World Cup. Congratulations to the nation. Well done team Pakistan!," he added.
Head of Afghanistan's High Council for National Reconciliation Abdullah Abdullah said that also congratulated his team for the mighty effort they put up against the Green Shirts.
"I wholeheartedly congratulate Afghanistan's National Cricket team, & the team management on the well-deserved play & efforts in tonight's match against Pakistan. I commend your dedication, professionalism, & team-work," he wrote on Twitter.
Pakistan's Special Representative for Afghanistan Mohammad Sadiq said: "Congratulations Pakistan. Well played Afganistan. I am proud of both."
Jamaat-e-Isalmi (JI) chief Sirajul Haq also congratulated both team for the great show.
COMMENTS
Comments are moderated and generally will be posted if they are on-topic and not abusive.
For more information, please see our Comments FAQ