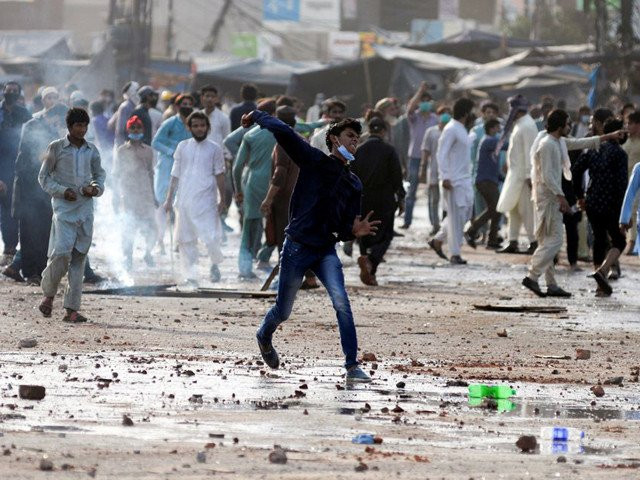 ---
RAWALPINDI/ISLAMABAD:
The Federal Investigation Agency's (FIA) Cyber Crime Wing on Thursday launched a crackdown on the proscribed Tehreek-e-Labbaik Pakistan's (TLP) social media accounts.
According to a statement issued by the FIA, it took 12 people from different cities including Islamabad, Lahore, Faisalabad, Bahawalpur and Nankana Sahib into custody and opened an investigation.
The agency maintained that the arrested individuals were suspected of involvement in uploading hate-inciting material and doctored images on the internet through the TLP's social media handles.
The FIA started monitoring the social media posts after which a man named Hamza Sheikh was arrested from Islamabad and transferred to a cell.
The others were arrested after that and the FIA was probing into the matter.
To have the TLP's registration cancelled as a political party, the federal government would have to file a reference in the Supreme Court.
Only on the orders of the top court can the Election Commission of Pakistan (ECP) delist a political party.
Read More: PEMRA reiterates ban on TLP coverage on TV, radio
A day earlier, Federal Information Minister Fawad Chaudhry had said the TLP would not be treated as a political party and urged other concerned departments, especially the ECP, to play their role in this regard.
In case the top court decides to ban the TLP, its lawmakers might also be disqualified. The TLP is registered as a political party with the ECP despite being listed as a proscribed outfit.
Sources in the ECP said the procedure for banning any political party is clearly written in the Election Act 2017.
Under the Election Act, the federal government would send the matter to the Supreme Court, which will then issue notices to the parties.
After hearing positions from both sides, the court would decide whether or not to ban the party.
The sources added that only one party had been banned in the country's history – the National Awami Party.
That happened during the tenure of former premier Zulfikar Ali Bhutto.
The government had moved the Supreme Court and a bench headed by then-chief justice Hamoodur Rahman heard the case for two years. The party was later declared banned.
The ECP later officially clarified that under Article 17 (2) of the Constitution and Section 212 of the Election Act, the federal government would declare a ban on any party.
"The federal government has to send a reference to the Supreme Court within 15 days for banning a political party," a statement issued by the commission read.
"If the Supreme Court rules in favour of the reference, the political party would immediately be dissolved."
Following the decision of the top court, the ECP will disqualify its members from becoming MNAs, MPAs or representatives of local governments.
COMMENTS
Comments are moderated and generally will be posted if they are on-topic and not abusive.
For more information, please see our Comments FAQ