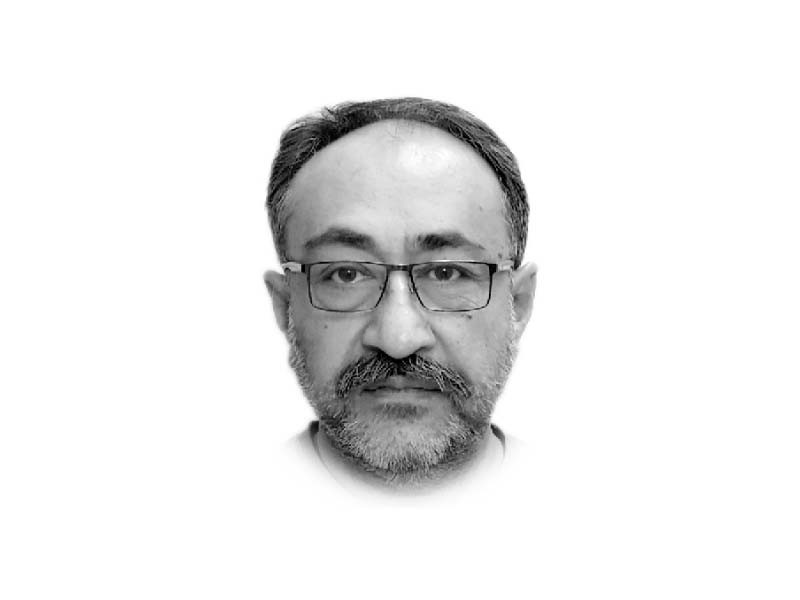 ---
The fact that this piece comes in around the time of October 27th — Kashmir Black Day — is more by coincidence, than by design.
What prompts the article, though, is how it's becoming increasingly difficult to merely live up to the diktat of the right-wing narrative, in India. This gets more difficult for those who go against its grain, and is infinitely more so if you attempt to raise a voice against it. It is quite one thing for one end of the politico-ideological spectrum to take umbrage against its opposite; quite another when a government and its apparatus — official, as well as unofficial — actively conspire to stifle, muzzle, and curb dissent. The latter is the harrowing reality that India currently faces. This is rapidly becoming India's new normal.
Point in case, is the recent news regarding the registering of two police cases, under the Unlawful Activities (Prevention) Act — or UAPA — against medical college students of Indian Illegally Occupied Jammu & Kashmir (IIOJK). One of these FIRs (104/2021, registered at the Soura police station) reads: "during intervening night of 24 and 25 October 2021 after Pakistan win one day cricket match, students pursuing MBBS and other degrees residing in the un-married hostel of SKIMS Soura raised slogans and burst firecrackers". The second (FIR 71/2021, registered at Karan Nagar police station) against students residing at the GMC Hostel, accuses them of "crying and dancing last night evening after Pakistan won the World Cup T20 match against India".
Let's hypothetically consider this, then.
A test match being played at Lords, between the English and Indian cricket teams, with a sizeable number of British-born Indian expatriates supporting India, and cheering them on in plain view of television cameras. India winning, and the British government booking cases against the blue-shirt wearing Indian supporters, for sedition, under a law that is designed to allow the UK to deal with "activities directed against the integrity and sovereignty of Great Britain". Ridiculous, right? Not quite. It's happening in India as you read this. And UAPA is meant to operationalise this, in India.
For our non-cricket playing friends, imagine this.
A football match is being played between France and Germany, in England (a neutral venue). A viral video appears on social media that shows German students supporting the French team, which wins; and the German government responds by charging them for terrorism, under a law that enables Germany to designate "an individual as a terrorist without the right to a trial". Ludicrous, right? Think, again. UAPA again; as an enabler to do such, in India.
Baseball, between Mexico and Cuba, for example. Rugby, between Australia and South Africa, say. Ice hockey, between the US and Canada. Apply the Indian template of Soura and Karan Nagar to each instance, and you get the general idea of exactly what India is doing to stifle the voices that might not quite please its hardline regime's sensibilities. One would get quite an idea as to how the entire edifice of India accusing its neighbour Pakistan of "fomenting unrest" in Kashmir starts to erode and crumble and implode. If they're booking students as potential terrorists on such seemingly-trivial matters as supporting their sporting arch-rival, is it really any wonder that these students — highly educated students one might add, under training to become doctors and healers and caregivers — harbour such tremendous ill-will towards the Indian State?
But let's leave the Indian regime to one side, for now. Over the past several years, the mindset of the average Indian has shifted too, perceptibly. Markedly. Simple perusal of the websites and social media networks carrying the headlines of the Soura and Karan Nagar incidents reveal how deeply-polarised, ethno-linguistically divided, and religiously-riven India actually is. The toxic commentary will invariably include suggestions to the Indian government to "cancel their admissions". Marking their degrees with a stamp declaring them to be "permanently unfit for employment" is another bright idea; as is "herding them" across the Line of Control to "the Pakistan they love so much". Of course, the vast majority of them offer a simple solution: "burn them to ashes"; replete with Hindutva's rallying cry of "Jai Shri Ram". What's truly unsettling is the staggering absence of a voice to oppose such suggestions. And what's perhaps even more unsettling is how India's current Hindutva-centric regime may actually consider carrying out such measures to appease its increasingly-hardline vote bank, in coming days.
It would be all too convenient for people — and India does have a lot of people, after all — to scoff, and attribute this to peripheral elements of the larger Indian society. To foist this off on the rants of a feverish few. Attempts are also made to attribute this to mere "dog-whistling". This surely cannot be the case. What we are seeing in India is far worse; it's a manifestation of a regime's will to use criminal proceedings, economic extortion, social blackmail, and outright fascism to bend and break the will of people who dare stray from the path that is considered to be "righteous" by the self-styled protectors of India's "virtue". The Indian public — and the collective visage of them being "secular" and "democratic" seems to be rapidly slipping — is guilty, too, of complicity. If this were a crime of commission perpetuated by only a radical fringe of Indian society, it might be forgiven. That it is a collective crime of omission by one-seventh of all humanity is inexcusable.
IIOJK has remained under virtual lockdown for an age, now; certainly — and in a much more draconian fashion than preceding decades — since 5th August 2019. The region has one of the highest troops-to-civilian demographics in the world; to the order of almost one Indian soldier for every ten Kashmiris. Some accounts place the number of half-widows in Kashmir — women whose husbands have been subjected to "enforced disappearances" and are presumed dead, without actual proof of these deaths — at over 25,000. The figures for actual widows and orphans are mind-numbingly higher. Murder, mayhem, carnage, suffering and untold grief is very much the order of the day.
And on those sporting occasions, when some students get the opportunity to express their love for Pakistan, they're taken to task; socially, psychologically, and economically, possibly, for the rest of their lives. Dog-whistled on by the likes of Gautam Gambhir — at best, a run-of-the-mill cricketer himself, who seems to have found a second lease on life, as a poster boy for Hindutva and its millions of adherents — who states that such people who are "bursting crackers on Pak winning can't be Indian"; India finds itself spiraling deeper and deeper into the abyss of polarity and self-harm, and becoming more and more racially-ethnically-religiously divided. "You have to love India, and whatever good/bad we hand out to you", the discourse seems to suggest, "or we'll make you".
Gambhir is right, though. These "people" aren't Indian. They never were, and never will be. Now, it's just becoming more and more obvious, to all and sundry.
Published in The Express Tribune, October 27th, 2021.
Like Opinion & Editorial on Facebook, follow @ETOpEd on Twitter to receive all updates on all our daily pieces.
COMMENTS
Comments are moderated and generally will be posted if they are on-topic and not abusive.
For more information, please see our Comments FAQ