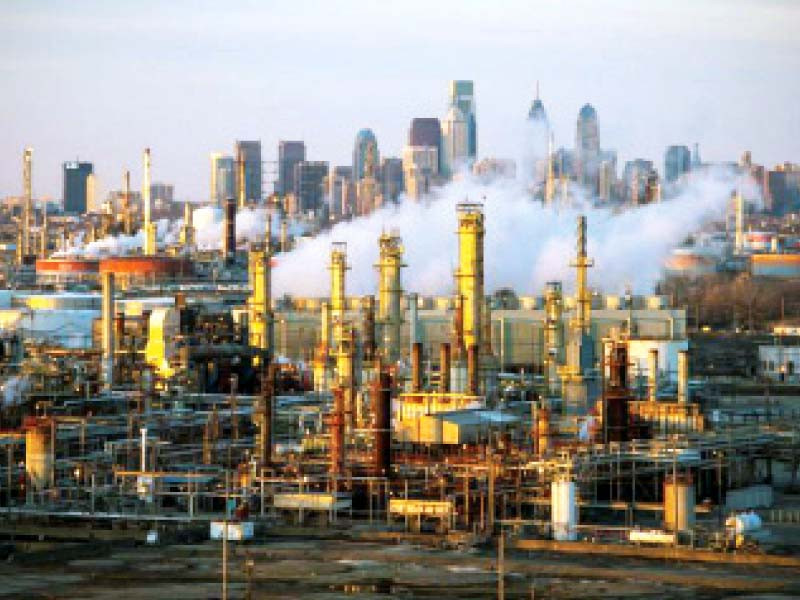 ---
ISLAMABAD:
Three major refineries have hit back at the recommendation of shutting them down given by a member of the Energy Expert Group of Economic Advisory Council (EAC).
Pakistan Refinery Limited (PRL), National Refinery Limited (NRL) and Byco Petroleum, while giving their response to the "Recommendations for Refinery Sector Reforms", have written letters to the director general oil of the Petroleum Division.
Finance minister had sought their comments following a letter penned by Farooq Rahmatullah, a member of the Energy Expert Group.
Rahmatullah had stated that PRL, NRL and Byco had become obsolete and had high carbon emissions levels, therefore, these refining plants should be closed down.
"We strongly contest the impression created in the letter that Byco, PRL and NRL or for that matter any of the existing refineries in Pakistan is obsolete or outdated," Byco said in its letter.
Since its inception, according to Byco, it has been going through a continuous process of upgrading by making substantial investment for superior-quality and environment-friendly production, energy conservation and environmental requirements from time to time.
In this regard, the installation of reformer and isomerisation units has enabled Byco to convert its entire naphtha into 92 octane motor gasoline.
Byco said that it also converted naphtha from EPRF (a local refining facility) into gasoline, which was earlier being exported, thus bringing substantial import substitution to the country.
Byco pointed out that it had already announced its upgrading project and was making progress to achieve the government's vision. It "plans to enhance its configuration and processes, and upgrade into a conversion refinery producing Euro-5 fuels.
Dismissing the allegation of higher carbon emissions, Byco said that all local refineries had vigorous environmental protocols and strict monitoring mechanisms in place, vouched by the relevant environmental protection agencies.
It emphasised that the importance of domestic industries for the economy had been ignored but throughout the world tariff protection for local industries was accepted for employment generation and competition with imports and endorsed by the World Trade Organisation (WTO).
"The suggestion to close some of the refineries would be truly catastrophic, not only in terms of foreign exchange loss and disruption to supply chain, but will also jeopardise the security of energy supplies to the nation and its defence forces," Byco said in the letter.
Separately, NRL said that it was complying with the government's instructions for improving product specifications and also complying with the National Environmental Quality Standards. "It has endeavoured to go beyond the requirement in improving product quality."
NRL pointed out that it was the only refinery in Pakistan producing Euro-5 standard diesel and the only domestic source of ultra-low sulphur diesel used by Pakistan Navy and other modern military vehicles.
According to NRL, the replacement cost of existing five refineries is over $10 billion and despite repeated efforts, new refinery projects could not materialise for one reason or the other.
"We, therefore, request that suggestions that are biased shall not be given any importance. Such efforts only spoil the environment of investment in refining industry, reduce value of invested capital and lead the country towards import reliance," it said.
On its part, PRL stressed that refineries were the country's strategic assets, playing an important role in meeting refined product requirements, including defence requirements, therefore, shutting down the refineries would create serious problems for the defence forces.
PRL was of the view that the closure of refineries would put pressure on the country's foreign exchange reserves because of increased imports of refined petroleum products.
"Any greenfield deep-conversion refinery will take a minimum of seven to eight years to start commercial production and to match nameplate capacity of 275,000 tons due to closure of the three refineries," it said.
According to PRL, the new refinery requires an investment of at least $8 billion, without considering certain infrastructure cost like pipeline connectivity, port/jetty cost or cost of Single Point Mooring (SPM), which, if included, can easily take the cost to $10 billion.
"It is quite apparent that generating such a huge investment, considering the country's geopolitical situation, is an extremely uphill task as compared to a lower amount required to upgrade all the existing refineries, with investment of around $4-5 billion."
Published in The Express Tribune, October 26th, 2021.
Like Business on Facebook, follow @TribuneBiz on Twitter to stay informed and join in the conversation.
COMMENTS
Comments are moderated and generally will be posted if they are on-topic and not abusive.
For more information, please see our Comments FAQ