PUBLISHED October 24, 2021
KARACHI:
It was a hot September evening. The sun was slowly vanishing from the horizon and everything was enveloped in the deep dust cover. The car was swiftly traveling towards Al Manazar picnic point, some 158 kilometers or 2 hours-13-minute-drive away from Karachi, leaving behind a landscape of surroundings.
Once having reached the destination, the scene that unfolded was quite a blow: an almost dried River Indus was in sight. Instead of water, sand dunes were visible up to the border. Due to shortage of water, the River Indus looked more like a desert than a river.
Few boats were anchored in a shallow little water. With the sunset, lights of Jamshoro Bridge went on and turned the otherwise dark bridge into a luminous pathway.
At the bank of the river, the scent of fried fish spread all around. In a small semi dark dhaba on a clay stove in which a pile of wood branches were burning, chef Shareef Mallah was busy frying fish.
"Palla has returned and so has our makeshift livelihood. Palla is extensively available in summer season of June and July but we have to spend rest of the year without Palla due to acute water shortage in 'Sindho Darya' (River Indus)," said Shareef. "It is one of the most delicious amongst the fish species. Palla is not an ordinary fish but a gift of River Indus."
"I have been cooking Palla fish and other fish for tourists and visitors at Al Manzar Jamshoro for the last five years. We buy Palla from a local trader," he said. "We also have other fish types in our menu but people like and demand Palla most," said Shareef Mallah while quickly sprinkling mixed dry spices on a fish frying in a large flat pan. After completely frying it, Shareef serves it to a customer and then cleans the pan.
Monsoon has brought back the delight of Palla fish at Kotri Barrage near Hyderabad.
Palla, known for its delicious taste, is born in Indus Delta's mangroves at the Arabian Sea and travels against the flow of the river water. Decades ago, when River Indus water was abundant at Indus Delta throughout the year, Palla used to travel till Sukkur Barrage (500 river miles or so) year around. However, due to the reduction of River Indus water to Indus Delta, Palla remains to disappear for ten months or so and it only appears for two months of the monsoon of the year.
The fresh arrival of Palla at Kotri Barrage means additional business for recreational spots like Al-Manzar Restaurant.
Palla is a popular and sought-after dish in Sindhi cuisine list and has become a part of Sindhi culture.
The popularity of the fish breed can be gauged from the fact that it is being sold at Rs 5,000 per kilogram.
Lakkha Dino Panwahar, owner of the restaurant in a joyous voice talks about Palla. Although facing reduction in Palla customers due to high price, Panwahar has all praises for this fish breed.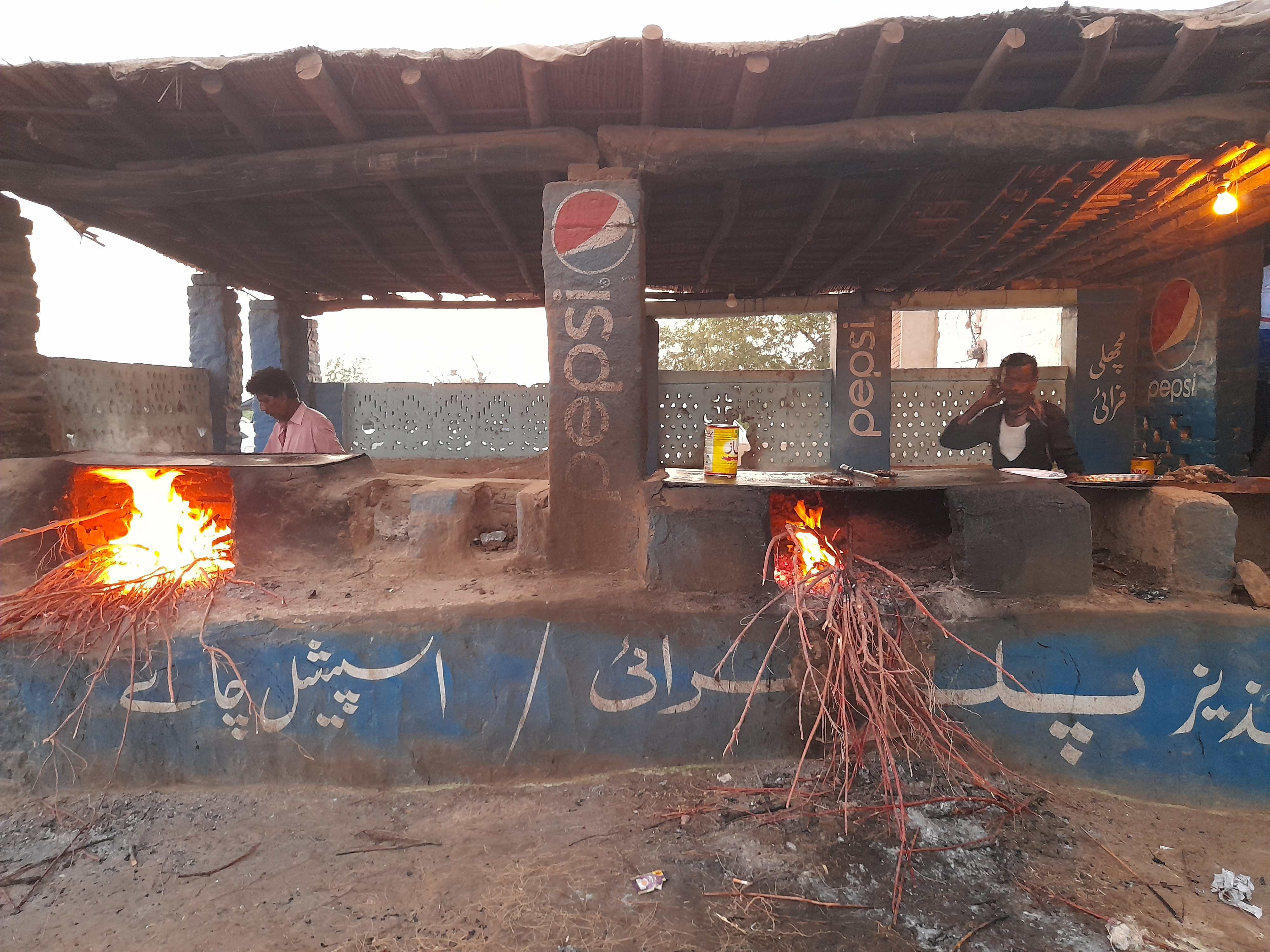 "Al Manzar is famous for Palla fish. Foodies from not only from Hyderabad and Karachi but the entire country visit here and enjoy Palla. The Palla Machli which in Sindhi language is called Pallo Machi is precious and priceless. During peak seasons when water level high and Palla available in good quantity, we easily cater the demand of the customers in summer and also able to stock Palla to serve in winter also," he added.
Upstream dams and climate change led dearth of water in River Indus makes difficult for Palla to swim from the Arabian Seat to upstream into the river and spawn.
Water in the country is largely dependent on water from the Indus River basin. However, many country experts have already predicted a drought and further water scarcity issues by the year 2025. According to the Pakistan Council of Research in Water Resources, Pakistan touched the water stress line in 1990 and crossed the water scarcity line in 2005.
There are myriad reasons responsible for the decrease in the water supply in the river. The overuse of water for irrigation purposes has not helped the matter. The Indus River System Authority increased the water share of Sindh from 115,000 cusecs to 120,000 cusecs and the share of Punjab from 106,000 cusecs to 110,000 cusecs. Thus, depleting an already scarce resource.
Climate change has also made the matter more dire. According to a report published in May 2021, by Food and Agriculture Organisation of the United Nations, Pakistan is one of the most vulnerable countries due to climate change. The Global Climate Risk Index ranked Pakistan in the top 10 countries adversely affected by climate change.
Talib Katchi, a resident of Indus Delta and representative of Pakistan Fisherfolk Forum (PFF), an NGO working for the rights of fishing community said in 1960's, River Indus was full of water. Seventeen creeks were prosperous and plenty of fish species including Palla were available. The bad time began with the construction of dams and barrages as River Indus water was ceased by these dams and barrages.
"Sea had begun to move forward and still the situation is same. Sea is continuously moving forward swallowing 40,000 to 50,000 acres of land daily. It has reached to the city of Sajawal. If sufficient water could not discharge in the River Indus, it would swallow Karachi till 2050 to 2055 just like it swallowed many villages and Islands in Indus Delta," claims Talib Katchi.
According to a report on surface water bodies in Indus Delta published in Mehran Univeristy of Engineering and Technology Research Journal in 2020, world's 5th largest Indus Delta is under serious risk of losing its ecological function. Diminishing Indus River flow and climate change since last few decades are the major reasons behind the threat.
"During the current century, rainfall patterns, and river flows will be reduced, sea levels will rise all over the world. The projected sea level rise of 180 to 590 mm will directly affect the Indus River Delta with an active area of about 0.6 million hectares. Due to dam construction and increasing water demand for irrigation and industry, the amount of freshwater flow into the Indus Delta significantly decreased. As a result, saline water from the Arabian Sea is intruding into the delta, stretches in southern districts Thatta and Sujawal of the Sindh province of Pakistan at an alarming rate," research stated.
Indus Delta, according to Ramser Convention on Wetlands 1971, comprises of seventeen creeks. Since the construction of Kotri Barrage in 1955, the River Indus does not have sufficient water downstream through the year for the Palla. Reduced water level means less quantity of Palla which is important for Sindh's fishermen because it earned them more than other fish species.
Gul Muhammad Macchi is a local fish trader supplies Palla to restaurant. "I buy Palla from the fishermen of Jamshoro and sell at Al Manzar. Because of its quality and taste, Palla of Jamshoro is number one. Once there were plenty of Palla fish in River Indus but due to scarcity of water, the quantity of Palla in this summer has been reduced drastically," he said. "Water filled Indus River was source of prosperity for Indus delta inhabitants and employment to several locals but these days we are passing through difficult times as there is little water in the River. Water shortage is acute. Apart from fish shortage, there is no drinking water. Daily life is also suffered due to the unavailability of water for washing clothes and utensils and cooking. Other than Palla, Khaga and other fish species are also available in River Indus when river flow is normal."
Despite all odds, popularity of Palla remains the same and it is now considered as a part of Sindh's heritage. Palla fry, Palla Pulao, Palla Biryani, Palla gravy are few dishes prepared with Palla.
"Four decades ago, Palla was available throughout the year. Jaira and Gondhai were two types of Palla. They were big in size and weigh two kilograms to two and a half kilograms. These days, the weight of Palla has been reduced to one kilogram its taste has also been not like the old Palla," cited Talib Kachi.