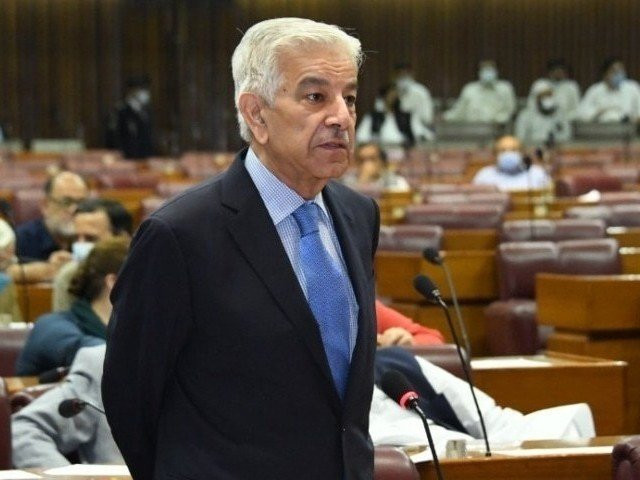 ---
PML-N lawmakers on Friday launched a tirade against State Bank of Pakistan (SBP) Governor Reza Baqir over the soaring rate of dollar.
Speaking during the National Assembly proceedings held under the chairmanship of Speaker Asad Qaiser, the party's MNA, Khawaja Asif, maintained that the incumbent SBP governor was a representative of the International Monetary Fund (IMF).
"He [Baqir] first sank Egypt and now he is bankrupting Pakistan," he added.
Murtaza Javed Abbasi, also of the PML-N, expressed his concerns over the rising value of the dollar.
"The current government accuses former finance minister Ishaq Dar of artificially controlling the dollar. I challenge the government to temporarily bring the dollar to Rs100."
Federal Economic Affairs Minister Omar Ayub retorted that the PML-N had taken a loan of $23.6 billion to artificially keep the rupee stable and the now the country was paying an interest of $9 billion for it.
Asif noted that the SBP governor had earlier in the day said the devaluation of rupee had benefited overseas Pakistanis.
"He did not think about what will happen to the 220 million people of Pakistan. He will do his work and leave the country," he added.
The PML-N leader recalled that Prime Minister Imran Khan, before coming to power, used to stand on a container and say that a fall of one rupee against the dollar increases the debt of the country.
Read: Rupee continues to weaken
"Today, the value of the dollar is increasing every day."
To respond to Asif, the speaker gave the microphone to Parliamentary Affairs Adviser Babar Awan. However before he could speak, the PPP lawmakers created a fuss. PPP's Naveed Qamar pointed out the lack of quorum.
The speaker adjourned the session indefinitely.
Earlier, the planning ministry presented the details of the China-Pakistan Economic Corridor (CPEC) projects the House.
At present, 18 projects have been completed at a cost of $15.7 billion. Work is still under way on 21 projects at a cost of $9.3 billion.
On Monday, the SBP governor, at a dinner in London, reportedly said the families of overseas Pakistanis back home benefited from the rupee fall as the volume of their hard-earned remittances were now increasing.
He added that though some lose out from the exchange rate increase, some also benefited.
"For example, if in this year remittances are approximately $30 billion and if our exchange rate depreciates even 10%, then it translates to an additional $3 billion reaching the families of overseas Pakistanis back in the country."
He added that those who bought imported items were facing difficulties. "Those who have the ability to go on foreign trips or buy very expensive imported things obviously will be squeezed. But there are those who have benefited, and those are the families of overseas Pakistanis in Pakistan."
COMMENTS
Comments are moderated and generally will be posted if they are on-topic and not abusive.
For more information, please see our Comments FAQ