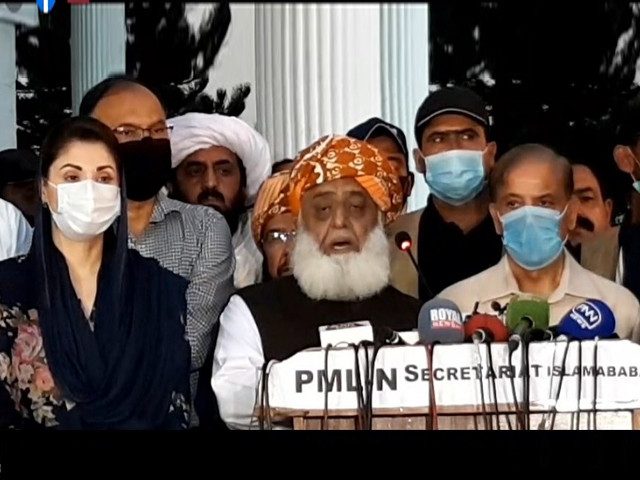 ---
PESHAWAR:
Pakistan Democratic Movement (PDM) has decided to hold a grand rally against the rising inflation in the country on November 5 in Peshawar.
All member parties have been directed to hold district-level meetings and quickly finalise the arrangements in this regard. It was also decided that protest demonstrations will be held till November 4 across the province in all districts.
The decision was taken at a meeting held on Wednesday at Mufti Mehmood Center in Peshawar which was chaired by Maulana Attaul Haq Derwash. It was attended by Qaumi Watan Party (QWP), Pakistan Muslim League Nawaz (PML-N), Jamaiat Ulema Pakistan Fazal (JUI-F), and National Party leaders.
Later, PDM's media coordinator Abdul Jalil Jan told the media that a decision has been made to hold protests across the province.
He said that Southern districts, Peshawar, Mardan, Kohistan, Torghar, Malakand, Upper Dir, and Chitral were the responsibility of JUI-F. Similarly, Swabi, Charsadda, Buner, Dir lower had been handed over to QWP, Swat to Mili Awami Party (MAP), Shangla, Abbotabad, Haripur, Manshera to PML-N and Lower Chitral District has been made the responsibility of Jamiat Ahle Hadis Party.
Read PDM announces new phase of anti-govt protests across country
"All allied parties have been directed to call meetings and announce a schedule for protests across the province. A grand rally will be held in Assembly Square in Peshawar on November 5 which will be attended by the provincial and central leaders," he said, adding that Syed Fayaz Ali Shah was directed to hold meetings with lawyers, traders, doctors and other organisations to make them a part of the protests. A committee for this purpose was formed and headed by Syed Fayaz Ali Shah and Abdul Jalil Jan, Dr Zakir Shah, Haider Khan Advocate, Fayaz Khan and Engineer Hamid Gul will be the members of the committee.
During the meeting, party leaders blamed that the PTI was in power for the past eight years in Khyber-Pakhutunkhwa (K-P) and for three years in the center, the economy had collapsed in the past three years under PTI.
"There is inflation which has no parallel in the history of this country. Pakistan is being run on the dictation of IMF and people are forced to commit suicide but the PTI government is not willing to understand the ground realities," they said, adding that the PDM was the last hope of the nation which has the ability to deliver rather than making tall claims like the PTI and its leader Imran Khan.
Published in The Express Tribune, October 21st, 2021.
COMMENTS
Comments are moderated and generally will be posted if they are on-topic and not abusive.
For more information, please see our Comments FAQ