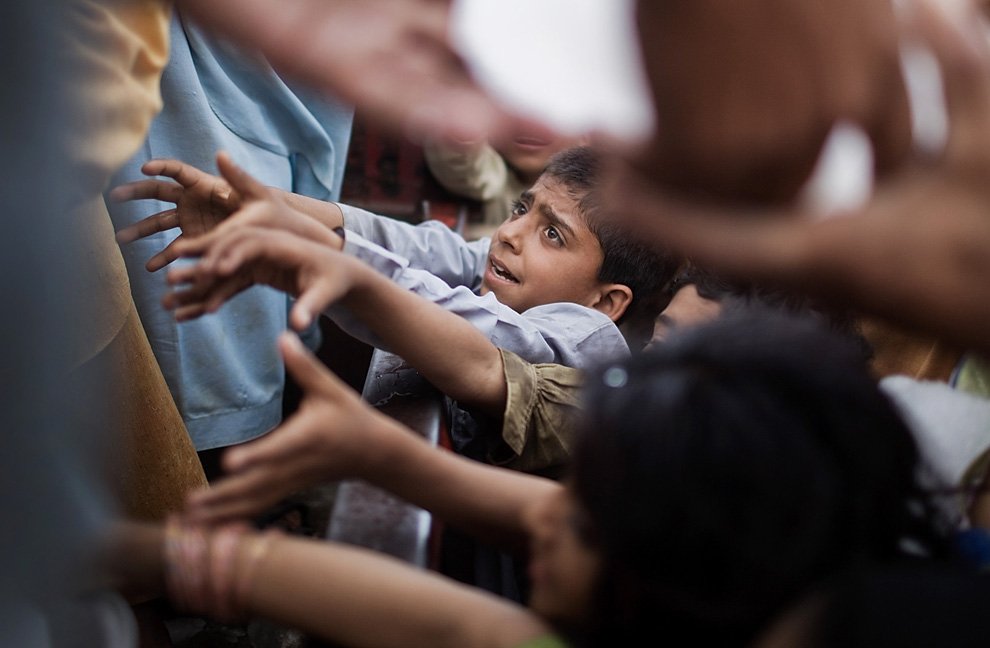 ---
KARACHI:
Yesterday's date holds high significance as each year October 17 is observed as the International Poverty Day.
The aim to eradicate poverty is highlighted along with the many struggles faced by the impoverished. It is being observed since 1992, after the adoption of a resolution by the United Nations General Assembly.
Being the first Sustainable Development Goal (SDG), ie no poverty, this day underscores the determination to end poverty in all forms everywhere by 2030. However, the pandemic has reversed the progress made towards poverty reduction not just in Pakistan but the world over.
Blaming Covid-19 completely for the inability to achieve the target by 2030 would not be entirely fair. Even before the pandemic started, the UN projections suggested that globally 6% of the population would still be living in extreme poverty.
To this if we add the "new poor" born out of Covid-19, the picture seems gloomy.
The measures undertaken by the Pakistan government in order to limit the spread of the pandemic have pushed more into multidimensional poverty. This is because the informal economy, which enables poor people to survive the difficult times, was mostly shut down in many cities.
The theme for this year is "Building Forward Together: Ending Persistent Poverty, Respecting All People and Our Planet".
This theme emphasises that the poorest of the poor do not want to go back to the pre-Covid situation but aspire to move out and break the shackles of poverty.
Poverty is a violation of human rights and there is a need for people from across the world to come together to ensure that these rights are respected.
Growing inequality may be detrimental to the country's economic growth, weakens social cohesion and breeds social tensions. This, in turn, increases chances of conflict and promotes instability.
Aptly put by Nelson Mandela, who said "overcoming poverty is not a gesture of charity. It is an act of justice. It is the protection of a fundamental human right, the right to dignity and a decent life."
Rural poverty in Pakistan is 27.6% (2018-19) in contrast to the urban poverty rate of 10.7% in the same year.
Poverty levels differ at provincial levels too as it is more pronounced in Balochistan as compared to other provinces. The incidence of poverty among women in contrast to men is higher.
This comes despite the fact Pakistan enhanced its cash transfers by 281% as compared to its pre-Covid coverage levels and currently around 2.9% of the total budget outlay is reserved for the Ehsaas welfare programme.
When the pandemic hit Pakistan, the government also took a loan of $500 million from the Asian Development Bank (ADB) to be used for poverty alleviation through the expansion of health sector capabilities, so as to give fiscal stimulus to boost economic growth and create jobs.
This was done under the umbrella of Ehsaas. But high bouts of inflation have made the real worth of cash transfers less effective.
Many schemes targeted towards the poor have been initiated by the Pakistan Poverty Alleviation Fund, which include transfer of productive assets to 60 poorest districts, disbursement of Rs8.4 million in micro-credit loans and construction of around 100,000 seismically safe houses.
This work is in addition to the plethora of NGOs working across the country with their own numerous programmes. There are many social insurance, social assistance and social safety net programmes in the country.
In Sindh, there are 12 social assistance programmes and this number does not include the other types of social protection programmes. So it makes one wonder that if there are countless organisations working at numerous levels to eradicate poverty, why are the results not as drastic as they should be.
Perhaps, the number of programmes is sufficient but what lacks is the correct targeting and the correct antidote.
Why is there so much poverty?
There are various answers to this question, the most important being unemployment, social exclusion, and high vulnerability of certain segments that renders them less productive.
This higher vulnerability is present as these segments live in environments that are more prone to natural disasters and diseases. Unsanitary environments are prone to diseases such as diarrhea, which decreases the already little nutritional benefits of the food the poor children eat. This decreases their capabilities and hinders opportunities.
Overpopulation, corruption and ethnic conflicts are some other reasons of poverty.
The current government had promised to generate productive employment and job opportunities for the poor and the marginalised. With a huge target set in 2018 to create 10 million jobs over the five-year period, the progress so far is far from the target. Some progress has been made but there is a long way to go.
The Economic Survey noted that due to Covid-19, the number of jobless people increased by 20.71 million. Both these factors have created resentment, especially amongst the lower income groups.
So the ferocious dragon of unemployment still seems to be untamed by the government, thus, doing little to curb poverty levels.
The other widely agreed reason for poverty is social exclusion, which is defined by Amartya Sen as "a multidimensional phenomenon which incorporates the economic, social and political aspects of individuals".
Pakistani poor, especially in rural areas, experience exclusion not just in access to material resources, but also in health, educational and living standards. They continuously face financial hardships, various economic shocks such as inflation, and also insecurity of food and self.
Can we end persistent poverty?
The government needs to adopt and support a number of approaches to tackle this. Social inclusion can be promoted through local communities. These local roots help better recognise local needs, especially of those that are hard to reach.
Other approaches include empowering citizens through employment and designing policies considering their needs, giving equal rights not just in documents and words but also in action, removing quotas in employment, educational and social services along with providing equal rights for housing and basic healthcare facilities, promoting education especially of girls through highlighting private and social returns and also stressing the importance of digital inclusion.
Poverty can be reduced by improving quality and providing ready access to public goods, which includes not just education and healthcare but also recreational opportunities in the form of parks and proper garbage disposal mechanisms.
"As long as poverty, injustice and gross inequality exist in the world, none of us can truly exist," said Nelson Mandela.
The writer is a PhD scholar at the Institute of Business Administration, Karachi
Published in The Express Tribune, October 18th, 2021.
Like Business on Facebook, follow @TribuneBiz on Twitter to stay informed and join in the conversation.
COMMENTS
Comments are moderated and generally will be posted if they are on-topic and not abusive.
For more information, please see our Comments FAQ