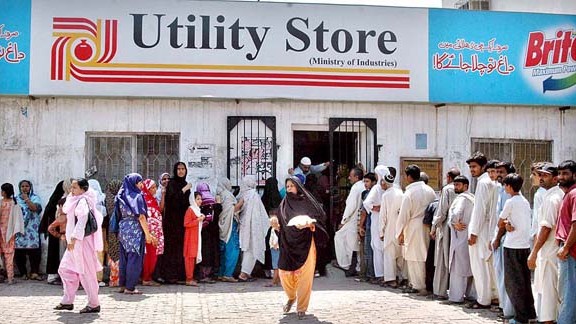 ---
ISLAMABAD:
The Utility Stores Corporation (USC) on Friday jacked up the prices of essential commodities, including edible oil, soap, and food items, spreading fear of inflation across the country ahead of the winter season.
A similar sort of development in September had prompted the National Assembly Standing Committee on Industries to direct the USC to take stringent measures to curb pilferage and other irregularities in the utility stores. To address the issue, the panel had also recommended that such stores must resort to the Enterprise Resource Planning system that will keep logistics in check.
According to the notification, prices of one-kilogramme packets of cooking oil and ghee – an essential item of daily use– have been increased by Rs15-20. Moreover, prices of 2.5 to 10 kilogrammes of cans of different ghee brands have also been increased by Rs40-Rs1,090.
Read USC jacks up prices of various items
"Branded ghee's 2.5kg can price is now increased from Rs868 to Rs910, showing an increase of Rs42. In addition to this, the price of 10kg can of branded ghee has increased from Rs2,500 to Rs3,590," it read.
Such an increase would apparently impact the people's buying power as they are still reeling from the financial effect of coronavirus.
Furthermore, the USC has also increased the price of 2kg of washing powder from Rs10 to Rs21.
The rates of 100-gram bottle of body lotion has been increased by Rs20 and 42mg tube of shoe shinning cream by Rs10.
Further increase has also been witnessed in the price of other items like up to Rs20 increase on 500ml liquid bleach for clothes; up to Rs41 on a one-litre toilet cleaner; Rs4 on 180ml bottle of shampoo; Rs15 on 60-gram of bath soap; Rs9 on 228ml bottle of hand wash; Rs40 on 800ml bottle of syrup; and up to Rs20-40 on 300-gram of pickle bottle.
Read more USC urges govt to provide it wheat stock
Noodles and pesticides have also been made more expensive.
Last month, Finance Minister Shaukat Tarin directed the authorities concerned to immediately ban the export of perishable food items.
The minister had reiterated instructions at least for the third time in a meeting of the National Price Monitoring Committee (NPMC), which he chaired to review the price trend.
"The finance minister directed the Ministry of Commerce to expedite the process of banning the export of perishable commodities in consultation with the Ministry of National Food Security and Research for the next three months to ensure availability of such commodities at an affordable price to the consumers," the finance ministry stated.
COMMENTS
Comments are moderated and generally will be posted if they are on-topic and not abusive.
For more information, please see our Comments FAQ