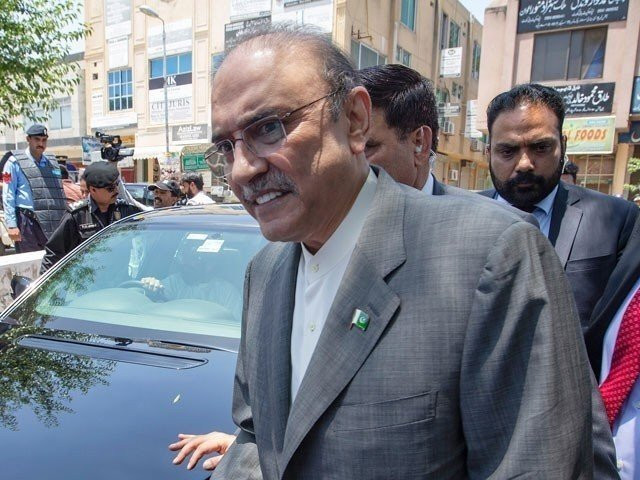 ---
ISLAMABAD:
An accountability court rejected former president Asif Ali Zardari's plea for acquittal under the National Accountability Bureau (NAB) Amendment Ordinance and summoned the Pakistan Peoples Party (PPP) co-chairman on October 28 for his indictment in Rs8 billion suspicious transaction case.
Zardari appeared in the court of Accountability judge Asghar Ali. During the hearing, Zardari's lawyer Farooq H Naek filed the acquittal plea, saying that there was no case against his client after the NAB Amendment Ordinance.
Naek told the court that there was no charge of causing loss to the national kitty or the allegations of abuse of power or money laundering in this case. He added that Rs8 billion suspicious transaction in the case was a private deal, which no longer fell under NAB's jurisdiction.
The NAB prosecutor said that if the court ordered, he will submit the reply. However, after hearing the preliminary arguments, the court reserved its ruling, which was announced later. The judge rejected the acquittal plea order for framing charges against the accused on October 28.
Later, Judge Asghar Ali took up the Toshakhana reference against Zardari and former prime minister Yousuf Raza Gilani. During the hearing NAB prosecutor Irfan Bhola sought time for filing reply to Zardari's plea.
The court later recorded the statement of NAB witness Asim. The court also summoned next witness, Abdul Rashid, and directed NAB to file reply to Zardari's plea before adjourning the hearing of the case until October 28.
Zardari also appeared in the court of Accountability Judge Muhammad Azam Khan for the hearing of money laundering and fake accounts case against him. The co-accused in the case, Faryal Talpur and Abdul Ghani Majeed were granted exemption from personal appearance in the court. The court adjourned the hearing till October 22 at the request of the defence counsel.
Later, talking to the media persons after the hearing, former president Zardari claimed that his party would form the next government in the country. When asked about the accountability process, Zardari said: "The process will continue till the country's economy does not go down further."
COMMENTS
Comments are moderated and generally will be posted if they are on-topic and not abusive.
For more information, please see our Comments FAQ