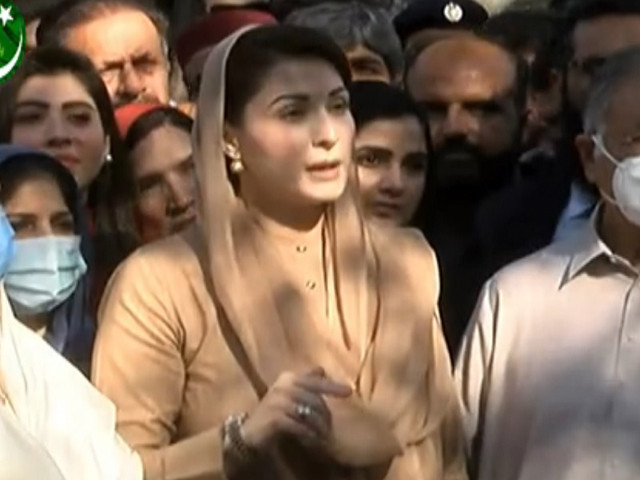 ---
ISLAMABAD:
PML-N Vice President Maryam Nawaz on Wednesday took a fresh jibe at Prime Minister Imran Khan, saying he "should not attempt to be [former premier] Nawaz Sharif" in the wake of the PM's Office delaying the notification of Lt Gen Nadeem Anjum's appointment as the new chief of the Inter-Services Intelligence (ISI) as announced by the military's media wing in a press release last week.
The PML-N leader's statement came on the same day when the consultation between PM Imran and army chief General Qamar Javed Bajwa over the appointment of the new spymaster concluded.
"Wearing the skin of a lion does not make you [PM Imran] a lion. One has to endure jail and go to Attock Fort [a reference to her father Nawaz] to demand respect for the vote," she said while talking to the media outside the Islamabad High Court.
"He [Premier Imran] has nothing to do with democracy and democratic struggle, but will have to answer for crushing people's votes and burdening Pakistan with historical debts," she added.
The PML-N leader said there were no two opinions about the constitutional rights given to a prime minister.
"However, [PM] Imran Khan is neither a constitutional nor an elected prime minister," she insisted, adding that the premier relied on "magic" to run the country of 220 million people.
"When important appointments are made on the basis of witchcraft and ghosts, then obviously the institutions of the country will be turned into a spectacle."
Maryam questioned why the premier's "spells" could not be used for public welfare if they were so "successful".
Read: Consultations between PM, COAS over new DG ISI completed: Fawad
"Why can't these 'spells' be used to lower the prices of wheat, petrol and medicine? Why are they only used for important appointments?" she questioned, claiming that the appointment [of the new ISI DG] was not for the country, but to save oneself.
The PML-N vice president said that she was not afraid of fake cases or arrests, adding that the National Accountability Bureau (NAB) could arrest her to show the world how afraid they were of the truth.
"Power can temporarily suppress the truth but it will eventually come to light."
Maryam said NAB had requested for her and her husband's bails to be cancelled, adding that she felt like "children were scared" when she read the petition.
"I want to meet the 'close friend' who filed the petition against my bail. This person should be given a 22-gun salute," she sarcastically remarked.
The PML-N leader said the opposition would not allow PM Imran to become "a political martyr".
She also ruled out differences within constituent parties of the opposition alliance, the Pakistan Democratic Movement.
Responding to Maryam, Minister of State for Information and Broadcasting Farrukh Habib said that "Sharif family, a gang of thieves and robbers, was vigorously following the footsteps of Indian Prime Minister Narendra Modi".
Addressing a news conference in Islamabad, Habib said the history of Sharif family was replete with corruption and attempted weakening of the country's institutions.
Modi was also playing the same dirty game of defaming Pakistan, he added.
Habib alleged that Sharifs were unsuccessfully trying to destabilise the institutions that guaranteed national defence and security of the country. However the attempted defamation of Pakistan's security institutions is not acceptable at any cost, he added.
Also read: NAB seeks cancellation of Maryam, Safdar's bail in Avenfield case
"The fugitive and convicted Nawaz Sharif is enjoying a luxurious life in London," he said.
"Corruption will have to be accounted for and various gimmicks of Maryam cannot escape the accountability," he added.
The state minister said the fake Calibri font and Qatri letters could not prove the innocence of Sharif family.
Special Assistant to the Prime Minister on Political Communication Shahbaz Gill also reacted to Maryam's speech asking the PML-N vice president to "confine her views to politics" instead of talking about superstitions.
Addressing a presser in Islamabad, Gill said since Maryam was talking about magic and superstitions, she should also clarify "what kind of jinn she used to launder the money abroad".
"Now that Maryam has started talking about [superstitions], would she care telling us about the witches that worked hard day and night to build apartments for the Sharif family in London?" Gill exclaimed.
(With input from APP)
COMMENTS
Comments are moderated and generally will be posted if they are on-topic and not abusive.
For more information, please see our Comments FAQ