 ---
PPP MPA Sharmila Faruqui's father Muhammad Usman Farooqui has passed away in Karachi on Tuesday morning.
Informing her followers about the same, Sharmila took to Twitter to share a heart wrenching photo, holding her father's hand. She wrote, "Together forever Papa.. your heart will beat with mine."
His funeral prayers will be held at Rahmania Mosque on Tariq Road after Asr prayer.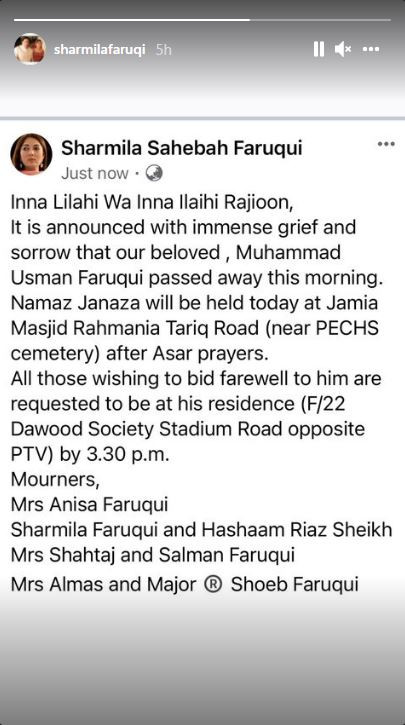 Taking to Instagram, Sharmila penned another heartfelt note in his honour. Sharing the same photo, she wrote, "You taught me to be brave, you taught me to survive the toughest of times, you taught me to pursue my dreams… you've been my mother and father both."
Sharmila added, "You always had by back and my hand. You may have left physically but you are here with me spiritually, watching and guiding me as always. Thank you for dedicating your entire life to me. I wish I could have given you my heart and my breath, I wish… Forever together Papa, forever…"
Usman Farooqui served as chairman of the Pakistan Steel Mills (PSM). Former president and PPP co-chairman Asif Ali Zardari, as well as other PPP leaders have also expressed grief and sadness over the demise of the MPA's father.
Have something to add to the story? Share it in the comments below.
COMMENTS
Comments are moderated and generally will be posted if they are on-topic and not abusive.
For more information, please see our Comments FAQ