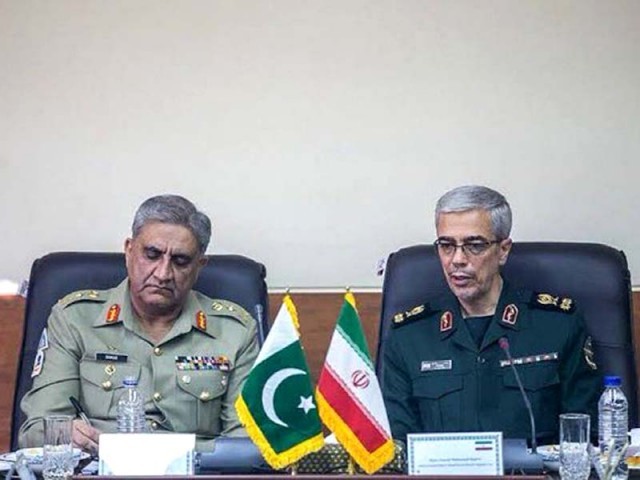 ---
ISLAMABAD:
The Iranian military chief is due to arrive here today (Tuesday) on a visit that highlights increased military exchanges between Pakistan and Iran necessitated by the regional and international dynamics.
The visit of Chief of Staff of the Iranian Armed Forces Major General Mohammad Bagheri comes against the backdrop of the current Afghan situation, something that affects both Pakistan and Iran.
The Iranian state-run news agency IRNA reported that the top Iranian general would pay an official visit to Pakistan in a bid to develop the military and defence diplomacy of the Islamic Republic of Iran.
"Bagheri has been invited by Pakistan Army Chief General Qamar Javed Bajwa. The trip to the neighboring country will kick off on Tuesday," according to IRNA.
The Iranian general would be leading the high-powered delegation that would meet COAS General Qamar Javed Bajwa and also call on Prime Minister Imran Khan.
The Iranian delegation is going to pay visits to Karachi and some marine and military headquarters.
Pakistan and Iran, despite being neighbours, have in the past an uneasy relationship because of Islamabad's close ties with Saudi Arabia. The two countries were in opposite camps during the Soviet invasion of Afghanistan. But in recent years the two countries have come close to each other because of the regional dynamics.
The two countries share the same view on Afghanistan. Iran now also maintains close contact with the Afghan Taliban and endorses Pakistan's stance that Afghanistan must not be abandoned.
Read More: Oil falls with possible return of Iranian supply
Despite discussing the border management, Afghanistan would be on the top of the agenda during the visit of the Iranian general.
The visit of the Iranian military chief comes on the heels of a trip by Iranian Deputy Foreign Minister for Political Affairs Dr Ali Bagheri Kani. His trip was the first visit by a senior Iranian official since Ebrahim Raisi became the President.
Iran, which in the past opposed the Afghan Taliban, has now developed contacts with the group and is among the countries providing humanitarian assistance to Afghanistan. As its deputy foreign minister held talks with authorities in Islamabad, another Iranian plane carrying essential supplies landed at the Kabul Airport.
Pakistan is also providing humanitarian assistance to Afghanistan as it believes that engaging with the Taliban government is crucial for the larger peace and stability in the region.
COMMENTS
Comments are moderated and generally will be posted if they are on-topic and not abusive.
For more information, please see our Comments FAQ