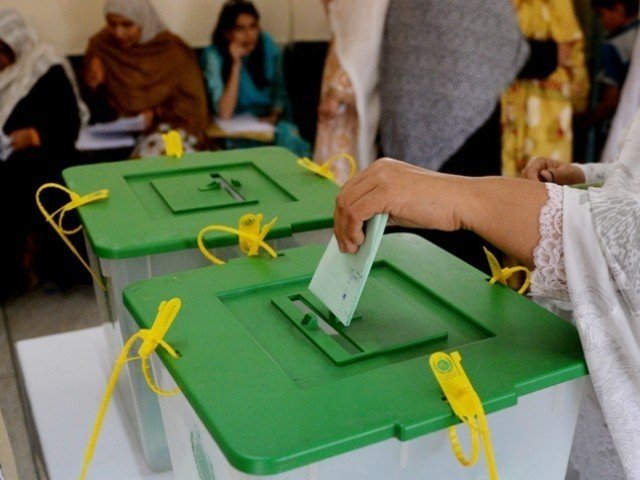 ---
MUZAFFARABAD:
By-elections were held in two constituencies of the Azad Kashmir Legislative Assembly where Pakistan Tehreek-e-Insaf (PTI) won in LA-3 Mirpur-III while Pakistan Peoples Party (PPP) is leading in LA-12 Kotli-V.
According to Express News, by-polls were held in two constituencies of Azad Kashmir Legislative Assembly, LA-12 Kotli-V and LA-3 Mirpur-III where the polling process continued uninterrupted from 8am till 5pm. Strict security arrangements were made for the polling and army personnel were kept on standby to deal with any untoward incident.
LA-3 Mirpur-III
LA-3 Mirpur-III has a total of 85,917 registered voters and 148 polling stations were set up in the constituency for the by-elections. The main contest was between PTI's Yasir Sultan Chaudhry, Pakistan Muslim League – Nawaz's (PML-N) Chaudhry Muhammad Saeed and PPP's Chaudhry Muhammad Ashraf.
According to unofficial results received from all polling stations in the constituency, PTI candidate Yasir Sultan Chaudhry won the election with 20,142 votes while PML-N candidate Chaudhry Saeed received 11,608 votes.
LA-12 Kotli-V
Read More: Polling concludes in Khushab by-elections
Azad Kashmir's LA-12 Kotli-V constituency has a total of 106,428 registered voters. 198 polling stations were set up in the constituency out of which 101 polling stations were declared as most sensitive and 36 as sensitive. A tough contest was expected between PPP's Chaudhry Amir Yasin, PTI's Shaukat Fareed Advocate and PML-N's Raja Riyasat Khan.
In unofficial results received from 188 polling stations of the constituency, PPP candidate Chaudhry Amir Yasin is comprehensively leading with 23,000 votes while PTI's candidate Shaukat Fareed is second with 17,000 votes and PML-N's Raja Riyasat is third with 10,197 votes.
It is pertinent to note that in the last Azad Kashmir general elections, PTI's Barrister Sultan Mahmood had won the LA-3 Mirpur-III seat but had to vacate it when he was elected the President of AJK.
Similarly, PPP's Azad Kashmir assembly opposition leader Chaudhry Muhammad Yasin had won from the LA-10 Kotli-III and LA-12 Kotli-V constituencies in the general elections and had decided to vacate the LA-12 Kotli-V seat.
COMMENTS
Comments are moderated and generally will be posted if they are on-topic and not abusive.
For more information, please see our Comments FAQ