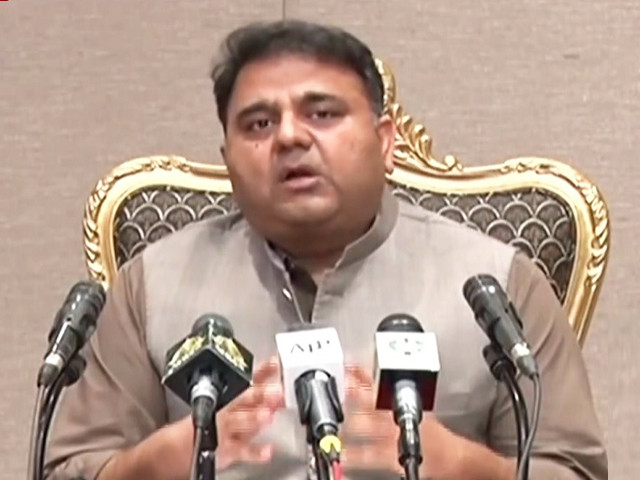 ---
ISLAMABAD:
Federal Information Minister Fawad Chaudhry on Saturday, in response to PML-N President Shehbaz Sharif's call for snap elections earlier in the day, said the opposition leader should not vent his frustration over the injustices done to him by his own party by making "unconstitutional" demands.
He added that Shehbaz must first decide whether he was still in the party or had been removed from it by his elder brother through his close aides.
"The politics of the PML-N has been buried by the elder Mian Sahib and his daughter. They can no longer fool the people of Pakistan."
He noted that when they [Sharifs] were in power, the wanted their government to complete its constitutional term. "If the people have given power to [PM] Imran Khan, they can't tolerate it."
The minister maintained that those who had been addicted to using government resources and protocols for decades suffered without power like a "fish out of water".
Shehbaz slams government for unleashing 'tsunami of taxes'
He said the current inflation in the country was the outcome of the billions of rupees of corruption and foreign loans taken by previous governments for personal gains.
Fawad advised JUI-F chief Maulana Fazlur Rehman not to play with the democratic system to satisfy his political ego.
"Why doesn't he remember his past speeches in the National Assembly? Why do you want to turn an entire pot over for a plate of halwa?"
The minister claimed that PML-N supreme leader Nawaz Sharif and his daughter Maryam Nawaz were treating Shehbaz the same way PPP Co-Chairperson Asif Ali Zardari and Chairman Bilawal Bhutto Zardari had done with the JUI-F chief.
"Maulana Sahib and Shehbaz Sharif should work together and form an association of victims," he quipped.
Earlier in the day, the PML-N president had stepped up pressure on the PTI-led government, seeking 'transparent early elections' in the country to steer it out of its current crises.
Addressing the media accompanied by Fazl, Shehbaz said the prices of essential commodities including flour and sugar had skyrocketed but the government was "asleep at the steering wheel".
He maintained that all opposition parties, including those which were part of the PDM, were demanding free and transparent snap elections in the country, terming it the only way forward to steer the country out of crises. "It is the only way to restore the prosperous Pakistan of the past," he added.
(With input from APP)
COMMENTS
Comments are moderated and generally will be posted if they are on-topic and not abusive.
For more information, please see our Comments FAQ