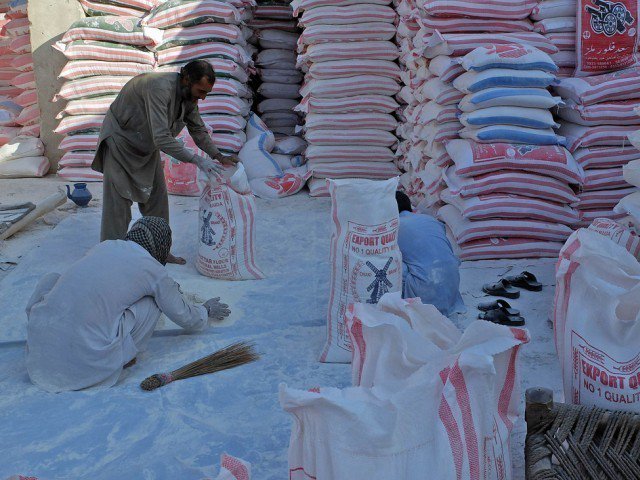 ---
PESHAWAR:
Khyber-Pakhtunkhwa (K-P) province has been in the grip of a severe flour crisis for the past several months as the prices are constantly going up.
The retail price of a 20 kilogram bag of flour has increased to Rs1450 compared to Rs1250 a month ago.
Similarly, the price of 80 kilogram bag has jumped to Rs6,400 by gaining Rs400.
Local bread bakers have increased the price of bread to Rs15 on their own blaming the government for lack of control over wheat prices.
The situation worsened after Punjab Food Department imposed a complete ban on the supply of flour to K-P as the province is 80 per cent dependent on supplies from Punjab. The ban was imposed on the pretext of smuggling to Afghanistan.
On the other hand, K-P Food Department on Friday took action against three flour mills and also suspended three officers of the department on the charges of misuse of powers, unfair distribution with wheat and tampering with wheat quota.
An inquiry has been ordered against the three officers on the directive of the Food Minister Atif Khan.
The three officials including an Assistant Food Controller and two Food Grain Inspectors were suspended for violating wheat release policy and food licensing control. Deputy Secretary Food and District Food Controller were directed to complete the inquiry within seven days and submit the report to the minister. It is worth mentioning here that during the inspection of the Prime Flour Mills, Khyber Flour Mills and Doaba Flour Mills in District Peshawar discrepancies and violations were found against Wheat Release Policy 2021 and Food Grain Licensing Control Order 1957 with the connivance of Assistant Food Controller and two Food Grain Inspectors of Rationing Controller, Peshawar.
One mill was found involved in selling 19 kilogram of flour in 20 kg bag and its license was suspended for 15 days.
"Its grinding license has been suspended for 15 days," said an official of the Food Department.
One was involved in reselling of the official wheat quota in the open market while another one was not maintaining proper hygiene.
On Friday an order was issued by the Director Food Khyber-Pakhtunkhwa in which the services of Kamal Ahmad Assistant Food Controller, Waheed Food grain Inspector and Muhammad Shahid Food grain Inspector Officer of the Rationing Controller Peshawar were placed under suspension under Rule-06 of the Khyber-Pakhtunkhwa Government Servants (Efficiency and Discipline) Rules-2021 with immediate effect. Amir Hassan Deputy Secretary Food Khyber-Pakhtunkhwa and Aftab Umar District Food Controller, Mardan were appointed as Inquiring Committee to conduct an investigation regarding role responsibilities and connivance of these officials in the instant case and submit report within seven days.
Published in The Express Tribune, October 9th, 2021.
COMMENTS
Comments are moderated and generally will be posted if they are on-topic and not abusive.
For more information, please see our Comments FAQ