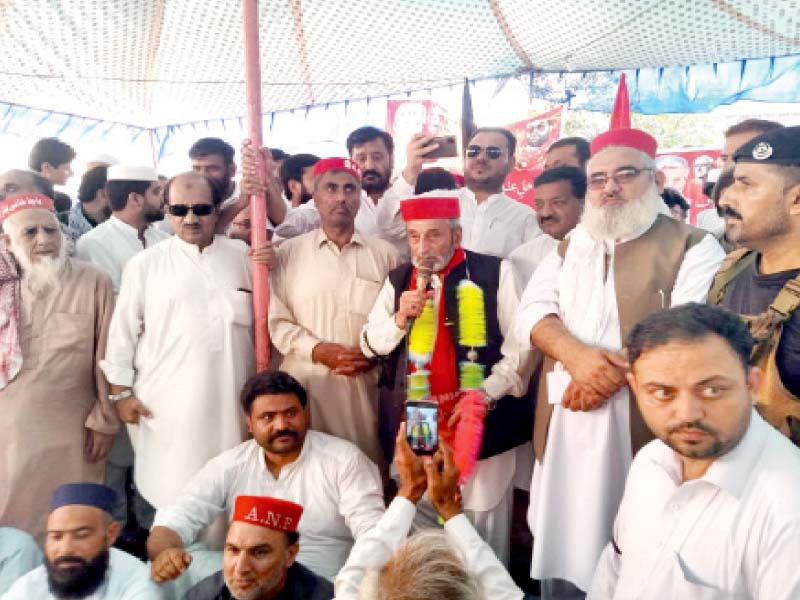 ---
PESHAWAR:
Political stalwart and Awami National Party (ANP) senior leader Ghulam Ahmad Bilour on Friday ended his 24-hour-long hunger strike in Chowk Yadgar Peshawar.
On Thursday he started his hunger strike at the protest camp set by ANP against the higher inflation across the country.
Talking to party workers after ending his hunger strike, Bilour said that the inflation had made lives miserable for the people of Pakistan and they were even not able to pay their utility bills. He said that his party had decided to protest against it and general public should support this cause too. Bilour said that the country had been handed over to an upstart who had no experience or capacity and those who brought him should also send him packing.
"If sanctions are imposed on the country by the US and other countries, it would hit hard an already struggling economy," he said.
ANP's provincial General Secretary Sardar Hussain Babek said that inflation had made lives miserable for the general public who were unable to make both ends meet.
"This is not political scoring. We are protesting because general public suffer greatly. Our province is a resources-rich province but its people are still suffering. The trade routes between Pakistan and Afghanistan should be opened which will greatly benefit the people of both the countries," he said.
Babek blamed that the current government had turned a blind eye towards the unrest among the general public due to inflation.
Traders' leaders also participated at the protest camp and showed solidarity with the party, saying that all people were together in this struggle.
Published in The Express Tribune, October 9th, 2021.
COMMENTS
Comments are moderated and generally will be posted if they are on-topic and not abusive.
For more information, please see our Comments FAQ