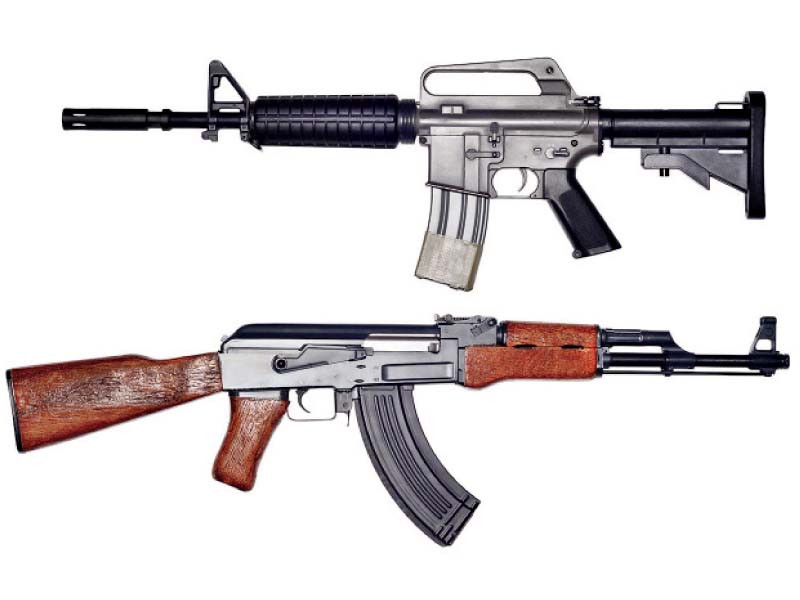 ---
LAHORE:
Punjab Police is planning to procure 100 units of the latest American assault rifle, M4 Carbine, among other sophisticated weapons with a budget of millions of rupees.
The most popularly and generally used assault rifle among Punjab Police ranks and files for the last many decades has been the AK-47 commonly called Kalashnikov.
The weapon was introduced by the Soviet Union in the 50s. Since then it has been used and adopted throughout the world by militaries, law enforcement agencies, armed groups and criminals for its low price, easy use and reliability among varying temperatures etc.
According to few estimates, more AK-47 units have been produced as compared to other rifles so far.
During the Cold War, the United States (US) had introduced the M-16 rifle in competition to AK-47 in 1960 to equip its forces. This is said to be the assault rifle in use for the longest time in US military history. M4 carbine is a variant of M16.
Read Punjab gets 7th police chief in three years
The largest civilian law enforcement agency of the largest province of Pakistan is gradually on its way to replacing AK-47 with the American assault rifles.
The procurement is in that context. A few years ago, Punjab Police had invested too much in the launch of Dolphin Squad. The specialised patrolling wing established with the spending of billions of rupees was equipped with the American assault riffles M5 rather than the traditional Russian weapon AK-47.
An officer talking to The Express Tribune said that the institutions engaged in the first line of defence heavily relied on the US ammunition as they believed that it was the most sophisticated and latest as compared to other nations.
A few years ago, while countering an attack at a minority worship place in Garhi Shahu, police commandoes had faced trouble in shooting down a terrorist as he was hiding in a vintage point at a distance under a lesser effective range of AK-47. LMGs were called in to equip snipers to hit him.
The American assault rifle had a more effective range. This is also a reason behind the transition in the mode of assault rifles, he shared.
The department has sought the delivery of the weapons on an FOB basis (free on board basis). The force is also procuring 300 paintball guns, 50,000 ammo OC balls and 1,000 stun guns.
The Punjab Police has also sought 25 walkthrough gates, five baggage scanners, 1300 sets of CTD uniform, 300 belts, 400 commando daggers, 1300 combat holsters, 1300 units, 1,300 thermal/warm vests, 300 load bearing jackets (LBJ), 120 sets of knee/elbow guards, 400 pairs of combat sewed shoes.
The items included six server racks, two smart boards, 159 portable hard drivers, two papers scanners, 12 V Li-Ion Battery, one Studio, 300 Desktop computer with LED, 35 11th Generation Laptop (Corei&) Ultra, 50 11th Generation Laptop (Core i5), 120 Dry Batteries Deep Cycle and two sound systems (one chairman set, 40 participants).
Published in The Express Tribune, October 9th, 2021.
COMMENTS
Comments are moderated and generally will be posted if they are on-topic and not abusive.
For more information, please see our Comments FAQ