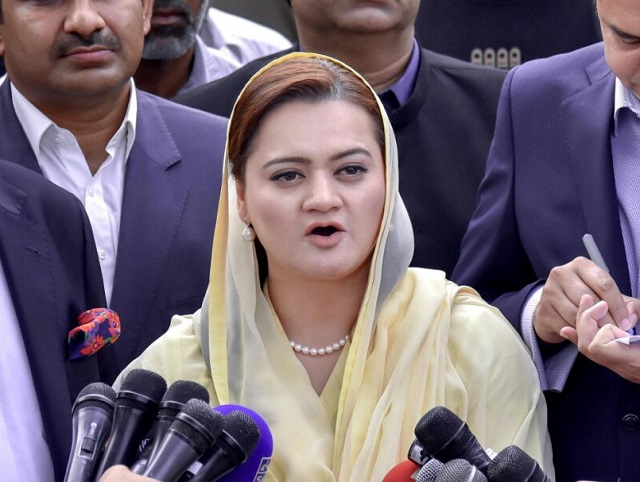 ---
ISLAMABAD:
The opposition Pakistan Muslim League-Nawaz (PML-N) rejected the National Accountability Bureau (NAB) Amendment Ordinance, calling it an open attack on the independence of the judiciary with a draconian black law, based on malice and designed to further the agenda of political victimisation.
PML-N Information Secretary Marriyum Aurangzeb said in a statement that the Pakistan Tehreek-e-Insaf (PTI) government was seeking to change the entire accountability law for the sake of one man in order to advance its agenda of political revenge and persecution.
The PML-N's statement came in response to the NAB Amendment Ordinance (NAO) 2021, promulgated by President Arif Alvi on Wednesday. The ordinance said that Justice (retd) Iqbal will continue as the NAB chairman until the appointment of his replacement, besides some other changes in the NAB law.
"This law will lead to more anarchy, chaos and disarray in the country," Aurangzeb said in the statement. She slammed the issuance of ordinance, saying that the executive had taken on itself the responsibility of the appointment and transfer of judges.
Read More: PM to consult aides as NAB chief induction looms
"This is a grand conspiracy by Imran Khan to install judges of his own choice across the country, when and where he pleases. This is being done to … to persecute and punish political opponents within a matter of days through cherry-picked, blue-eyed judges," she added.
"To make the bail of political opponents impossible, the ordinance dictates that every accused would need to submit an amount with the bail bond, equal to what he/she is accused of embezzling, which would be very high," Aurangzeb said.
She opined that the ordinance "is a return of favour to the NAB chairman for the NAB-Niazi alliance. "Imran Khan has brought this black law with an intention that political opponents should be imprisoned and no one should question his loot of the country," she added.
"This is not an ordinance, it is an NRO brought by Imran to cover up for three years of his black deeds and thefts," she said, referring to the political amnesty granted by former military ruler Gen Pervez Musharraf through the National Reconciliation Ordinance in 2007.
"The PTI has disrespected the parliament by issuing an ordinance. On such a serious and sensitive issue, fundamental legal changes through the ordinances are illegal and the PML-N will strongly oppose them. Imran has discovered an illegal way of not consulting the leader of the opposition and parliament."
She concluded by saying that the PML-N categorically rejected "this illegal and blatant deviation from court decisions", adding that the party's legal experts were being consulted to challenge this "draconian law at every legal forum".
COMMENTS
Comments are moderated and generally will be posted if they are on-topic and not abusive.
For more information, please see our Comments FAQ