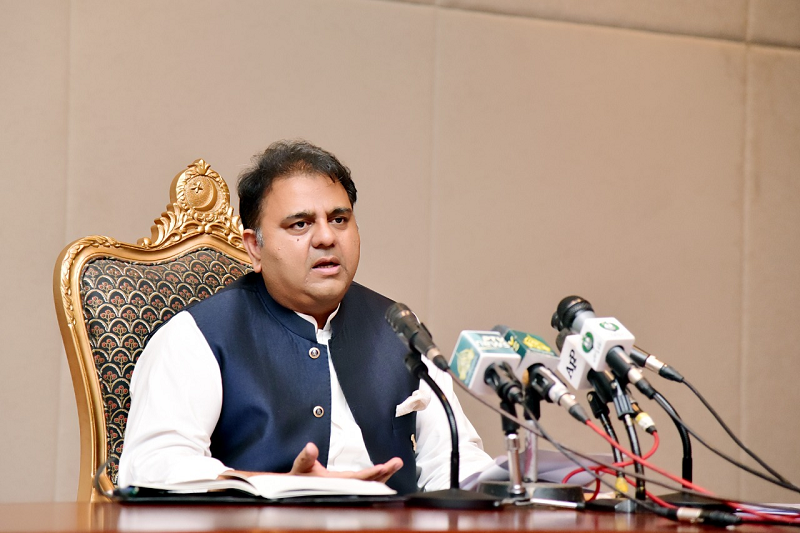 ---
ISLAMABAD:
Minister for Information and Broadcasting Fawad Chaudhry has ruled out the possibility of consulting Opposition Leader in the National Assembly Shehbaz Sharif on the appointment of National Accountability Bureau (NAB) Chairman.
"The opposition has to change its leader, if they want a consultation with the government on the appointment of the NAB's chairman," he said in a news conference on Wednesday.
Flanked by Minister of Law and Justice Dr Farogh Naseem, Fawad said that Prime Minister Imran Khan would not speak to Shehbaz Sharif at any cost.
Later today, President Arif Alvi promulgated the National Accountability Bureau Amendment Ordinance (NAO) 2021, letting National Accountability Bureau (NAB) Chairman Justice (retd) Javed Iqbal remain in his seat till the appointment of a new chief of the anti-corruption watchdog, Express News reported.
The information minister also said consultation with Shehbaz on the appointment of NAB chairman will be tantamount to assigning the investigator a thief on his whims and wishes.
"If Shehbaz Sharif has an iota of shame, he should step down from the position of Opposition Leader in the National Assembly," the minister said while wondering over the insistence of Shehbaz to become a part of the consultation on appointment of the anti-graft watchdog.
He sarcastically said some people wanted that the government should appoint the Station House Officer (SHO) after consulting the thieves.
Fawad went on to say that the government had omitted clauses pertaining to private and banking conflicts and tax-related issues from the ordinance.
"Now, the bureau would concentrate on its original task of eradication of corruption," he said, adding, "But its performance was compromised with additional responsibilities after inclusion of business and other crimes."
Also read: President promulgates NAO allowing Javed Iqbal to stay at helm
He said the NAB would now concentrate on nabbing the "big fish".
The Federal Board of Revenue (FBR) has been authorised to arrest the tax evaders, he said. "The government is striving to strengthen the state institutions including the NAB."
According to the ordinance, the president will appoint the NAB chairman in consultation with the prime minister and the leader of the opposition.
"If there is no unanimous decision on the appointment of new NAB chairman, the matter will be referred to a parliamentary committee," it added.
Also read: NAB chief to stay until new successor
It said that the NAB chairman can be removed from office under Article 209 of the Constitution.
The new ordinance stated that the NAB chairman will have the power to make arrests, while complaints against the NAB chief will be heard by the Supreme Judicial Council.
According to the ordinance, the term of NAB chairman's office will be four years, while on completion of the said period, the incumbent NAB chief can be appointed for four more years. The procedure for re-appointment will be the same.
COMMENTS
Comments are moderated and generally will be posted if they are on-topic and not abusive.
For more information, please see our Comments FAQ