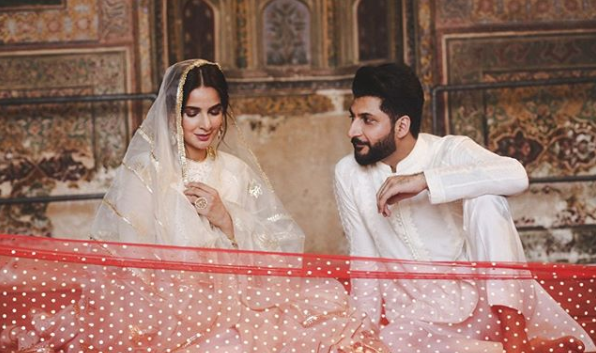 ---
A Lahore court has fixed a date to indict actor Saba Qamar and singer Bilal Saeed for shooting and making videos at Wazir Khan Mosque. The case of Saeed was heard by a Judicial Magistrate. The singer appeared in the court along with his lawyer Barrister Hamid Leghari. Qamar, clad in a burqa, was there as well. The challan was submitted to the court by the prosecutor.
The court adjourned the hearing of the case till October 14, ordering to provide copies of the challan to the accused at the next hearing. The charges against the artists were that both the accused violated the sanctity of the mosque during the shooting of the film.
The court had earlier issued arrest warrants for the Baaghi star and the singer in the case. However, at the last hearing, the court had cancelled the arrest warrants and ordered the collection of security bonds of Rs 30,000 and ordered both the accused to appear in person. It may be recalled that in August last year, a video recording of a song, Qabool Hai by Saeedwent viral on social media in which the sanctity of the historic Wazir Khan Mosque in Lahore was violated.
The video was widely condemned on social media, including social and religious circles. A case was registered against the actor and singer at Akbari police station in Lahore on the complaint of Farhat Manzoor Khan for violating the sanctity of the Wazir Khan Mosque.
Have something to add to the story? Share it in the comments below.
COMMENTS
Comments are moderated and generally will be posted if they are on-topic and not abusive.
For more information, please see our Comments FAQ