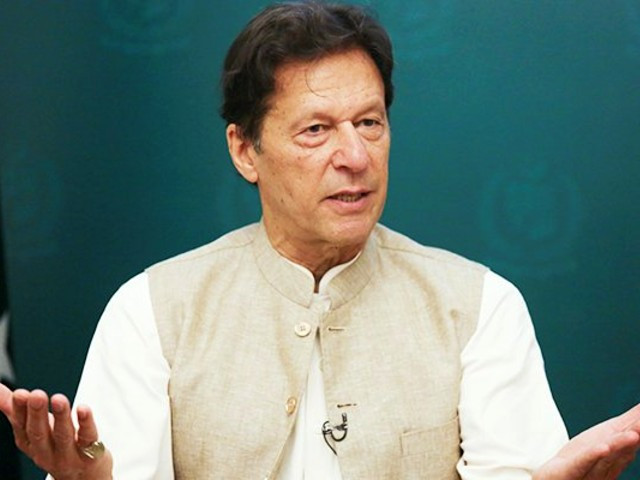 ---
ISLAMABAD:
Prime Minister Imran Khan on Sunday pledged that his government would "investigate" the Pakistanis mentioned in the Pandora Papers and take "appropriate action" if any "wrongdoing" was established.
"We welcome the Pandora Papers exposing the ill-gotten wealth of elites, accumulated through tax evasion and corruption and laundered out to financial 'havens'," he tweeted after the International Consortium of Investigative Journalists (ICIJ) released its latest investigation.
The premier pointed out that the UN's International Financial Accountability, Transparency and Integrity for Achieving the 2030 Agenda (FACTI) Panel had calculated a staggering $7 trillion in stolen assets parked in largely offshore tax havens.
"I call on the international community to treat this grave injustice as similar to the climate change crisis," he added.
"If unchecked, inequalities between rich and poor states will increase as poverty rises in the latter. This in turn will lead to a flood of economic migration from the poor to the rich states, causing further economic and social instability across the globe."
PM Imran maintained that his "over-two decades struggle" had been premised on the belief that "countries are not poor but corruption causes poverty because money is diverted from being invested in our people".
Also, he added, this "resource-theft causes devaluation, leading to thousands of poverty-related deaths".
"Just like the East India Company plundered the wealth of India, ruling elites of developing world are doing the same. Unfortunately, the rich states are neither interested in preventing this large-scale plunder nor in repatriating this looted money."
Earlier in the day, Information Minister Fawad Chaudhry said the Pandora Papers, expected to expose the financial secrets of the global elite, would further strengthen PM Imran's stance against money laundering.
"Panama Papers revealed offshore assets of very corrupt people. Now another research of ICIJ (International Consortium of Investigative Journalists) is coming," he tweeted.
"PM Imran stressed upon rich countries that hiding of poor countries' money in rich countries should be discouraged," the minister added.
"If the Pandora Papers, like the Panama Papers, are going to shed light on how money is laundered from poor countries to tax havens then this will further reinforce Prime Minister Imran Khan's stance."
Read more: Nearly 700 Pakistanis named in 'Pandora Papers'
Fawad said the premier had urged the international community several times to discourage the practice of money laundering through which the wealth stolen from poor countries is parked in rich states.
The information minister hoped that like the Panama Papers, these leaks would also open new ways to ensure transparency in financial practices and help in the fight against corrupt practices.
In 2016, the ICIJ had disclosed the Panama Papers -- a massive data leak that exposed widespread tax avoidance and evasion using complex structures of offshore shell companies, causing an international outcry.
The leak, linked to the Panamanian law firm Mossack Fonseca, damaged Panama's international image, despite the fact that most of the companies involved were overseas.
Also read: Panama Papers exposé wins Pulitzer Prize
The investigation revealed the concealment of properties, companies, assets, profits and tax evasion by heads of state and government, political leaders and personalities from finance, sports and the arts.
Special Assistant to Prime Minister (SAPM) for Political Communication Dr Shahbaz Gill asserted that Prime Minister Imran Khan had no offshore company, saying the premier could not be held accountable for the acts of ministers.
Speaking just hours before an exposé was released by the ICIJ, Gill said that the prime minister "neither engages in such activities and nor does he spare anyone who does".
Gill said, "If I or anyone else has an offshore company, then it is we who will have to answer for that."
Gill said the address of the prime minister's residence is "2 Zaman Park". "I was asked whether the PM Khan has registered a property abroad under someone else's name," he said, adding that, "there are two properties, about half a kilometre apart, with two separate entrances, but with the same address."
He said whosoever owns the offshore companies will have to answer for his businesses himself. The prime minister does not personally know the man, not has ever met him or his father, the premier's aide said.
"So this is in response to all those who are trying to spread misinformation."
"We are not afraid of it, as we have neither been involved in any loot and plunder nor we can be held accountable for it. If I have an offshore company, I am accountable for it," Gill said and added that PM Imran could not be held accountable for the acts of any minister.
COMMENTS
Comments are moderated and generally will be posted if they are on-topic and not abusive.
For more information, please see our Comments FAQ