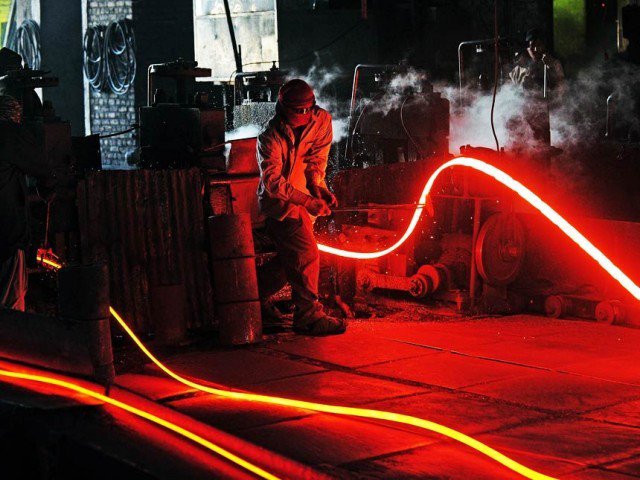 ---
ISLAMABAD:
The treasury on Friday informed the upper house of parliament that the Pakistan Steel Mills (PSM) suffered an overall loss and liability of Rs67.1 billion from June 30-December 31, 2020.
"The PSM has suffered overall loss and liability of Rs67.1 billion from 30th June to 31st December 2020," State Minister for Parliamentary Affairs Ali Muhammad Khan replied to a query during question hour of Senate session.
Citing further details about the state, the minister said the major reasons for the loss worth Rs8.247 billion from July 2020 to December 2020 were "periodic cost, depreciation expenses and accrued markup on bank and government loans".
Read Performance agreements — a new paradigm
During the above state period, he added that the federal government released Rs11.441 billion worth of amount for the payment of retirement dues to the employees who filed petitions in the Sindh High Court (SHC).
Khan said that an amount of Rs11.680 billion was also released for non-petitioners retired up to May 18, 2020, in compliance with the SHC order. The federal government also released worth Rs11.013 billion for the payment of legal dues to the retrenched employees, he added.
Moreover, he added that an amount of Rs1.961 billion on account of the net salary of PSM employees from July to December 2020 was also released by the government. "All these funds released by the Government of Pakistan were incorporated as loans in the PSM's books of accounts that increased the current liability by Rs36.094 billion during July 2020-December, 2020," he said.
"Furthermore, a remarkable increase in total liability during the period was caused by the increase in deferred liability by Rs30.202 billion due to deferred tax booked on surplus on revaluation of PSM's assets," he said.
The minister said the PSM was a profitable organisation till 2008. However, he alleged it went into losses during the Pakistan Peoples Party (PPP) tenure and was completely closed in 2016 by the then Pakistan Muslim League Nawaz (PML-N) government.
"Both the PPP and the PML-N past governments are responsible for ruining this national institution," Khan said.
Amid the state of such institutions, Pakistan's economy on Wednesday hit a snag as Pakistan's stocks plunged and the rupee weakened to a record low after US senators moved a bill seeking a probe into Islamabad's alleged role in the Taliban's takeover in Afghanistan.
Read Roadshow organised to revive PSM
The benchmark KSE-100 index plunged the most since March 2020. The rupee weakened 0.3% to close at a record low 170.48 per dollar, the central bank data showed.
"Investors are concerned about the probability of sanctions on Pakistan after the proposed bill in the US Senate," Adnan Khan, the head of international sales at Intermarket Securities Ltd, from Karachi told Bloomberg.
(WITH INPUT FROM NEWS DESK)
COMMENTS
Comments are moderated and generally will be posted if they are on-topic and not abusive.
For more information, please see our Comments FAQ