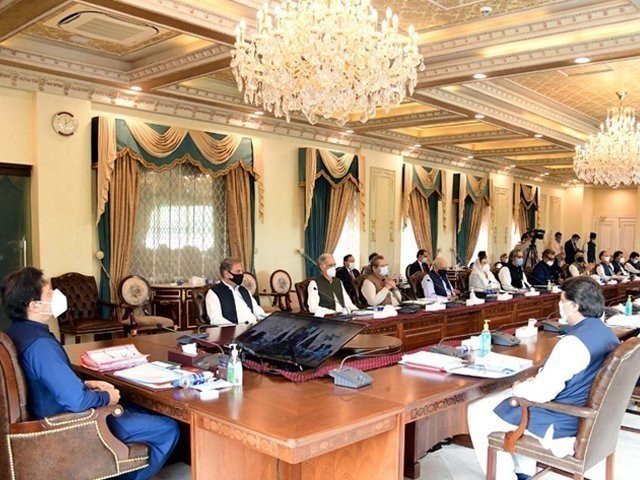 ---
ISLAMABAD:
Political pundits in the federal capital foresee a lot of movement and possible realignment among the lawmakers belonging to the ruling Pakistan Tehreek-e-Insaf (PTI), including an exodus from the party or the federal cabinet.
Sources said that Prime Minister Imran Khan has been informed about the PTI members, who intend to leave the party before the next general election. Participants of a meeting chaired by the prime minister also debated news that Aviation Minister Ghulam Sarwar Khan was leaving the party.
"Is Ghulam Sarwar Khan leaving PTI?" was the question asked during the meeting. According to the sources, the aviation minister was personally asked whether his talks with the Pakistan Muslim League-Nawaz (PML-N) had been settled.
Read Cabinet exempts state-owned entities from 'transparency rules'
Clarifying his position, the minister replied that if former PML-N stalwart Chaudhry Nisar Ali Khan could be included in the PTI, "why can't I join the PML-N". The sources said that Sarwar was not happy with the party and had raised questions about its consultation with Chaudhry Nisar.
Besides, PM Imran has signalled another reshuffle in his cabinet and the entry of new players. According to the sources, there was a proposal to change Sarwar's ministry. It had been proposed that Omar Ayub Khan be made the aviation minister, while Sarwar be sent to overseas Pakistanis ministry.
Also under consideration is a proposal to merge the Economic Affairs Division with the finance ministry. However, the sources said that PM Imran was the final authority on these matters and he would decide about the change in ministries if any.
COMMENTS
Comments are moderated and generally will be posted if they are on-topic and not abusive.
For more information, please see our Comments FAQ