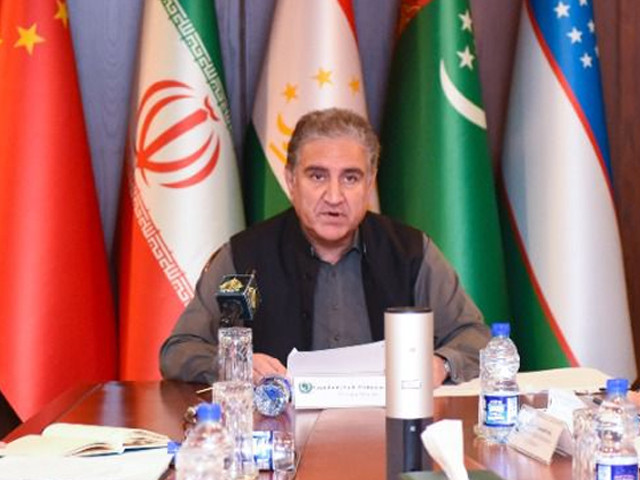 ---
In the wake of a proposed bill moved in the US Senate seeking sanctions against Pakistan along with the Afghan Taliban, Foreign Minister Shah Mahmood Qureshi alleged that the Republicans tabled the bill to build pressure on US President Joe Biden.
"The opponents of Pakistan in the US are active and we are well aware of them," he said while speaking to a private news channel on Wednesday.
The foreign minister was of the view that the anti-Biden administration in Congress viewed it (Afghanistan debacle) as a major opportunity to "mount pressure" on Biden. He added that Pakistan cooperated with the US at every step, questioning if the Ashraf Ghani government surrendered how it became Pakistan's responsibility.
FM Qureshi said: "Besides India, some forces want to target and destabilise Pakistan and put the whole burden of the Afghan situation on Pakistan." The minister said that he agreed to continue to engage with the US in a meeting with his US counterpart, revealing that soon an important US personality would visit Pakistan.
According to State Department's announcement, US Deputy Secretary of State Wendy Sherman will visit Pakistan on October 7-8.
Read Don't repeat past mistakes, Qureshi tells Blinken
Qureshi recalled Pakistan's support to the war on terror, saying that the country sacrificed 80,000 lives and suffered a loss of $150 billion. "Pakistan disbanded al-Qaeda and played a positive role in the Afghan peace process," he added.
The foreign minister further claimed that the US was shocked by the fact that its 20-year advanced technology and resources were in vain.
He also spoke about Pakistan's concerns about the Ghani government and its popularity among the Afghan people. Qureshi was of the view that the US "never heeded" to such suggestions by Pakistan.
On PM's UNGA address, the FM said that PM Imran Khan presented Pakistan's viewpoint on the emerging situation in Afghanistan. The prime minister shed light on the issue in the backdrop of the present Afghan situation, he added.
"The world must know the pivotal role Pakistan played in ending terrorism and the price it had to pay in exchange for cooperation with the West," Qureshi said.
He called for building new strategies for stability and peace in the region. The FM added that Pakistan continued to consult with all other stakeholders on the issue.
COMMENTS
Comments are moderated and generally will be posted if they are on-topic and not abusive.
For more information, please see our Comments FAQ