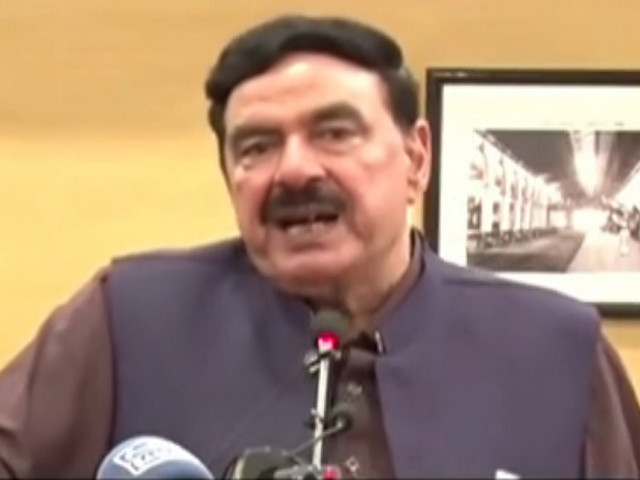 ---
Reacting to a bill seeking imposition of sanctions on the Afghan Taliban that could also potentially extend to Pakistan in US Senate, Interior Minister Sheikh Rashid Ahmed on Wednesday said that the country did not provide any military support to the Taliban.
"US is accusing us that we facilitated Taliban but we only facilitated them to bring them to the table at the request of US," he said while addressing a ceremony in Islamabad.
The statement came a day after the bill, titled 'Afghanistan Counterterrorism, Oversight, and Accountability Act', was moved by Republican senators. It triggered an angry rebuke from Human Rights Minister Shireen Mazari.
Rashid, in today's presser, said that Pakistan wanted the world to engage with the Taliban so that peace can prevail in the neighbouring country. "We are standing with the world and we want the world to stand with Afghanistan in this difficult situation," he added.
Read more: Bill moved in US Senate to sanction Taliban, supporters
Talking about Pakistan's role in the recent developments in Afghanistan, he said that Pakistan helped evacuate 20,000 to 22,000 people and the process will continue till October 30, adding that the entire world lauded Pakistan's efforts in this regard.
He said that Pakistan's geostrategic position was very important and the world powers understood it's importance. "We will face more challenges [in future as well] but we will emerge victorious eventually."
Criticising India's role in Afghanistan, the interior minister said that India suffered humiliation in the war-torn country and was now trying to harm Pakistan in any way possible.
Also read: There was no threat to NZ team, says Rashid
"India had spread fake news regarding the New Zealand cricket team's tour to Pakistan," he added.
Rashid said that Pakistani people love cricket but they are not dying for New Zealand to come and play cricket here. "It is not like we have stopped eating [after New Zealand's departure]."
He said that we have gone through more challenging situations and the country will emerge victorious from the previaling situation as well. "The entire New Zealand army is not as large as the security we provided to them in Pakistan," he claimed, adding that we still provided them top notch security after the cancellation of the tour so they do not say that we did not take care of them properly.
To a question, he maintained his earlier stance regarding the differences in Pakistan Muslim League-Nawaz, predicting that PML-N President Shehbaz Sharif will leave his elder brother, former prime Minister Nawaz Sharif (noon main se sheen niklay gi).
COMMENTS
Comments are moderated and generally will be posted if they are on-topic and not abusive.
For more information, please see our Comments FAQ