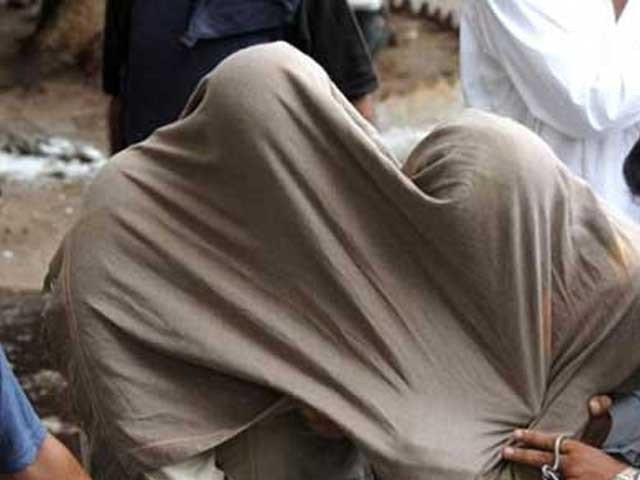 ---
KARACHI:
In a joint operation near New Truck Stand on Mauripur Road, the Counter-Terrorism Department and a federal intelligence agency arrested two militants affiliated with the Islamic State [Daesh] group, claimed a CTD official on Monday.
Separately, the CTD and the Sindh Rangers claimed the arrest of four men involved in looting and murdering a cop in the Korangi area last month.
According to CTD in-charge Mazhar Mashwani, two pistols with rounds were seized from the suspected IS militants, identified as Nasimullah alias Nasim son of Abdul Shakoor, and Muhammad Essa alias Maulvi Idrees alias Hakeem Luqman son of Abdul Rehman.
Mashwani said both the alleged militants received training from Shorabak and Bahramchah areas of Afghanistan and both specialised in handling weapons and detonating explosives.
Read CTD yet to solve four cases of terrorism
"The arrested terrorist Nasimullah is the son-in-law of Hafeez Pendrani and Muhammad Siddique - slain IS terrorists. He is married to the daughters of the two slain terrorists, who help him in the movement of arms and ammunition at different times," said Mashwani.
The CTD in-charge further stated that Nasimullah handed over a Datsun vehicle loaded with arms and ammunition to Abdullah Brohi in Khuzdar, Quetta in 2013 at the latter's request. The CTD has registered cases against the arrested suspects and launched further investigation.
Cop's murder
Meanwhile, the Sindh Rangers issued a statement on the day claiming the arrest of four men suspected of looting and killing a policeman in Korangi area last month.
According to the paramilitary force, Shahid Arshad and Muhammad Umar alias Umar Pathan were arrested in a joint operation with the CTD from Korangi. The two confessed to killing police constable, Muhammad Yasir Ghous, on August 26, 2021, along with their accomplices Muhammad Waqar alias Munna and Muhammad Kashif alias Adil, on Ghous Pak Road, claimed the Rangers.
Read CTD, Rangers arrest alleged terrorist in Karachi
The statement added that the other two suspects were arrested on Shahid and Umar's indication and the murder weapon - a 30bore pistol - was found in their possession.
The former constable was shot dead when he attempted to resist the suspects' alleged mugging bid. The Rangers claim the arrested suspects were involved in several robberies and have prior arrests. They were handed over to the police for further legal proceedings along with the weapons confiscated from them.
Published in The Express Tribune, September 28th, 2021.
COMMENTS
Comments are moderated and generally will be posted if they are on-topic and not abusive.
For more information, please see our Comments FAQ