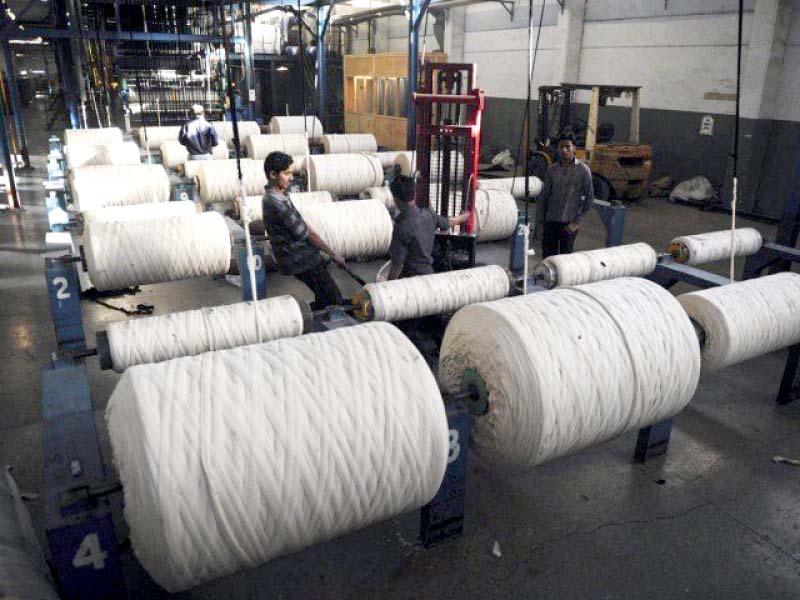 ---
KARACHI:
Pakistan's textile exports surged to $15.4 billion in FY21 from about $12.53 billion in FY20, showing a handsome increase of 23%.
Adviser to Prime Minister on Commerce and Investment Abdul Razzak Dawood is confident that in the ongoing FY22, textile exports will fetch no less than $20 billion. Textile exporters also believe they can hit this mark.
Even if Pakistan somehow manages to earn $20 billion from textile exports, that earning would be gross. On a net basis, textile export earnings can hardly reach $15 billion because in all probability, textile imports during the current fiscal year could reach close to $5 billion.
In FY21, textile imports had consumed about $3.9 billion. In other words, Pakistan's net textile export earnings in the last fiscal year were just $11.5 billion.
The government must now learn to keep a watch on net export earnings because that gives a fairer idea of net forex availability – or the lack of it – in the economy. And that, in turn, matters a lot in determining the size of the current account deficit.
There are some reasons why imports of goods in the textile category could rise from $3.9 billion in the last fiscal year to $5 billion this year. One, Pakistan's cotton crop shortfall has necessitated imports of raw cotton and enhanced activity in the domestic textile industry means need for larger imports.
Two, the ongoing growth in manufacturing of textile made-ups and clothing can be sustained only with increased imports of synthetic fibre and synthetic and artificial silk yarn.
Three, worn clothing imports are also expected to rise due to increase in domestic trading activity this year compared to the last year when Covid-triggered lockdowns were more widespread.
Four, imports of hundreds of raw material used in dyeing, manufacturing and decoration of textile clothing, bedsheets and towels are also on the rise with the rising domestic and export-led demand for textile products.
Cotton crop and prices
If Pakistan really wants to boost its textile export earnings on a net basis, it will have to dig deeper into the causes of frequent failures of cotton crop and develop the domestic base of production of synthetic fibre, and synthetic and artificial silk yarn.
READ Textile, garments workers seek national platform
After hitting a high production mark of 10.6 million (480lbs) bales of cotton back in 2011, the country's cotton output has remained on the wane, according to historical data compiled by the US Department of Agriculture.
Latest estimate of the current cotton output is about 8.5 (375lbs) bales. Textile millers need at least 15 million bales of this weight in the current year to meet domestic requirement of textile products and to hit the $20 billion export target at the same time.
This means the country will have to import at least 6.5 million (375lbs) bales of cotton or the equivalent weight of it. This will consume lots of foreign exchange, more so because from July 1 (the beginning of new fiscal year), the average cotton price has been on the rise in the international market.
Between July 1 and mid-September, the average price recorded more than 12% increase, according to Trading Economics price tracker.
It is true that the textile sector has always enjoyed – and still continues to enjoy – several direct and indirect subsidies.
But the irony is that these subsidies are not well directed towards all textile exporters equally. Nor there is a system in place to quantify additional export earnings due to subsidies.
Commerce Adviser Abdul Razak Dawood admitted this at a parliamentary panel meeting a few months ago and promised to design and introduce such a mechanism.
One hopes that he would keep his words and tell the nation at the end of current fiscal year the total cost to the exchequer of the subsidies given to textile exporters, the increase in gross textile export earnings that can be attributed to these subsidies, and the impact of the subsidies on net textile export earnings.
Suppose, for a single dollar worth of direct and indirect subsidy, we get additional gross export earnings of $2, and suppose if the subsidy-linked increase in net export earnings comes to a single dollar, then there will be little rationale left for subsidising textile sector exports.
A country like Pakistan whose fiscal deficit remains high almost all the time, the government must conduct a cost-and-benefit analysis before offering subsidies to any export sector – be it textile, food, automobile, whatever.
Business practices
Pushing textile exports from $15.4 billion in the last fiscal year to $20 billion this year – and to newer heights in future – is possible only if textile exporters also take a critical look at their export models and business practices.
Out of 400-plus textile mills, most of whom are also engaged in exports, only 100 or so set and pursue their own yearly export targets. That is why, export earnings of the top 25 of them account for more than one-third of the total textile exports, according to last fiscal year's data.
Cumulative, export earnings of these top 25 textile exporters stood just a shade below $5.36 billion in the last fiscal year or 35% of total textile exports of $15.4 billion, according to Abdul Rahim Nasir, who is North Zone Chairman of the All Pakistan Textile Mills Association (Aptma).
Aptma must endeavour as a business lobby to help weaker textile mills develop new export and business models and improve the existing ones in collaboration with TDAP, local and foreign consultants.
The writer is a mechanical engineer persuing a masters degree
Published in The Express Tribune, September 27th, 2021.
Like Business on Facebook, follow @TribuneBiz on Twitter to stay informed and join in the conversation.
COMMENTS
Comments are moderated and generally will be posted if they are on-topic and not abusive.
For more information, please see our Comments FAQ