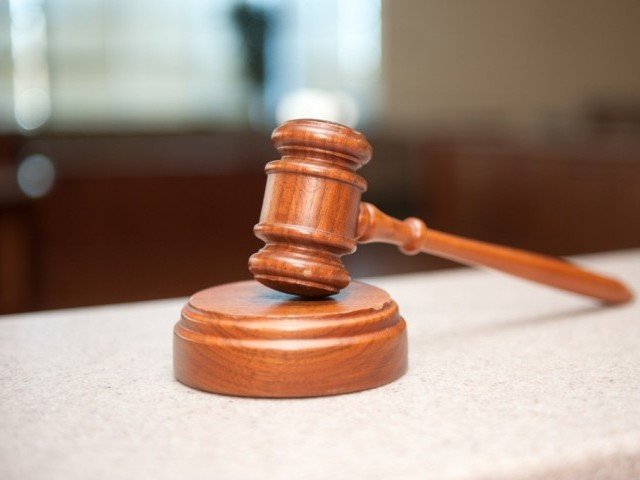 ---
Court tells police to release arrested people
Police chief tells cops to stop harassing unvaccinated persons
---
KARACHI:
The judicial magistrate for the south district of Karachi on Saturday ordered the police to immediately set free the people they had arrested for not carrying Covid vaccination cards.
A case of avoiding vaccination for the novel coronavirus disease (Covid-19) was heard by the South Judicial Magistrate in the Karachi City Courts. The Tipu Sultan Police produced three arrested citizens, including Abdul Wahid, Hakeem and others, in the court.
The South Judicial Magistrate dismissed the case under section 63 of the Criminal Procedure Code and ordered immediate release of the citizens. Police had registered the case for violation of coronavirus SOPs.
Civic circles have strongly criticised the Sindh government for registering FIRs against people for not carrying Covid vaccination cards.
A law abiding citizen becomes a suspect when police make his criminal record which is available online and hampers access to many services particularly acquisition of loans and leasing services, citizens concerned over the drive said.
Following the instructions of the Sindh government issued earlier this week, police in a crackdown arrested 33 people and registered 18 cases across the city. These people had stepped out of their homes without vaccination cards.
Read Two suspended over fake entry of Nawaz's Covid vaccination
Sindh IGP Mushtaq Mehr on Thursday had directed the Sindh police to arrest people who fail to produce vaccination proof.
Police told to stop arrests
Karachi Police Chief Imran Yaqub Minhas has directed the police against arresting passers-by and registration of cases for not getting the coronavirus vaccine.
A spokesperson for the Karachi police chief said the police could only check the vaccination card in presence of the assistant commissioner. "Except for this, the police have been strictly directed not to harass any passer-by," the spokesperson added.
"Complaints were being received that the police were arresting passers-by for not having the coronavirus vaccination card, which was a completely wrong practice," the spokesperson said, adding the police may enforce the coronavirus SOPs.
Larkana
All Sindh government employees are bound to get themselves vaccinated against coronavirus and after September 30, no one should be allowed in police stations, courts or common places who are without vaccination.
This was directed by Larkana Division Commissioner Shafique Ahmed Mahesar while presiding over a meeting of divisional administrative officers in his office on Saturday.
Mahesar said after October 15, unvaccinated people will not be allowed to travel in buses, trains or any other means of transport. He directed all the five deputy commissioners of Larkana division to prepare a plan so that more people can be vaccinated against the pandemic adding vaccination cards of all visitors' of your offices must also be checked regularly. He also advised SSPs to check vaccination cards of all the visitors of their offices as well.
Larkana deputy commissioner said that they will issue domicile certificates or any other certificate only to those who are vaccinated. Kambar-Shahdadkot additional deputy commissioner said the district health officer and other healthcare officials were habitual absconders and late comers on their government duties.
Published in The Express Tribune, September 26th, 2021.