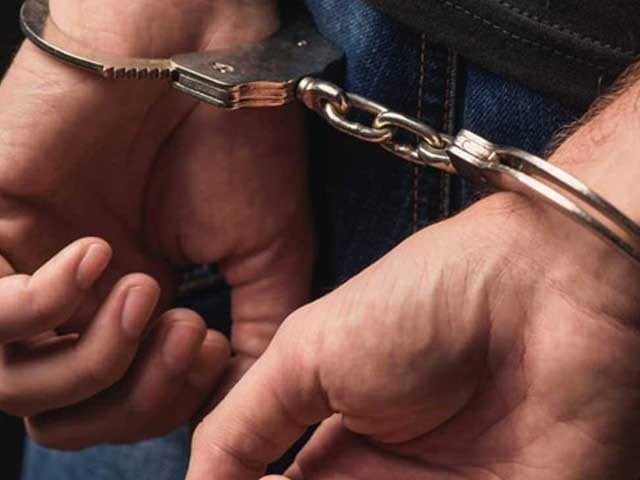 ---
RAWALPINDI:
The police on Saturday claimed to have busted a gang involved in looting overseas families on Rawat-Kalar Saydean Road, who travelled to Azad Kashmir from the Islamabad International Airport.
According to a police spokesperson, four members of the Sherry gang, including the ringleader, were arrested by the police.
The police recovered Rs250,000 and 150 UAE dirhams, police uniform, revolving lights, wireless sets and other equipment from the suspects. The arrested robbers were identified as Sheharyar Shafqat alias Sherry, Atif Mehmood, Ahsan Imtiaz, and Usama Waheed.
The police spokesperson said that the Rawalpindi City Police Chief had taken strict notice of looting of overseas families and had directed the Rawat Police Station House Officer to arrest the gang members.
The gang members, impostering as police officials, used to stop vehicles on Kalar Syedan Road before looting the families and fleeing.
Meanwhile, a suspect was injured by his accomplices during a crossfire in the Dhok Hassu area, a police spokesperson said.
Read Wanted member of bike lifting gang nabbed
The Ratta Amral police had apprehended the suspect, named Asghar, who was being taken to a location to arrest his accomplices, when they opened fire. A bullet hit Asghar while the suspects escaped under the cover of firing.
The police shifted the injured suspected to the district headquarters hospital for treatment.
Police said that raids were being carried out to apprehend the fleeing suspects.
The police spokesperson said that the wounded suspect and his accomplices were involved in several robberies.
Meanwhile, district police arrested four robbers and snatchers besides recovering Rs90,700 cash, six stolen motorcycles, four pistols and other items from their possession.
According to a police spokesperson, Gujar Khan police team, under the supervision of SHO, netted four accused, Nisar Hussain, ringleader and Shahzad Bilal, Khurram Shahzad and Shahid Mehmood who were involved in street crimes.
They were sent to Adiala Jail for identification parade and after the parade process, police recovered cash Rs90,700, six motorcycles, four pistols and ammunition from their possession.
The spokesperson said that they confessed to have committed robberies, snatching and other crimes in different areas.
Published in The Express Tribune, September 26th, 2021.
COMMENTS
Comments are moderated and generally will be posted if they are on-topic and not abusive.
For more information, please see our Comments FAQ