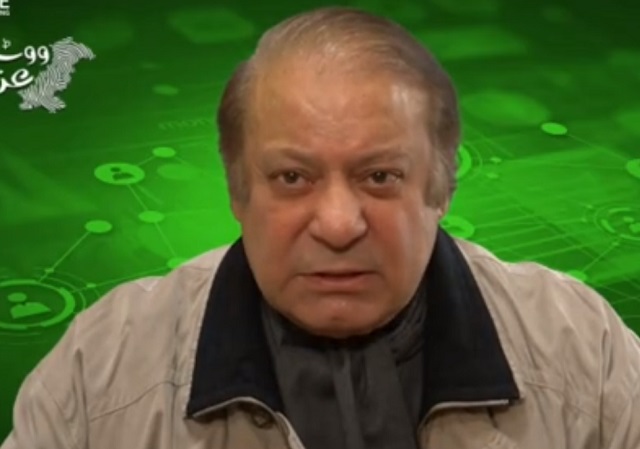 ---
LAHORE:
Today, even selectors must be regretting their choice, thinking that they should have brought a better man, Nawaz Sharif said while addressing a meeting of PML-N's Sargodha Division on Wednesday.
The meeting chaired by PML-N leader Mian Muhammad Nawaz Sharif via video link from London, was attended by PML-N Punjab President Rana Sanaullah, Maryam Nawaz, Shahid Khaqan Abbasi, Ahsan Iqbal, Awais Leghari, Sardar Ayaz Sadiq amongst other MNAs, MPAs and party officials from PML-N's Sargodha division. Hamza Shahbaz however, did not attend the meeting.
This was the fifth divisional meeting of the PML-N Punjab, out of which only one meeting was attended by Mian Shehbaz Sharif and only two by Hamza Shahbaz. The last meeting held on Tuesday, was attended by Hamza Shahbaz while Maryam Nawaz attended the meeting via video link and on Wednesday, the meeting was physically attended by Maryam Nawaz and Hamza skipped it.
Read more: PM should honour his words and commit suicide: Sharif
Nawaz Sharif addressing the meeting said selectors must be regretting their choice as Imran Khan had even embarrassed them. They must be thinking that we should not have interfered and even if we had to, we should have brought a better man. They must be regretting bringing a man who reneges on all his promises.
Nawaz Sharif said that our governments has been upended thrice. Prime Ministers in Pakistan are hanged, some are deported and some are arrested. Alluding to the establishment, he said institutions go beyond their constitutional limits to interfere in the official business of the country and even to the extreme extent of toppling governments.
He asked his workers to give their word that they would not change their allegiance under any pressure. He said that "if you are resolute in your approach, no amount of pressure will be able to bend you."
He said that the Indian premier Vajpayee used to visit Pakistan and our Indian counterparts respected our country and acknowledged its existence. Today no one even attend calls of Pakistani leaders and they are denied seats in the Security Council he said, adding that Imran Khan did not even have votes to convene a meeting on the Kashmir issue.
Also read: Doctors advise Nawaz against travelling
He stated that PTI is a party of politicians who have changed their parties ten times adding that despite all the help Imran Khan had, PTI still got fewer seats in the cantonment board elections.
He said that we should not compromise on our ideology, because standing with our ideology is our honor. He praised Shehbaz Sharif for playing a key role in ending load shedding and added that in our tenure Pakistan was about to join G20 countries and had better ties with our neighbors. So, what was the need of bringing this selected government, he asked. Today, even selectors must be thinking that they should have not done this, he said.
PML-N Vice President Maryam Nawaz addressed the party meeting stating that the only narrative in PML-N is the Nawaz Sharif narrative. She said his narrative was not only to give respect to the ballot paper but rather it was an ideology. She said that people's choices should be respected.
Read: Entire country will soon follow Nawaz Sharif's narrative: Maryam
She said it is not acceptable that a major and a colonel call up their people and ask them to change their loyalties which has happened in the past. She said our leader was slapped upon refusal to change his party. She continued that the talk of two narratives is being spread to sow a seed of discord within the party by the same forces who have failed to break us through coercive measures.
Despite all their attempts to break, weaken and threaten our party, they failed to defeat us she said, adding that we lost the Azad Kashmir election but we still got 500,000 votes. The people and the country are suffering the consequences of rigging in 2018.
She said despite the notion that everyone is on one page, every institution is against the Imran government.
She said that it was stated in the Supreme Judicial Council that the judiciary is making decisions under pressure. Regarding the differences within PMLN, she said that the Sharif family had been braving these conspiracy theories for thirty years.
COMMENTS
Comments are moderated and generally will be posted if they are on-topic and not abusive.
For more information, please see our Comments FAQ