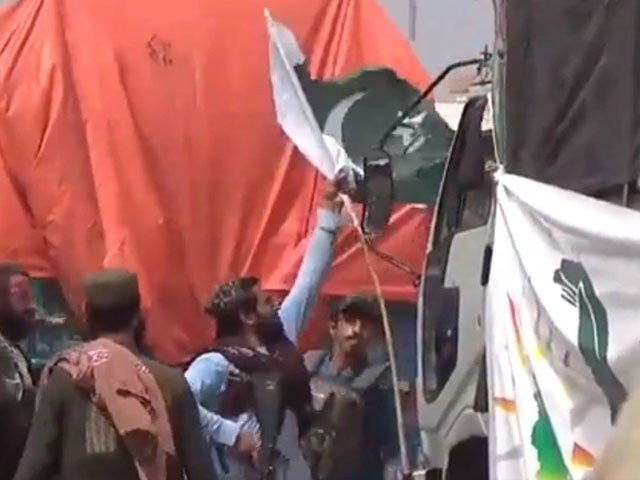 ---
ISLAMABAD:
The interim government in Afghanistan on Wednesday apologised to Pakistan over a flags' removal incident from aid trucks at the Torkham border, calling it "regrettable".
Taliban spokesman Zabihullah Mujahid, who is also the acting information minister, said all Cabinet members are shocked over the incident.
"It was an individual act and the government took immediate action, arrested those who were involved," Mujahid told Anadolu Agency over the phone.
"We know our Pakistani brothers and sisters are hurt and we apologise to them," he said, adding that such an incident would not happen in the future.
Also read: Taliban appreciate PM Imran's efforts for peace, inclusive govt in Afghanistan
On Sunday, some Taliban border security guards posted at the Torkham border, and a few civilians removed Pakistani flags from trucks carrying aid to Afghanistan. A video of the incident went viral on social media.
Pakistani officials did not immediately respond to the incident, however, the country's embassy in Kabul said Pakistan would continue to provide relief to its Afghan brothers and sisters in this difficult time.
"Pakistan is in the forefront of countries providing relief assistance to Afghanistan to meet the current challenges," the embassy said in a statement.
Also read: Pakistan confident Taliban will meet promises: DG ISPR
So far, Pakistan has dispatched over 20 containers of food items including sugar, flour, cooking oil, pulses, and rice via the Torkham border while four C-130 planes with food and medicine were sent to Kabul, Kandahar, Khost, and Mazar-e-Sharif.
"Pakistan has started supplies of humanitarian assistance through the land route. These supplies along with the additional items such as blankets and tents to help people meet the needs of the incoming winter season will be continued in the coming weeks," the statement added.
COMMENTS
Comments are moderated and generally will be posted if they are on-topic and not abusive.
For more information, please see our Comments FAQ