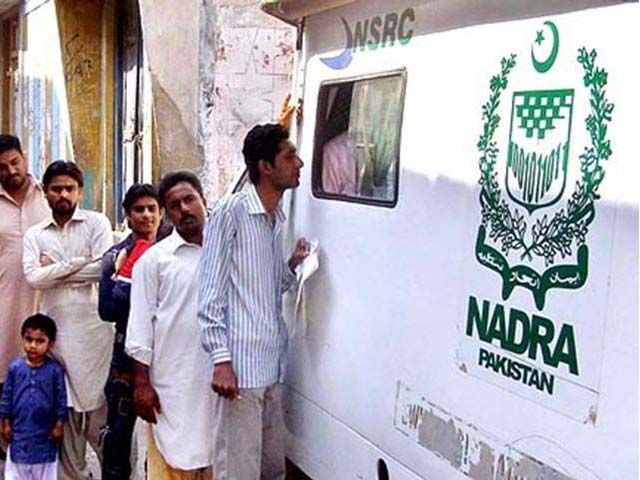 ---
KARACHI:
It is no secret that all available varieties of the anti-coronavirus drugs currently being administered in Pakistan have come as gratuitous donations from various international agencies, in a bid to stifle the pandemic's spread.
So it only makes sense for the vaccines to also be issued free of charge to the public, but what has caught the taxpayers' ire is the verification charge collected by the National Database and Registration Authority (NADRA) for proof of inoculation.
"After being fully vaccinated, it takes about 48 to 72 hours for the person's data to be updated on the National Database and Registration Authority's systems," said a NADRA official manning the verification desk at the Karachi Expo Centre.
Once that is done, anyone can obtain their certificate of immunisation - a black and white document printed on a regular A4-size sheet - for Rs100.
"People can choose to download their certificate online, get it from the NADRA Mega Centre or a NADRA desk at the vaccination point. However, the Rs100 fee has to be paid either way and we do not issue any pocket-sized vaccination cards," he added.
Saira, who recently had to shell out a crisp, red bill in order to obtain her proof of immunisation, sees it as a gimmick by the government to extort money from the public.
Read More: NADRA starts contactless biometric verification
"The certificate's now mandatory to get fuel or even send your child to school and NADRA is riding on the pandemic's back to make a profit for itself," she opined. "If millions of people are being jabbed and the government is issuing millions of certificates for Rs100 each, that's like lining their pockets with billions of rupees for a drug that was basically provided for free.
So, where is all this money going?" Saira canvassed, arching her eyebrows just enough to signal some conspiracy at play. Similarly, Asma who is a vaccinator at a local immunisation centre also believes that the government's verification charges warrant little legitimacy.
"Countries that donated the vaccines to Pakistan expected us to stick to the goodwill gesture and also administer them for free, so the Rs100 being charged in fine print is completely unjustified and almost criminal," she said.
A majority of people appearing at local vaccination centres, when asked, were of the opinion that there was no plausible reason for NADRA to attach a Rs100 fee to the vaccination process, considering nothing like that is being done anywhere else in the world.
"The polio vaccination certificate is provided free of cost; so what's different with the coronavirus vaccine certificate and why does it need to be charged for?" questioned an individual queued at the DUHS Ojha vaccination facility.
When The Express Tribune contacted NADRA officials in this regard, a spokesperson of the agency categorically denied all claims of fraud.
Explaining the Rs100 verification fee, he said NADRA has introduced a national vaccine data software for the first time besides various other services such as aiding and digitising the inoculations.
"The Rs100 being collected per certificate is in support of the software and operational costs that this project has had to incur," he refuted.
According to the National Command and Operation Centre's (NCOC) records, more than 50 million people have been vaccinated in Pakistan thus far.
If one does the math, that's a whooping sum of Rs5,000,000,000 in earning from Rs100 a vaccination certificate, all of which is yet to be accounted for.
COMMENTS
Comments are moderated and generally will be posted if they are on-topic and not abusive.
For more information, please see our Comments FAQ