 ---
Pakistan has called on world powers to unblock billions of dollars in Afghan assets frozen after the Taliban takeover but said it did not expect recognition soon of the new government.
Ahead of talks on Afghanistan at the UN General Assembly, Foreign Minister Shah Mahmood Qureshi said the most urgent priority was averting an even deeper economic collapse of the neighbouring nation that could trigger a humanitarian catastrophe.
"On one hand, you're raising fresh funds to avert a crisis and on the other hand money that is theirs -- belongs to them -- they cannot use," Qureshi told reporters.
"I think freezing the assets is not helping the situation. I would strongly urge the powers that be that they should revisit that policy and think of an unfreeze," he said.
"It will be a confidence-building measure as well and that could also incentivize positive behaviour."
The United States froze $9.5 billion in Afghan central bank assets and international lenders have stayed clear of Afghanistan, wary of providing money that could be used by the Taliban.
While calling for engagement with the Taliban, Qureshi appeared to share the US stance that it was premature to establish formal ties.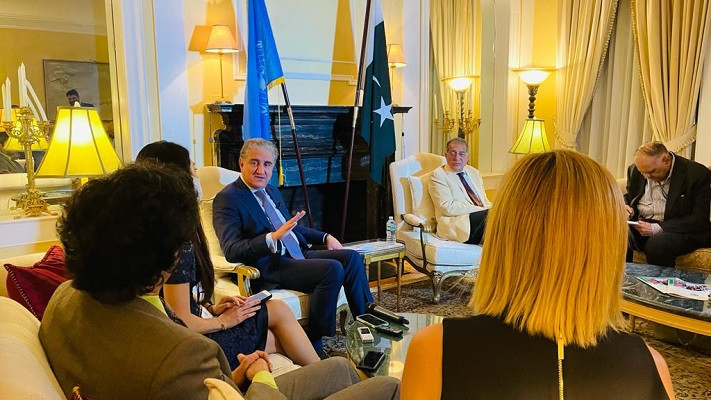 PHOTO: Twitter/Shah Mahmood Qureshi
"I don't think anybody is in a rush to recognise at this stage and the Taliban should keep an eye on that," Qureshi said.
If the Taliban want recognition, "they have to be more sensitive and more receptive to international opinion," he said.
The foreign minister added that the immediate need was to avert a humanitarian crisis in the war-torn country as the Taliban settle down to manage the dire situation.
"Afghans have faced war in the last four decades," the foreign minister said.
"Now there is hope for peace in Afghanistan, and the International community should not leave Afghans alone at this critical juncture," as he underscored the need for engaging with the "new reality".
Qureshi voiced hope that the Taliban would be more inclusive after forming a caretaker government that includes figures blacklisted by the United Nations on terrorism allegations.
But he said he saw "positives" from the Taliban including a declaration of amnesty and a willingness to include ethnic groups other than the group's dominant Pashtuns.
"These are trends that must be encouraged," he said.
Read Govt considers amnesty for TTP members: Qureshi
"We would suggest to Afghans that they should have an inclusive government in which all ethnic groups are represented, and their initial statements indicate they aren't averse to the idea," Qureshi stated.
Activists and witnesses say on-the-ground reality is different than the Taliban's promises, with women and girls already being excluded from employment and education even without formal announcements by the Taliban.
He also expressed hope the Taliban live up to their promise that "girls and woman be allowed to go to school, college and university".
During his 5-day stay in New York, Qureshi is to apprise his counterparts about Pakistan's viewpoint on various international issues, especially the situation in Indian Occupied Jammu and Kashmir where human rights of the oppressed people are being massively violated, following the annexation of the disputed territory on August 5, 2019, in contravention of UN resolutions.
Taking to his official Twitter handle, Qureshi announced his intention to highlight Pakistan's perspectives on a number of issues at the General Assembly.
"In particular on the need for equitable socio-economic development, stabilisation of Afghanistan and a just resolution of the Jammu & Kashmir dispute," he wrote.
After taking office, he said Prime Minister Imran Khan offered to his Indian counterpart, Narendra Modi, that if India takes one step towards peace, Pakistan would take two, but New Delhi did not take up the offer.
"We want peace. Even today, India has an option: If it wants peace in the region, it should stop the ongoing atrocities against Kashmiris and withdraw its unconstitutional measures", the foreign minister said.
Qureshi will participate in several events being held during the week including a meeting of the OIC Working Group on Jammu and Kashmir, a ministerial meeting of the Uniting for Consensus group on Security Council reforms, and a high-level meeting on energy.
The foreign minister will also meet UN Secretary-General Antonio Guterres, address think tanks and meet members of the Pakistani community and businessmen in New York.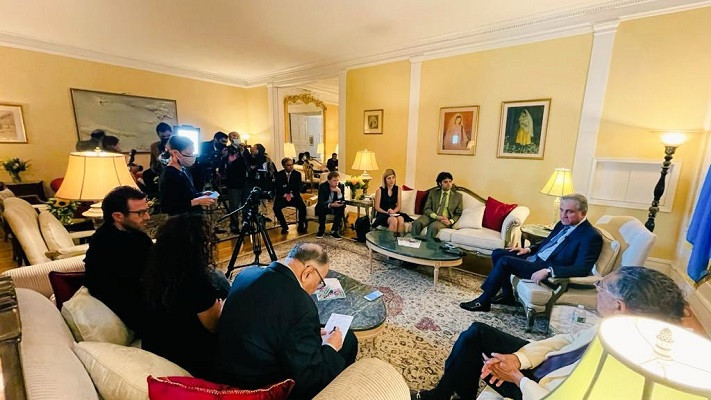 PHOTO: Twitter/Shah Mahmood Qureshi
(WITH INPUT FROM OTHER AGENCIES)
COMMENTS
Comments are moderated and generally will be posted if they are on-topic and not abusive.
For more information, please see our Comments FAQ