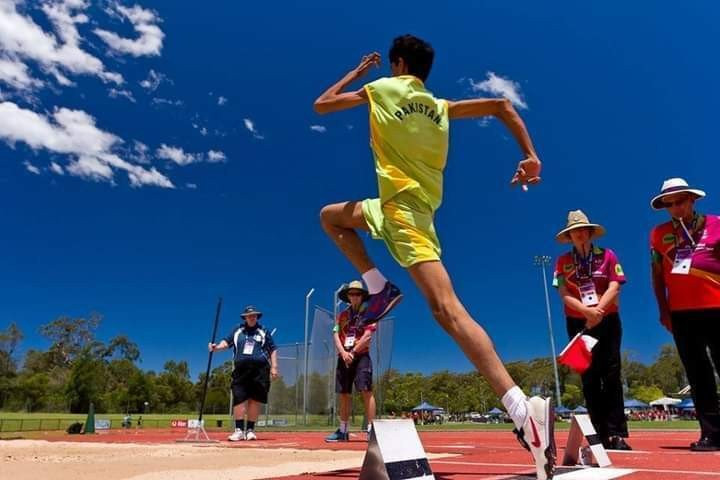 ---
KARACHI:
The family of Pakistan's bronze medallist at the 2015 Special Olympics World Games Imran Hussain is requesting the Government to help. The last assistance they received for Imran's cancer treatment was merely Rs10,000 from Pakistan's Baitul Mal last month.
Imran has been inspirational in his athletic journey. He won a medal at the 2013 Asian-Pacific games in long jump and then won bronze at the World Games in Los Angeles with the football team as the goalkeeper. Imran has multiple disabilities, including hearing and he communicates through sign language.
He started playing sports in the school for special needs persons and went on to compete at the national level, then regional and later at the World Games. He was good at multiple track and field disciplines, but in 2018 he was diagnosed with testicular cancer.
His family had been appealing for help for a long time now. Fund raising by overseas volunteers and help through donations brought in some money, but it had not been enough to carry on Imran's treatment. His cancer progressed quickly and as of this month, the doctors have told his family to prepare for the worst, according to Imran's brother.
It had been a year that the family had been struggling and they have sold their property, and the sole bread-winner of the household Asif Hussain who has been taking care of Imran also lost his job.
"We have nothing left anymore. We sold everything for the treatment, and Imran is dying because we don't have money," Asif told The Express Tribune.
"It is very simple, people can only be charitable for a little while, but we needed help from the government or we needed help in a way that was more constant. We are now broken in every way.
"Our appeal was to help us take Imran abroad too because the doctors in Pakistan have been less than hopeful, however, with our own research, we had found out that Imran's treatment was possible and he had good chances to recover.
"But now he is growing weak by the day, and we are not able to even manage the daily expenses for the family, let alone Imran's treatment. We have sold everything and have nothing left. I went to different government offices too, but no one helped. I have also lost my job and the condition is getting worse. We need help."
Imran's case has been raised many times in the media, but the agony of the family has remained the same.
President of Pakistan Arif Alvi recently spoke to a delegation of Sialkot Chamber of Commerce and Industry (SCCI), where he talked about supporting the persons with special needs, "who form 12 to 14 per cent population of the country and needed to be uplifted financially by providing them jobs and equipping them with marketable skills with the special cooperation of the business community," according to a report.
In Imran's case, Asif said that in order to even avail the sum of Rs10,000 through a cheque, they were facing trouble in opening an account in Hussain's name.
"We couldn't get those Rs10,000 because Imran couldn't get to the bank because of his condition. He is bedridden and even though I took him to bank once with great difficulty, the bank has been taking the longest time to get back to us and have told us they have certain reservations.
"It is just that we are running out of time, and we are considering now to return the cheque to Pakistan Baitul Mal now, because Imran can't go to the bank, and I am already out of work," Asif said, ruing the fact that he did not even have enough money to have enough credit in his phone to make contacts in case he needed help.
COMMENTS
Comments are moderated and generally will be posted if they are on-topic and not abusive.
For more information, please see our Comments FAQ