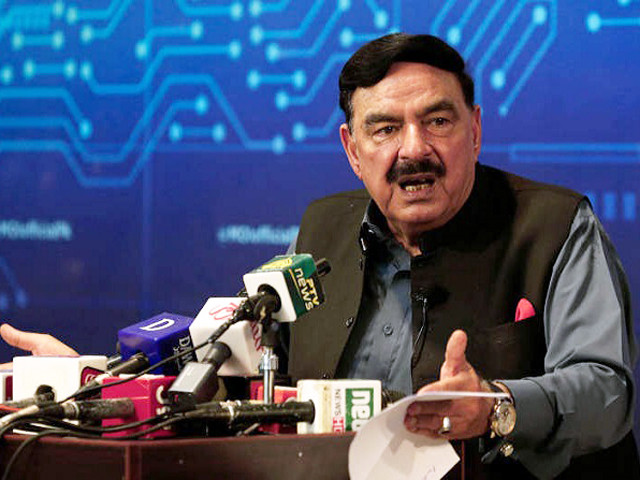 ---
ISLAMABAD:
Interior Minister Sheikh Rashid said on Monday that there was no threat to the New Zealand cricket team as the squad was provided fool-proof security, including the deployment of army commandos, and stressed that the decision to abandon the tour was the Black Caps' own.
Addressing a press conference in Islamabad, the federal minister said that the people of Pakistan were in fact unhappy with New Zealand's decision, but expressed his optimism that time would come when all the international teams would come to Pakistan.
As per reports of Pakistan's intelligence agencies there was no threat to the New Zealand cricket team as foolproof security was provided to the squad, the minister told reporters. "As per media reports they received an email even after leaving Pakistan which clearly shows there is a conspiracy," he added.
Read New Zealand hopeful about rescheduling Pakistan tour
The New Zealand cricket team abandoned their first Pakistan tour in 18 years, just before the start of the first one-day international (ODI) on Friday, citing unspecified security threats. NZ Herald newspaper reported the next day that the threat alert had come from a five-nation intelligence alliance.
Commenting on the 'Five Eyes' – the intelligence alliance that alerted the cricket team to the purported threat, Rashid said, where was this alliance when the Kiwis were practicing in Pakistan for three days before calling off the tour.
"Abrupt abandonment over security fear and deciding to return back was their own decision. No doubt Pakistani nation was unhappy over this decision but I am sure time will come when all these international teams will come and play in Pakistan," he added.
Afghan situation
The interior minister said that Pakistan wanted a peaceful Afghanistan for the sake of regional peace.
Read more Not a single person granted 'refugee status': Rashid
He added that the country played its role for regional peace, adding that Pakistan helped evacuate 16,000 people, including the International Monetary Fund and World Bank officials, from Afghanistan.
He maintained that 3 million Afghan refugees, residing in Pakistan, would be sent back to their homeland after the security situation normalised.
He said that India was spreading negative propaganda against Pakistan as all its conspiracies failed after the Taliban took control of Afghanistan. "India is in a state of shock due to the failure of its nefarious designs in Afghanistan," he added.
Responding to a question, the minister said that the Islamabad administration always tried to resolve any issue through discussion with the seminaries. "Our endeavour is to address all matters in appropriate manner, including with Lal Masjid cleric as we don't want any unpleasant situation."
COMMENTS
Comments are moderated and generally will be posted if they are on-topic and not abusive.
For more information, please see our Comments FAQ