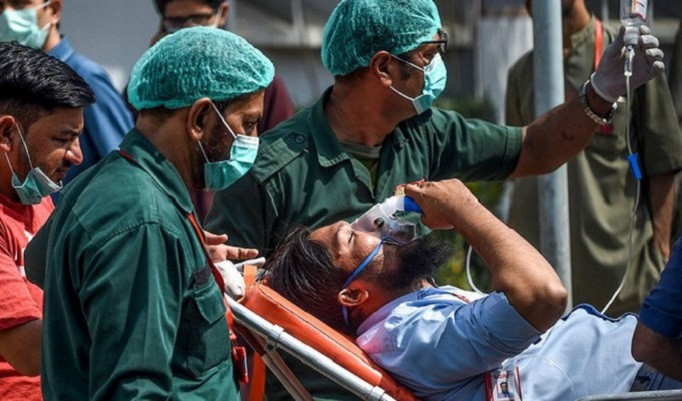 ---
Covid claims three more lives
Vaccination for youngsters aged 15 years and above from today
---
RAWALPINDI:
At least three more Covid-19 infected patients succumbed to the virus, while 67 new infections were also reported in Rawalpindi division during the last 24 hours.
Some 1,097 patients are under home isolation in Rawalpindi, whereas 32,630 patients have recovered after contracting the virus.
Moreover, during the fourth wave of the pandemic, some 166 patients have succumbed to the deadly virus at the Rawalpindi Institute of Urology and Kidney Transplant (RIUKT) since the pandemic broke out.
Some 111 of them had not been vaccinated, 12 had taken a single dose while 43 had fully been immunised. The hospital has so far received 690 patients and of them, 455 were unvaccinated and 92 were partially vaccinated.
Some 143 patients were those who contracted the virus despite immunisation while 21 admitted patients have been reported to be in a critical condition.
Read Another 12 persons succumb to Covid
Health officials said around 88 per cent population of the district has been vaccinated while the test-to-positivity ratio has dropped to 7.8 per cent.
According to health officials, most of the covid-19 infected patients admitted to hospitals were on oxygen support.
The health experts said that many Covid-19 patients are being shifted on oxygen.
Owing to the high number of patients requiring oxygen support, the demand for the ventilator-C pipe was also increasing rapidly.
They urged the citizens to strictly follow precautionary guidelines to avoid contracting the virus.
Meanwhile, the Rawalpindi administration will start vaccination for youngsters aged 15 years and above from Monday.
District Health Authority (DHA) Chief Executive Officer (CEO) Dr Faiza Kanwal said that they have expedited the vaccination. She said that mobile vaccination teams will start inoculating children of 17 and 18 years in educational institutions as well.
District Health Officer for Communicable Diseases Dr Waqar Ahmed said that an effective micro plan has been devised to cover the maximum number of young people under the drive.
He said that under the campaign around 131,000 students enrolled at 192 schools and colleges across the district would be given anti-covid doses while the remaining 124,000 youngsters aged between 15 to 17 years would get themselves vaccinated at the 26 vaccination centres operating in the district.
Read mroe
Dr Waqar said the district health authority has constituted 18 teams that would visit the educational institutions twice to complete immunisation as the government had allowed only 50 per cent attendance at schools and colleges.
The health official said that "free of cost Pfizer vaccine will be given to teenagers while Form-B of the National Database and Registration Authority (NADRA) would be mandatory for jabs".
He asked the youngsters to send their Form-B number on 1166 through SMS and get their registration number for vaccination. He said adolescents would be able to get vaccination certificates from Nadra's website.
The Rawalpindi district has also been hit by the dengue virus. Some 16 dengue-infected patients were currently under treatment at the Benazir Bhutto Hospital (BBH) and Holy Family Hospital (HFH) while another 15 asymptomatic patients were brought to both healthcare facilities as well during the last 24 hours.
Published in The Express Tribune, September 20th, 2021.