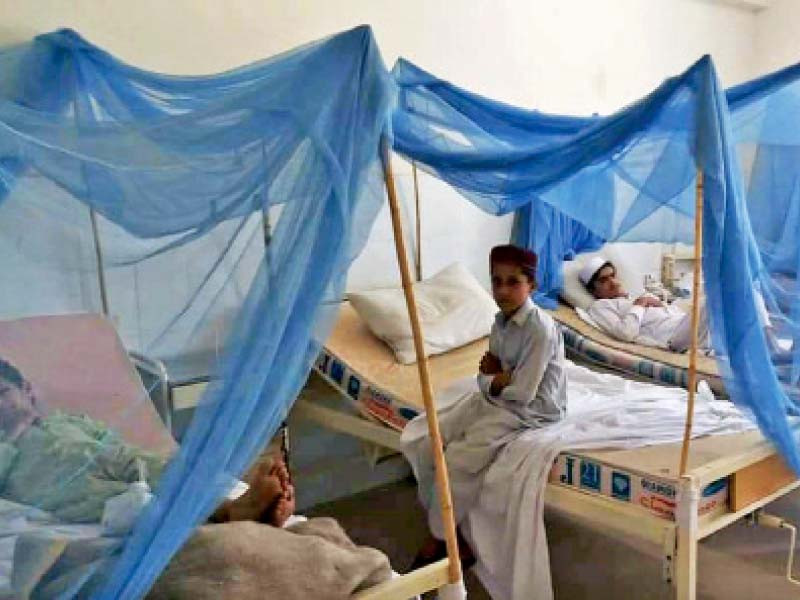 ---
PESHAWAR:
A dengue outbreak has been reported in Peshawar as around 20 patients have been admitted to hospitals in the city including Hayatabad Medical Complex (HMC) and Khyber-Teaching Hospital (KTH).
Previously around 59 cases of dengue had been reported in the adjacent Landi Kotal, Khyber tribal district and it seems that dengue has reached Peshawar in the absence of any preventive measure by the authorities concerned with many areas including Tehkal and Sufid Dheri villages are among the worst hit.
Official sources told The Express Tribune that many patients from Landi Kotal had also start arriving at the HMC and KTH three weeks ago but now they had joined by locals too.
"We are receiving around 30-40 people each day for dengue tests and those whose platelets are found dangerously low are hospitalized. There are 15 patients admitted to KTH and five more to HMC," he said, adding that these patients were coming for the past three weeks non-stop.
"We don't have any patient who is critically ill. All of them are in stable condition," he said.
An official of the K-P Health Department said the outbreak was in other districts too and most of the cases of dengue were reported from Batagram, Buner, Khyber tribal district, Manshera and Haripur.
"We are now focusing on those areas where there is a high risk of the dengue spread in Peshawar," he said.
Read Dengue red alert issued for twin cities after cases spurt
No dengue case has been reported so far in Lady Reading Hospital (LRH) but one official claimed that dengue tests are not being conducted at LRH and two suspected patients had been referred to KTH for tests and treatment.
It is worth mentioning here that a large scale outbreak has been reported in parts of Landi Kotal and there is a public outcry on social media with claims of hundreds of cases and even two deaths. The Health Department, however, denied these reports and said that there were only 59 confirmed cases. They claimed that awareness had been created among the local residents and fog spray had already been initiated.
The health official claimed that they only believed in the tests conducted by their own laboratory and the tests of the private labs were not authentic as the hospital labs were conducting two tests to confirm the presence of dengue in the patients. They also denied the reports that there were two deaths from dengue in Landi kotal, refuting it as baseless claims.
Locals residents claimed that dozens of people mostly women and children are killed in dengue outbreak every two or three years in Peshawar and despite that the district administration and health department are reluctant to carry out large scale sprays in monsoon season each year.
"The health department and the district administration are doing things in very disorganized manners. They are responsible for all this mess," said a local resident Shah Zaman.
On the other hand the WSSP has started fog spray inside the city to contain dengue.
Published in The Express Tribune, September 19th, 2021.
COMMENTS
Comments are moderated and generally will be posted if they are on-topic and not abusive.
For more information, please see our Comments FAQ