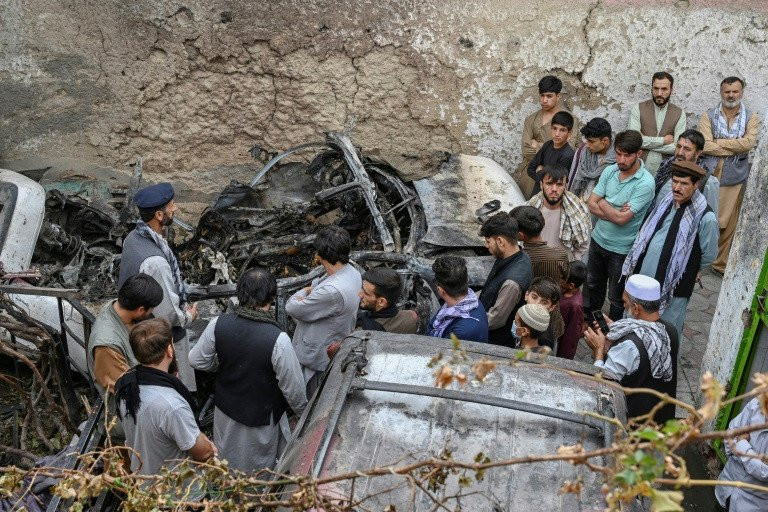 ---
A day after the United States admitted that a drone attack in Kabul last month erroneously killed 10 members of a family, survivors have said apology was not enough and demanded compensation from Washington.
Emal Ahmadi, whose three-year-old daughter Malika was killed on August 29, when the US hellfire missile struck his elder brother's car, told The Associated Press news agency on Saturday that the family demands Washington to investigate who fired the drone and punish the military personnel responsible for the strike in Kabul.
"That is not enough for us to say sorry," said Ahmadi. "The US should find the person who did this."
Al Jazeera's reporter, who visited the site of the attack, said memorabilia of the children, including their toys, could be seen scattered.
"Family members told us that they are looking for compensation from the US. They want justice for their family members and if possible those who have remained in this compound want to leave Afghanistan," he said.
"Here in this compound, there is death, misery and memories of those who passed, and people who try to rebuild their lives in the mayhem of what is Afghanistan and what happened to their families."
The Pentagon had said the Aug 29 strike targeted an Islamic State, also known as Dai'sh, suicide bomber who posed an imminent threat to US-led troops at the airport as they completed the last stages of their withdrawal from Afghanistan.
Even as reports of civilian casualties emerged, the top US general had described the attack as "righteous".
The head of US Central Command, Marine Corps General Frank McKenzie, said that at the time he had been confident it averted an imminent threat to the forces at the airport.
"Our investigation now concludes that the strike was a tragic mistake," McKenzie told reporters on Friday.
He said he now believed it unlikely that those killed were members of the local Islamic State affiliate, ISIS-Khorasan, or posed a threat to US troops. The Pentagon was considering reparations, McKenzie said.
The killing of civilians, in a strike carried out by a drone based outside Afghanistan, has raised questions about the future of US counter-terrorism strikes in the country, where intelligence gathering has been all but choked off since last month's withdrawal.
And the confirmation of civilian deaths provides further fuel to critics of the chaotic US withdrawal and evacuation of Afghan allies, which has generated the biggest crisis yet for the Biden administration.
COMMENTS
Comments are moderated and generally will be posted if they are on-topic and not abusive.
For more information, please see our Comments FAQ