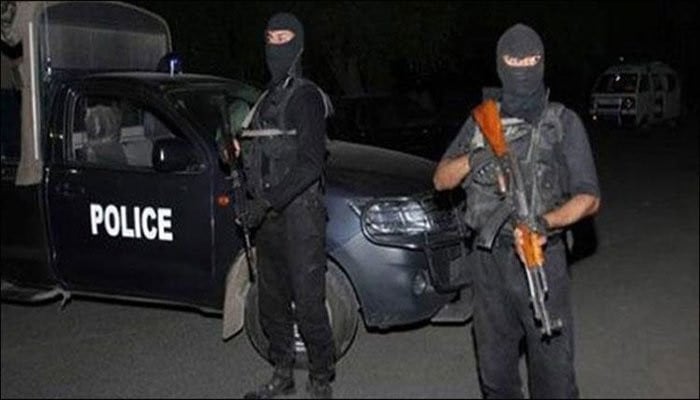 ---
QUETTA:
The Counter Terrorism Department foiled a terrorism plan hatched by the Balochistan Liberation Army during an intelligence based operation on the outskirts of Quetta city on Friday.
According to CTD spokesperson, a terrorist was arrested during the operation and a large amount of different explosives were recovered from his possession.
The CTD official added that the police had received a tip-off about a potential terrorist attack to be carried out by a BLA terrorist travelling on a motorcycle.
The target of the failed attack could vary from sensitive government installations, office or personnel of law enforcement agencies and the general public.
Upon receiving the credible information, a road blockade was set up on the main Hanna-Marwar Road.
An alleged terrorist identified as Mukhtiar Khan Sumalani was arrested and his motorcycle was impounded when he approached the CTD check point posing as a normal person.
Two hand grenades, explosive material weighing approximately 1,580 grams and two detonators were recovered during the search.
An investigation has been launched to arrest the remaining members of the BLA network. A first information report has also been lodged at a CTD police station in Quetta.
Sources familiar with the matter said more raids are being planned for other districts of Balochistan to apprehend other BLA terrorists.
Earlier this month on Sep 1, a major disaster was averted when the CTD killed at least 11 Islamic State (IS) terrorists in Balochistan's Mastung district that were planning to conduct attacks in the largest province of the country.
The intelligence-based operation was carried out after a tip-off was received by captured IS terrorist Abdul Haye about the presence of an IS training camp in Killi Qamar Mazar Abad area of Mastung that was meant to be used as a "terrorist launch pad" for conducting attacks in the future.
It is pertinent to note that Haye was the ring leader of a terrorist group involved in the Mastung Police Mobile Attack earlier in May 2021 that had resulted in the martyrdom of two police officers.
The terrorists were told to surrender after the CTD team surrounded the entire IS camp but instead the terrorists resorted to indiscriminate firing and lobbed grenades.
The ensuing shootout lasted for a while resulting in the death of 11 terrorists. All the CTD personnel that took part in the operation remained safe.
A large cache of arms and ammunition was also seized including four sub-machine guns with 360 rounds, one light machine gun with 80 rounds, two suicide jackets, three 9mm pistols, 15kgs of explosives, eight hand grenades and eight detonators.
Published in The Express Tribune, September 18th, 2021.
COMMENTS
Comments are moderated and generally will be posted if they are on-topic and not abusive.
For more information, please see our Comments FAQ